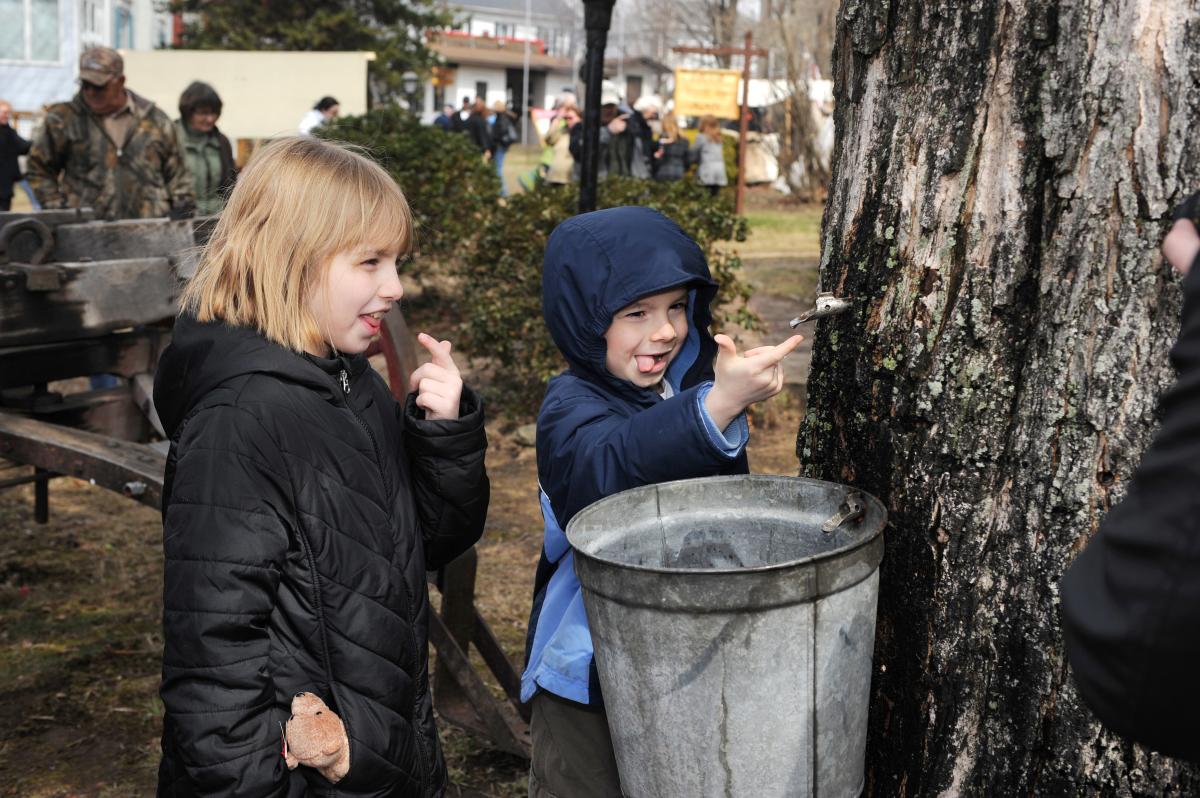 SOMERSET, Pa., (Feb. 11, 2019) – In the southeastern corner of Pennsylvania's Laurel Highlands, Somerset County is tops in the state for maple production. With many maple camps currently operated by seventh and eighth generation families, Somerset County takes great pride in the tradition of tapping maple trees and producing maple syrup and other goodies.
The Science of Sweet
In order to produce maple sugar, there needs to be an abundance of maple trees and the perfect climate. Springtime weather in the Laurel Highlands is ideal because of its cold nights and warm days. That alternating weather cycle, from freezing to thawing, is what changes the atmospheric pressure in the trees to allow sap to flow out of them.
It is ideal to start the tapping process in early spring, when days are warm and nighttime temperatures are below freezing. Generally, maple season runs from mid-February to early April, weather permitting. Maple camp farmers or "sugarmakers" tap the maple trees by drilling a hole for a spout, also known as a spile. Spiles were originally made of wood, eventually metal and now plastic.
The sap drips from the spile and into a keeler, a bucket that hangs from a hook on the spile. "Keeler" is a term specific to Somerset County, influenced by the German immigrant population. Today, the sap flows from the spile, through plastic tubing and is deposited in a large tank. Many years ago, farmers would have traveled through the woods, stopping at each tree and manually dumping each keeler into a large tank.
Sap from the sugar maple tree is about 98 percent water and two percent sugar, other nutrients and minerals. To make pure maple syrup, the sap will be boiled to evaporate most of the water. Typically, Maple syrup is 33 percent water and 67 percent sugar. The sap begins to flow out of the holes when the weather is just right. Once the sap starts collecting in the buckets or flowing through the tubing, it needs to be processed right away. Sugarmakers use evaporators to make maple syrup, which consists of two or more large specially-designed pans that are filled with sap. These pans sit over a fire of burning wood or some other fuel, which heats the sap and causes it to boil. As it boils, some of the water in the sap turns to steam, which rises out of the sugarhouse. The sap becomes thicker and sweeter.
The sugarmaker knows the maple syrup is ready when its temperature reaches seven degrees Fahrenheit above the boiling point of water. This process requires a lot of time and energy because it takes about 40 gallons of sap to make just one gallon of pure maple syrup. The boiling sap is tested with precise instruments to determine if it is maple syrup. When it is thick enough to be maple syrup, it is filtered to take out "sugar sand," which accumulates as sap boils. Sugar sand is just minerals and nutrients that concentrate as the excess water is boiled away. If it is not filtered out, the maple syrup will appear cloudy.
After the maple syrup is filtered, it is put in a container for sale or made into other tasty maple treats. Many maple producers process their maple syrup into maple sugar, maple candy, maple cream and even maple jelly. Pure maple products have no additives, preservatives or artificial colors.
You've Had Maple Syrup, but How About Spotza?
The sticky taffy treat known as "jackwax" or "taffy on snow" in other maple sugaring regions, is called "spotza." Like keeler, spotza is also entirely a Somerset County contrived word. Spotza is made by drizzling thickened syrup into a cup of cold water where it forms into a gooey taffy. Part of the fun of eating a spotza is using a wooden stick to wind the taffy around in order to plop it into your mouth! Want to try some spotza? Check out these maple festivities…
Must-Do Maple Events
Maple Taste and Tour Weekend, 10 a.m.-4 p.m., March 9-10, 2019
Explore 19 sugar camps throughout Somerset County, learn about maple syrup production, traditions and sample maple products from those who know maple best, including a few whose families have been in the business for several generations. Enjoy kids' activities, free tours and free samples. Plenty of maple products, such as syrup, maple cream candies and maple peanuts, are available for purchase at each maple camp. Admission is free.
Pennsylvania Maple Festival, March 30-31 and April 3-7, 2019
Maple season festivities culminate with the annual Pennsylvania Maple Festival in Meyersdale, a.k.a. "Maple City, USA." The festival features a variety of activities including maple syrup production demonstrations, live entertainment, quilt show, tea with Queen Maple, children's activities, and tractor and farm equipment shows. Not to be missed are the Grand Feature Parade, Lions Club pancake breakfasts and "Legend of the Magic Water," a historical pageant brought to life by more than 100 local residents to depict the discovery of maple syrup as well as the history of Meyersdale through song, dance and narration. Admission is $5 per adult, $1 children ages 5-12, kids age 4 and under free.
Get Hands-On and Stock Up
Somerset Historical Center, Somerset, PA
The Somerset Historical Center is the place to visit to learn about historical tapping, gathering, boiling and sugarmaking in Somerset County. Visitors won't want to miss a taste of freshly-stirred sugar and spotza.
Brantview Farms Maple, Berlin, PA
For eight generations and more than 200 years, Brantview Farms Maple has welcomed visitors to join in on the fun and see the maple-producing process firsthand. Take a mini- or full-tour of the camp, which include product demonstrations and, of course, free samples. Be sure to say hello to camp mascot, Oreo!
Baer Brothers Maple Camp, Somerset, PA
The Baer family gathers at Baer Brothers Maple Camp each spring to install more than 5,000 taps into maple trees and then boil the sap into a sweet maple syrup. Visit their camp to see new maple equipment and browse the goodies in their store.
Sechler Sugar Shack, Confluence, PA
Sechler Sugar Shack takes great pride in continuing maple-producing techniques that have been passed down by many generations since 1850 with the most modern technology. Their maple syrup is sold in uniquely-shaped glass bottles, from leaves to gingerbread men.
Try This at Home – Burnt Sugar CakeThere's nowhere else in the world to find this variation of Burnt Sugar Cake other than Somerset County. A select few bakeries in the area offer this sweet local treat. Often times, Somerset brides will request burnt sugar cake rather than the traditional vanilla or chocolate. Get the recipe and images here, try it at home and share the pictures on social media with #LaurelHighlands.
About Pennsylvania's Laurel Highlands
A magnificent mountainous region, the Laurel Highlands spans 3,000 square miles in southwestern Pennsylvania. Located an hour east of Pittsburgh, the beautiful four-season destination offers spectacular natural scenery, outstanding outdoor recreation, historic sites and attractions, family activities and world-class resorts. Notable destinations within the region include three architectural masterpieces by Frank Lloyd Wright – Fallingwater®, Kentuck Knob and Duncan House – Nemacolin Woodlands Resort, Seven Springs Mountain Resort, Flight 93 National Memorial, Idlewild and Soak Zone, whitewater rafting at Ohiopyle State Park and more.
Located within 200 miles of the major metropolitan areas of Pittsburgh, Baltimore, Cleveland and Washington D.C., the Laurel Highlands can be easily accessed from exits 67, 75, 91 and 110 of the Pennsylvania Turnpike.
Visitors to the Laurel Highlands can find information online at www.LaurelHighlands.org, calling 724.238.5661, www.facebook.com/laurelhighlandsPA and www.twitter.com/laurelhighlands. Established in 1958, the Laurel Highlands Visitors Bureau is the official destination marketing organization for Fayette, Somerset and Westmoreland counties in southwestern Pennsylvania. 
###