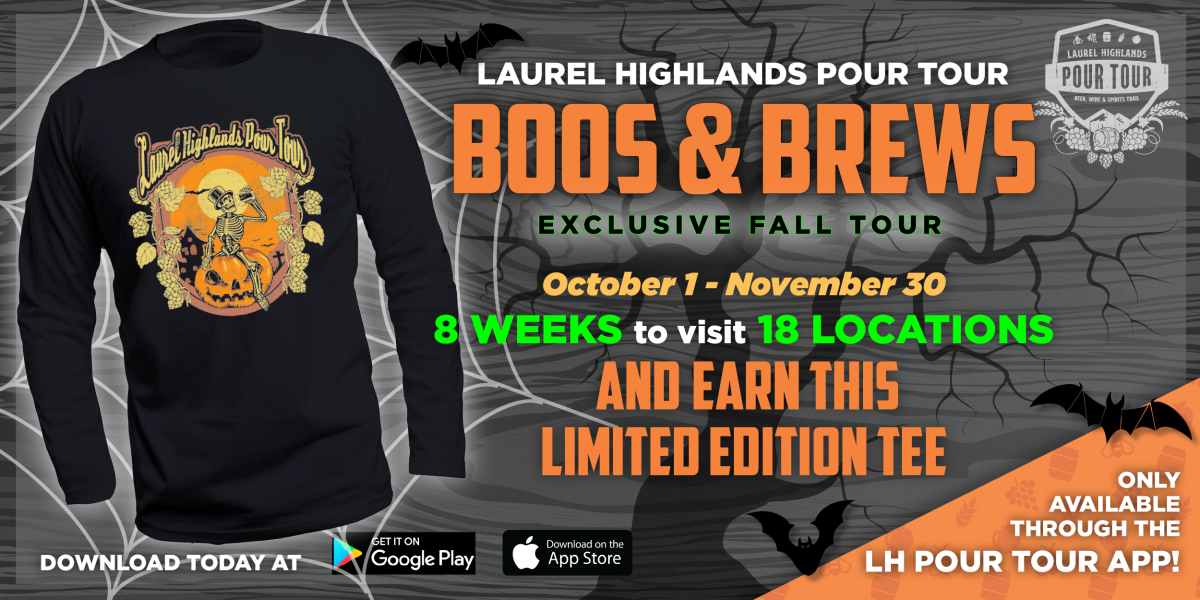 LIGONIER, PA., (Oct. 1, 2021) – Craft beverage fans seeking fall-themed creations like pumpkin beer, hard cider, and spiced spirits have an added incentive to explore Pennsylvania's Laurel Highlands this fall.
Today, GO Laurel Highlands released "Boos and Brews," a seasonal micro tour of the extremely popular The Laurel Highlands Pour Tour, an inclusive effort developed to promote the region's craft beverage industry.
"The resilience and creativity of the Laurel Highlands craft beverage industry continue to amaze me," said Ann Nemanic, Executive Director, GO Laurel Highlands. "New establishments are opening, seasonal products are being launched, and the overall excitement of those participating in our Pour Tour passport program is beyond our expectations. Fall has always been a premier season for our region, so what better way to have visitors return to their favorite beverage haunts than with a cool new promotion. I've been told by many, it's all about the stickers and the t-shirts, so I am certain this will be yet another successful campaign for GO Laurel Highlands." 
To participate, simply download the free Laurel Highlands Pour Tour app from the Google Play and Apple stores, then select the "Boos and Brews" passport at check-in. Take a photo of a purchase and upload it while visiting one of more than 40 participating sites. After 18 confirmed check-ins, an exclusive "Boos and Brews" t-shirt and stickers will be mailed to the participant. The special tour is available from Oct. 1 through Nov. 30, 2021.
Special seasonal creations on tap in the Laurel Highlands include:
Helltown Brewing's Big Bad Buffy IPA, in honor of their 10th anniversary
Four Seasons Brewing's Headless Wylie
Quinn Brewing's Diesel Dwarf German Altbier
White Horse Brewing's With You Always, a portion of the proceeds benefit ovarian cancer research
 
About Pennsylvania's Laurel Highlands
A magnificent mountainous region, the Laurel Highlands spans 3,000 square miles in southwestern Pennsylvania. Located an hour's drive east of Pittsburgh, the beautiful four-season destination offers spectacular natural scenery, outstanding outdoor recreation, historic sites and attractions, family activities, and world-class resorts. Notable destinations within the region include four architectural masterpieces by Frank Lloyd Wright – Fallingwater®, Kentuck Knob, Mäntylä and Duncan House – Nemacolin Woodlands Resort, Seven Springs Mountain Resort, Flight 93 National Memorial, Idlewild and Soak Zone, whitewater rafting in Ohiopyle State Park, and more.
Located within 200 miles of the major metropolitan areas of Pittsburgh, Baltimore, Cleveland, and Washington D.C., Pennsylvania's Laurel Highlands can be easily accessed from exits 67, 75, 91, and 110 of the Pennsylvania Turnpike.
Visitors to the Laurel Highlands can find information online at www.GoLaurelHighlands.com, calling 724.238.5661, www.facebook.com/laurelhighlandsPA and www.twitter.com/laurelhighlands. Established in 1958, GO Laurel Highlands, formerly known as Laurel Highlands Visitors Bureau, is the official destination marketing organization for Fayette, Somerset, and Westmoreland counties in southwestern Pennsylvania.
###