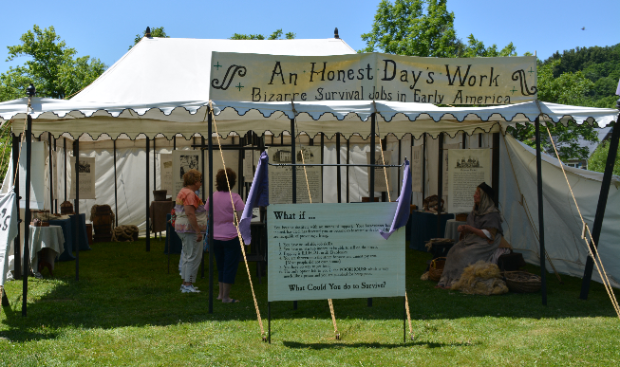 Come take a walk through Scoundrels Alley on June 17th and 18th from 10am to 5pm to interact with exhibits that tell what life was like on the bottom of society in early America. Visit the "Honest Days Work" dirty jobs museum and become familiar with what options might be yours if you became destitute. Scoundrel's Alley will bring to life the lowest parts of society in a way that is safe, approachable, historical, and suited for all ages. From the entertainment of Maggie the Irish washerwoman demonstrating the ways many abandoned and widowed women survived to the sermons and wise words for guests of Parson John, this group is dedicated to making history come alive in a way that makes it more real than just a book. 
John Frank Jarboe has been active in reenacting for well over 14 years.  Frank, as Parson John, can be seen offering Divine Services at events for both the public and reenactors on Sunday mornings, many of which consider him their pastor. The rest of the time he's just 'digging up' old friends as his bodysnatching character and former guest of Compass Inn, Ould Badger.
Carol Jarboe is devoted to her husband and fellow reenactor Frank, and has been a life partner and supporter of his ministry for longer than she cares to remember. An active historical researcher in the life of the lowest of the low, her beloved Maggie has enthralled audiences far and wide with her story of an Indentured Servant now free as well as her nationally-recognized expert demonstrations.
You can see Carol tell the story of her character Maggie in a feature-length video from Townsends which also stars Frank as Parson John below:
"We are greatly anticipating Maggie and Parson John visiting Compass Inn Museum to spotlight an often underwritten and unappreciated part of history. Their extensive research and family-friendly presentation of life at the bottom of society is something that cannot be missed," said Theresa Gay Rohall, Executive Director of LVHS and Compass Inn Museum. The goal of this event is to have everyone, young and old, walk away feeling like they have experienced something through the stories, struggles, and histories of the underside of life and enjoyed themselves in the process.
General admission for both events is $14 for adults, $12 for adults (62+), and $10 for youth (6-18). Tickets can be purchased on-site, day of the event. 
An open-to-the-public immersive church service in the style of an authentic 18th century will be given by Parson John at 9am on June 18th. For more information, please check out our website at compassinn.org/eventcalendar. For any questions, please contact us at lvhscompassinn@gmail.com or 724-238-6818.