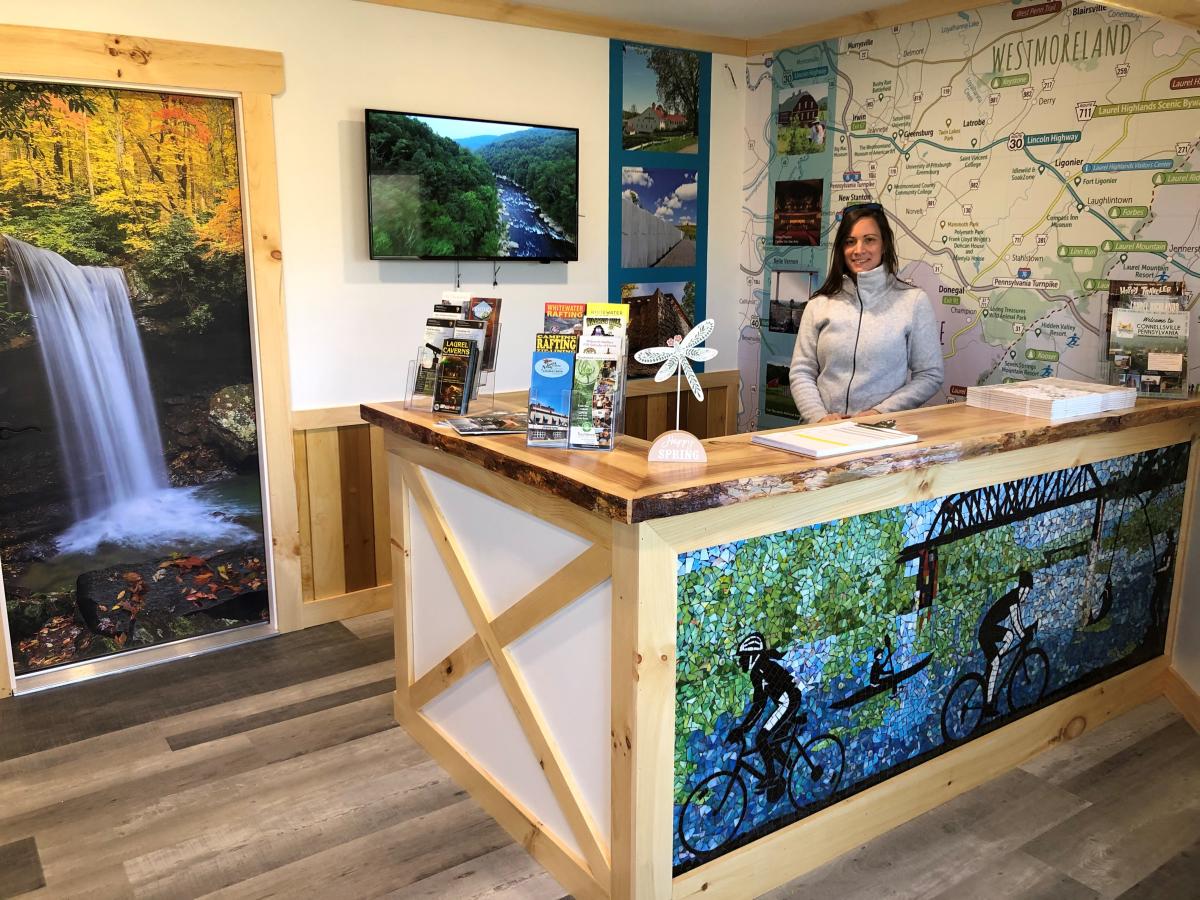 CONNELLSVILLE, Pa., (March 29, 2021) – Visitors to Fayette County and the Laurel Highlands will have a new resource available to them as they explore the region. A new visitor information center will open Fri., April 2, in Connellsville.  
The visitor information center was created through a cooperative effort by Fayette County Commissioners, Fayette County Chamber of Commerce, City of Connellsville, General Braddock Fish Club, and GO Laurel Highlands, formerly known as Laurel Highlands Visitors Bureau. 
"Tourism in Fayette County and the Laurel Highlands is huge, and we need to capitalize on that," said Fayette County Commissioner Chairman Dave Lohr.  "We have so much to offer, for every taste and for every season. It's the wide range of activities that sets this region apart.  From state and county parks to historic sites, and fairs and festivals, there's really something for everyone, but we need to get the word out, and that's what our visitor centers are for." 
"Tourism is the number one industry in Fayette County," said Commissioner Vince Vicites. "With the opening of the new visitor information center in Connellsville, Fayette County can further maximize our tourism efforts in an area of the county that is rich in recreational and historical tourism venues." 
Located at 100 Torrance Avenue, the center is situated along the Great Allegheny Passage bike trail, within the Yough River Park, adjacent to General Braddock Fish Club, and a short distance from downtown Connellsville.  
"This is the perfect location for a visitor center as it allows focus on the outdoor amenities in Connellsville and Fayette County," said Commissioner Scott Dunn. "So much happens there, from rafting, cycling, fishing, playground, and pavilions, hiking and walking. We will be able to showcase all of those attractions, promote businesses in Connellsville, and all of the other activities available in the County. I'm beyond excited to continue to sell our Laurel Highlands region as the outdoor showcase of Western Pennsylvania." 
The center will provide a beautiful welcoming experience to visitors with expansive maps, wayfinding signage, and stunning photography and videography showcasing the county's historic sites, natural beauty, and local attractions. Resources such as restaurant menus, guides, maps, and brochures will be able available. 
"Locals and travelers alike benefit from the information available at the Visitors' Center," added Lohr. "Maybe what they see leads them to take in one of the many activities we have to offer, or maybe they take the information home to share with a friend. Either way, the visitor center is there to get the word out about what's happening in Connellsville, Fayette County, and the Laurel Highlands." 
The General Braddock Fish Club secured generous donations from Armstrong Cable and Scottdale Bank for the creation of a stained glass mosaic for the new center. Designed and organized by Pittsburgh artist Steve Sadvary using materials donated by Youghiogheny Glass, who also provided artist fees to complete the project.
The club raises various trout species from fingerlings at its nursery, then stocks the adult trout at points along the Youghiogheny River, including Yough River Park in Connellsville. They also run a concession stand at the park on weekends and holidays with all proceeds benefiting the club. 
The official opening of the new Connellsville Visitor Information Center will be celebrated with a ribbon-cutting ceremony at 10 a.m., Fri., April 2. In honor of Saturday's opening of trout season, the fish club will mark the occasion by stocking a variety of trout. 
"We are excited to be a part of the Connellsville revitalization," said Ann Nemanic, Executive Director, GO Laurel Highlands, the county's destination marketing organization. "The new visitor center will be a place filled with helpful information from one of our friendly counselors. The center will be staffed by local Connellsville and neighboring residents to add a personal touch while showcasing our region's friendly hospitality." 
The visitors center will be staffed 10 a.m.-5 p.m., weekends in April and May, then Tuesdays-Sundays in June, and daily in July and August.   
The Connellsville facility will be the county's second visitor information center, joining the Farmington site that opened in 2017 at the intersection of Route 40 and 381. In 2019, the Farmington site welcomed visitors from 44 states and 10 countries.  
About Pennsylvania's Laurel Highlands
A magnificent mountainous region, the Laurel Highlands spans 3,000 square miles in southwestern Pennsylvania. Located an hour's drive east of Pittsburgh, the beautiful four-season destination offers spectacular natural scenery, outstanding outdoor recreation, historic sites and attractions, family activities, and world-class resorts. Notable destinations within the region include four architectural masterpieces by Frank Lloyd Wright – Fallingwater®, Kentuck Knob, Mäntylä, and Duncan House – Nemacolin Woodlands Resort, Seven Springs Mountain Resort, Flight 93 National Memorial, Idlewild and Soak Zone, whitewater rafting in Ohiopyle State Park, and more.
Located within 200 miles of the major metropolitan areas of Pittsburgh, Baltimore, Cleveland, and Washington D.C., the Laurel Highlands can be easily accessed from exits 67, 75, 91, and 110 of the Pennsylvania Turnpike.
Visitors to the Laurel Highlands can find information online at www.GOLaurelHighlands.com, calling 724.238.5661, www.facebook.com/laurelhighlandsPA, and www.twitter.com/laurelhighlands. Established in 1958, the Laurel Highlands Visitors Bureau, also known as GO Laurel Highlands, is the official destination marketing organization for Fayette, Somerset, and Westmoreland counties in southwestern Pennsylvania.
###