This Thanksgiving, step away from the stove! Whether you need a break from your daily grind or simply an escape from your own kitchen, Thanksgiving is the perfect time to check out the bountiful culinary options in Pennsylvania's beautiful Laurel Highlands.  To help you plan a stress-free Turkey Day getaway, the holiday gurus and chief turkey and mashed potato connoisseurs at GO Laurel Highlands have highlighted several Thanksgiving Dinner and lodging options that we think even the most traditional among us would love. 
Our first tip? Make your reservations right away, before availability is gobbled up! Learn more about outdoor recreation, spas, lodging, and dining in the Laurel Highlands.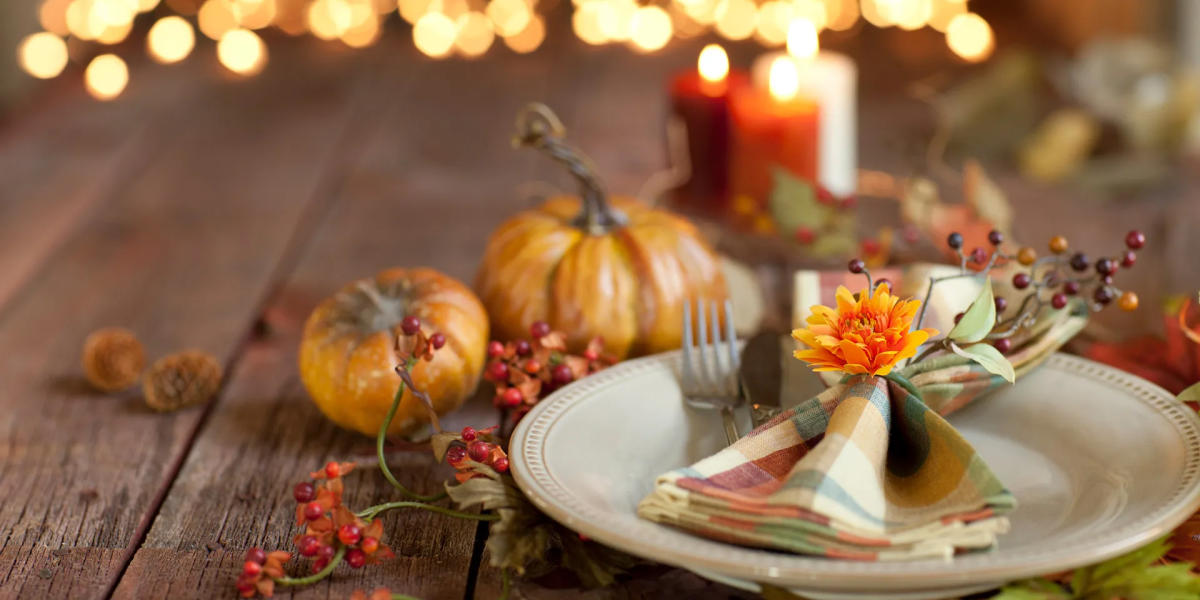 Let's start with the main course. For an "over-the-top, four-day celebration of all things Turkey Day", Nemacolin, in Farmington, PA, is the crème-de-la crème. A resort like no other, Nemacolin has been creating magical moments in Pennsylvania's Laurel Highlands since 1987. This year is no different. Guests will enjoy a Thanksgiving Feast, family movies, craft events, bedtime elf visits for the little ones, a Gingerbread House Workshop, and the awe-inspiring Light Up Nemacolin celebration.  These incredible events are only available to overnight guests and members, so you'll definitely want to book the package.
For those interested in long, scenic mountain views, rich history, and an unbuckle-your-belt, get-out-the stretchy-pants deliciously decadent meal, plan your Thanksgiving visit to The Historic Stone House Restaurant & Inn.
One of the original wayside inns along the National Road, the Stone House first opened its doors in 1822 to wagoners and travelers seeking renewed health in the waters of nearby Fayette Springs. Ever since those early days, the Stone House has been regarded by travelers and locals alike as a charming getaway for fine dining and good times in a peaceful mountain setting. Imagine you and your loved ones spending the holiday in this idyllic setting, enjoying a Thanksgiving Buffet featuring (among other selections) Butternut Squash Soup, Waldorf Salad, Prime Rib, Honey Baked Country Ham, Slow Roasted Turkey, Traditional Stuffing, Buttermilk Mashed Potatoes, Candied Yams, Crab Cakes over Old Bay Rice, and more. Of course, if you saved room, there will be a tempting dessert table complete with Pumpkin and Pecan pie. Reservations can be made by calling 724-329-8876.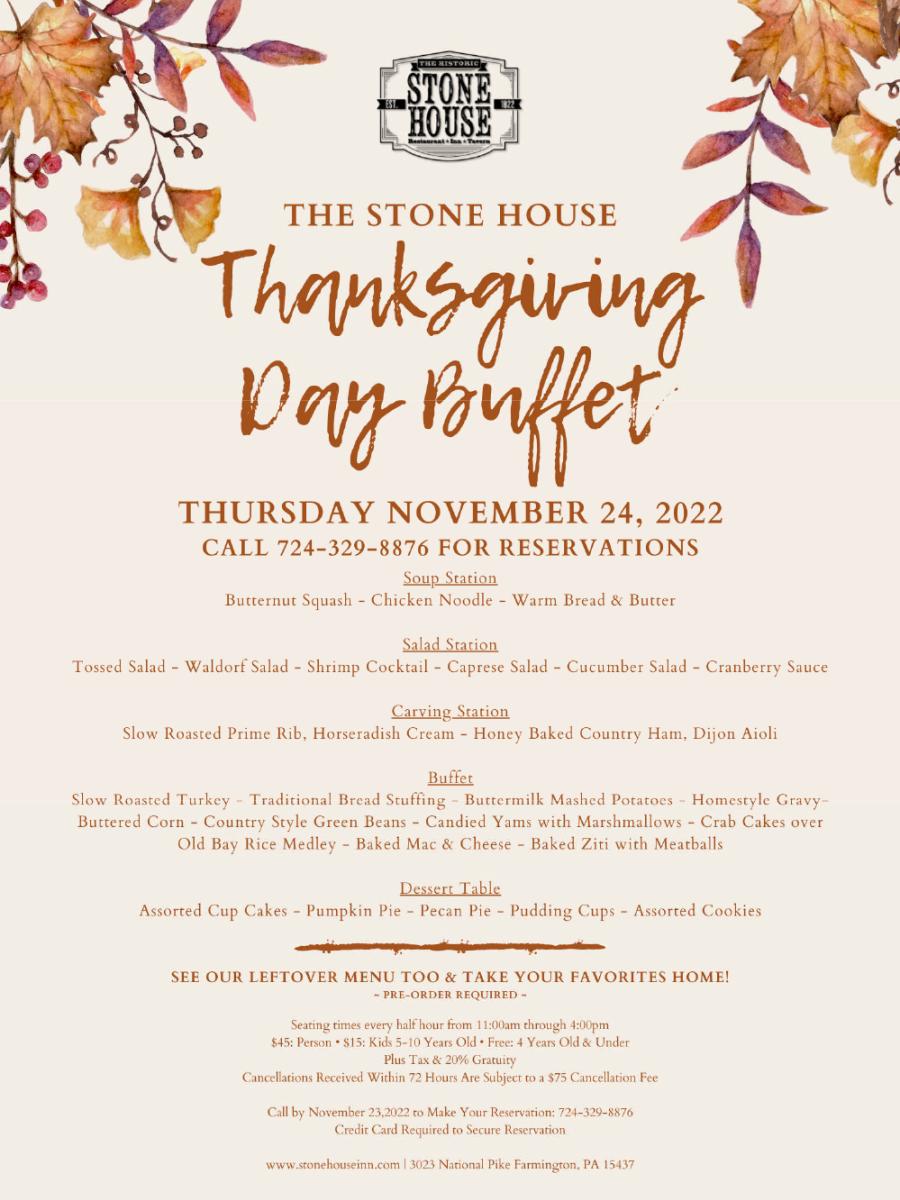 Can't imagine driving home after this feast? Thinking about cocktails by the fire? We don't blame you! To relax and turn this visit into a getaway, book a historic and elegant or modern and romantic room in which to crash—we mean rest--after the feasting festivities. Lodging starts at just $79 per night in well-appointed rooms. Learn more and check availability.
In nearby Uniontown, travelers, and day-trippers alike will be treated to a Thanksgiving Buffet that pulls out all the stops at the Hilton Garden Inn.  Seatings are every half-hour between 12 and 4 pm, perfect to schedule around Laurel Highlands sightseeing or other holiday obligations. Call 724-434-7200 x0 for Reservations. Lodging in this pet-friendly, conveniently located hotel includes an indoor pool, a fitness center, and free parking.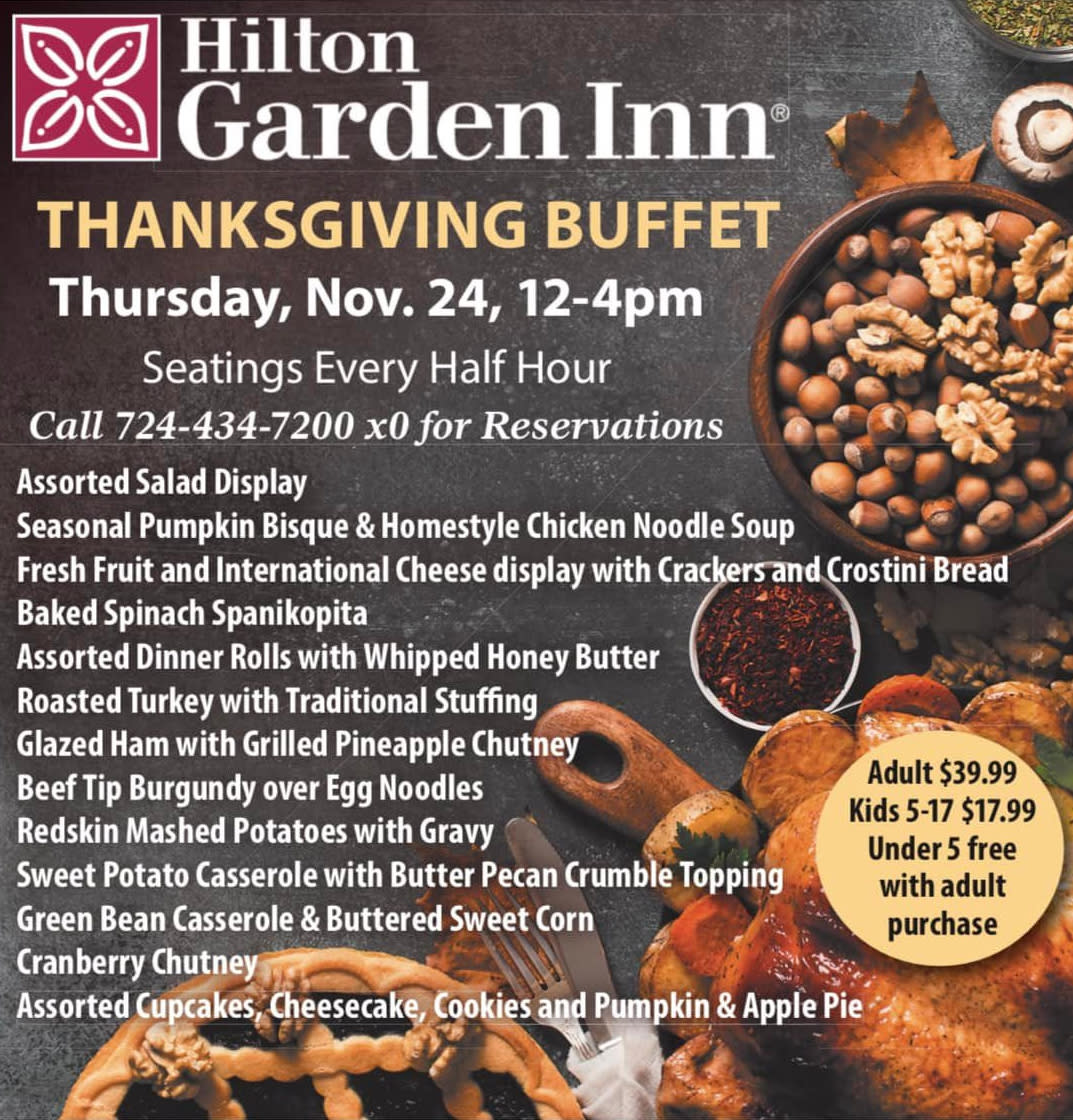 This Thanksgiving Buffet promises to be a veritable feast and the menu includes:
Assorted Salad Display
(Mixed Green, Pasta Salad, Potato Salad, Pickled Eggs)
Seasonal Pumpkin Bisque & Homestyle Chicken Noodle Soup
Fresh Fruit and International Cheese Display with Crackers and Crostini Bread
Baked Spinach Spanikopita
Assorted Dinner Rolls with Whipped Honey Butter
Roasted Turkey with Traditional Stuffing
Glazed Ham with Grilled Pineapple Chutney
Beef Tip Burgundy over Egg Noodles
Redskin Mashed Potatoes with Gravy
Sweet Potato Casserole with Butter Pecan Crumble Topping
Green Bean Casserole
Buttered Sweet Corn
Cranberry Chutney
Assorted Cupcakes, Cheesecake, Cookies, and Pumpkin & Apple Pie
Families will appreciate the familiarity and quality of the Hilton Garden Inn's lodging accommodations and the delicious variety of the Thanksgiving Buffet.
There is so much to do in the Laurel Highlands, you may want to spend the Thanksgiving holiday chilling out in a cozy cabin or cottage, recharging at an intimate bed and breakfast, or enjoying all of the amenities at one of our top-rated hotels or luxurious resorts. Should you choose to stay in a private setting, we recommend ordering your Thanksgiving Dinner from Disalvo's Station Restaurant in Latrobe, PA. 
Now that we've spilled the tea, why not put Thanksgiving 2022 in the books as your best holiday ever? Make lasting holiday memories beyond the dinner table as you explore hiking and biking trails, museums, and more in Pennsylvania's scenic Laurel Highlands.
Interested in learning more? Specific Laurel Highlands events for the Thanksgiving weekend can be found here.