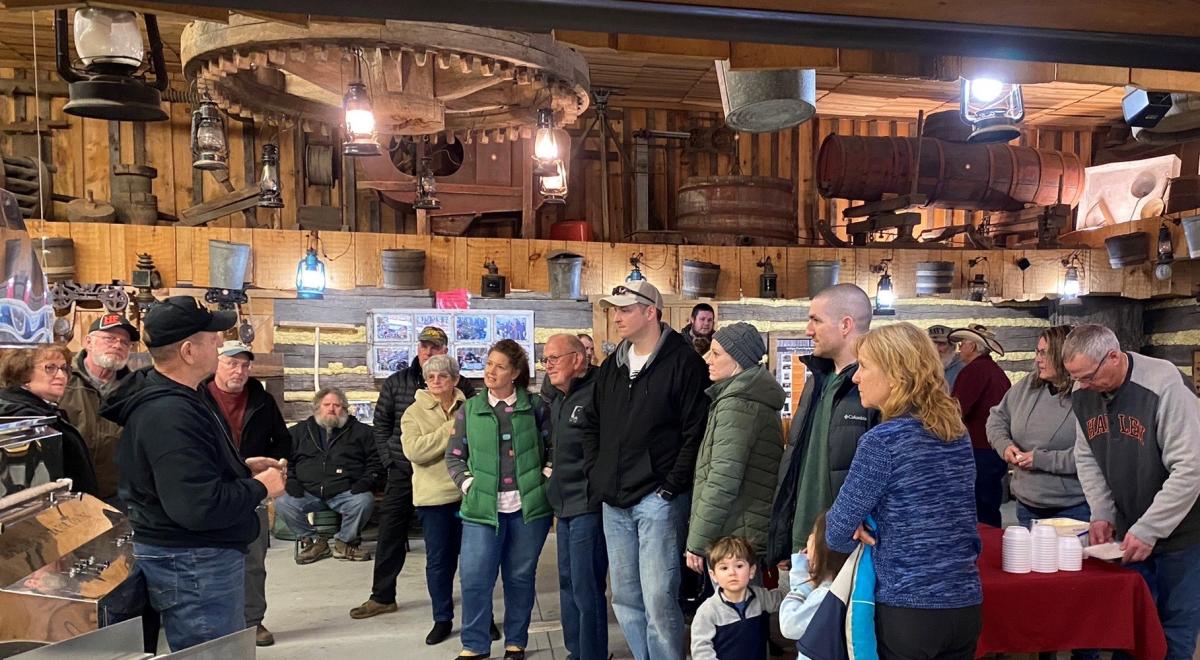 Whether you're interested in learning more about an industry that has been a part of the Laurel Highlands for nearly 300 years, tasting savory maple bacon and burger stew, or just looking for something sweet to pour on your pancakes, the Laurel Highlands has you covered!
While syrup is the most widely known product made from tree sap, options made with maple abound in Somerset County, from condiments such as mustard and barbecue sauce to sweets including cotton candy and fudge. How about a slice of burnt sugar cake washed down by some maple-flavored coffee? Both are available. And don't forget about your fur babies. You can get them some maple dog treats!
Looking to make a weekend of it? Check out Tapped: A Maple Trail, which offers a two-day itinerary for maple destinations throughout the Laurel Highlands.
Somerset County is Pennsylvania's top maple producer and features a pair of celebrations stretching over three weekends.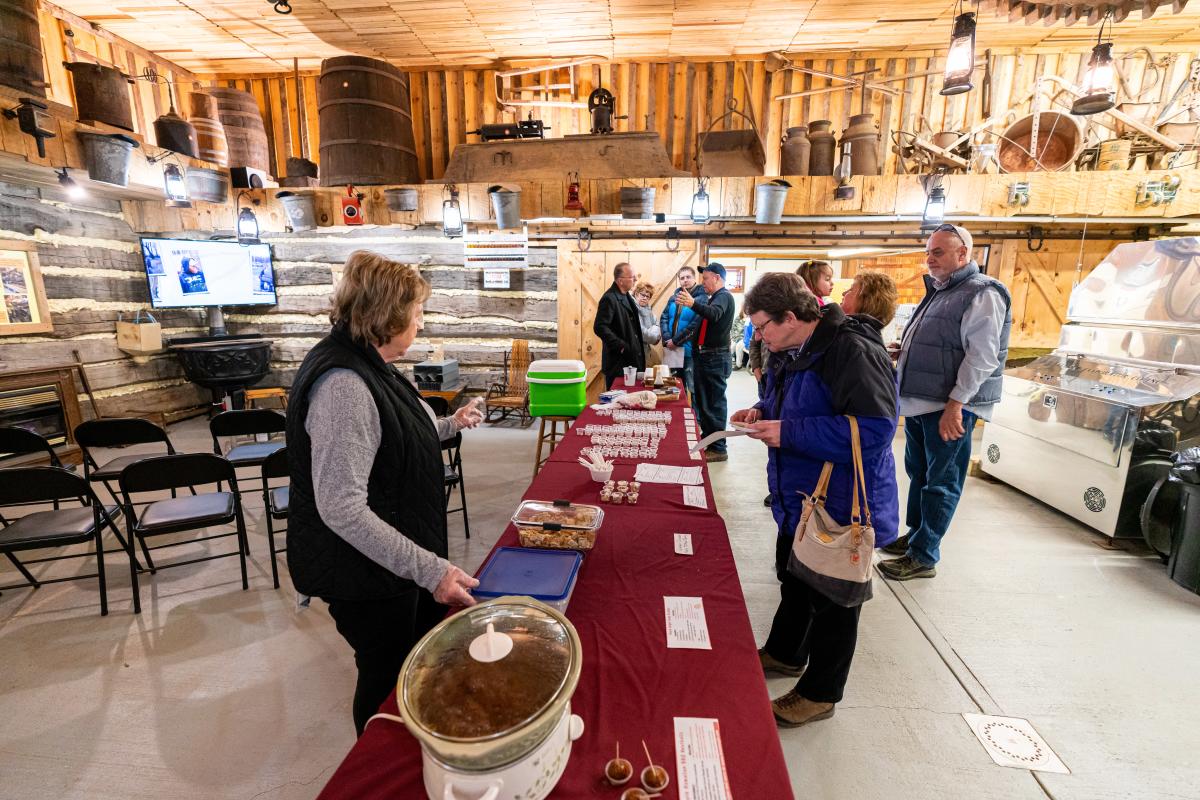 The Somerset County Taste & Tour Maple Weekend runs from 10 a.m. to 4 p.m. on March 11-12, 2023 with free tours at two dozen locations across the region. You can download the full guide here.
History buffs will want to check out Somerset Historical Center, where the Historical & Genealogical Society of Somerset County is hosting its Taste & Tour experience. Learn about maple production, from the earliest recorded sugaring techniques to the high-tech machinery behind today's industry.
Activities for children and adults are scheduled, including demonstrations of crafts that supported the maple industry, from coopering to scrub brush making. Enjoy spotza – the treat made from pouring thick maple syrup over shaved ice – or maple kettle corn while taking a horse-drawn wagon ride, which is available for a small fee.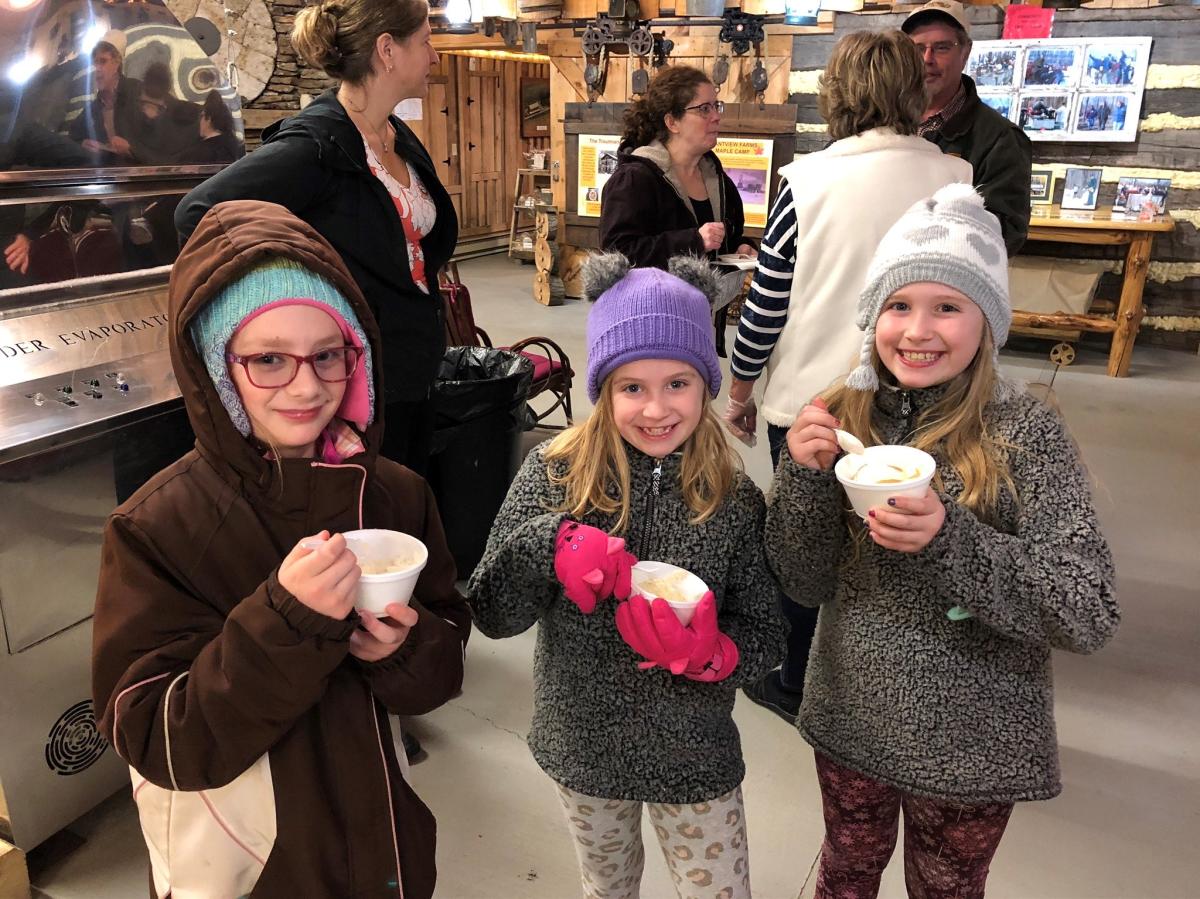 Brantview Farms Maple, located about 10 miles from the Flight 93 National Memorial, is an eighth-generation sugar camp. George Stull started producing maple syrup in Somerset County in 1832 and has passed the technique and maple recipes down through the years. Richard Brant now operates the 300-acre sugar camp and maple tree farm.
Tours are offered year-round, but the Taste & Tour weekend is one the most popular times of the year for visitors.
"We have a lot of people show up," said Amy Brant of Brantview Maple Farms. "We get a good response. Talking to the other maple producers, it sounds like we all do."
Don't miss out on the maple bacon and burger stew available during the Taste & Tour. Brantview will also be offering sausages in maple barbecue sauce, cheese dipped in maple mustard,  graham cracker delights, and ice cream served with maple syrup.
Of course, maple syrup can be purchased at Brantview Farms in sizes ranging from a half pint to a full gallon.
The Maple Weekend isn't all about tasting, though. The tour aspect can't be overlooked, as Brantview will be giving visitors a glimpse behind the scenes with a demonstration of how the syrup is turned into granulated sugar. Not surprisingly, maple sugar – which can be used to replace brown sugar in recipes – is usually the top seller for Brantview during the Taste & Tour weekend.
You can even hop on the sugar wagon for an open-top ride to the pumphouse in the sugar woods.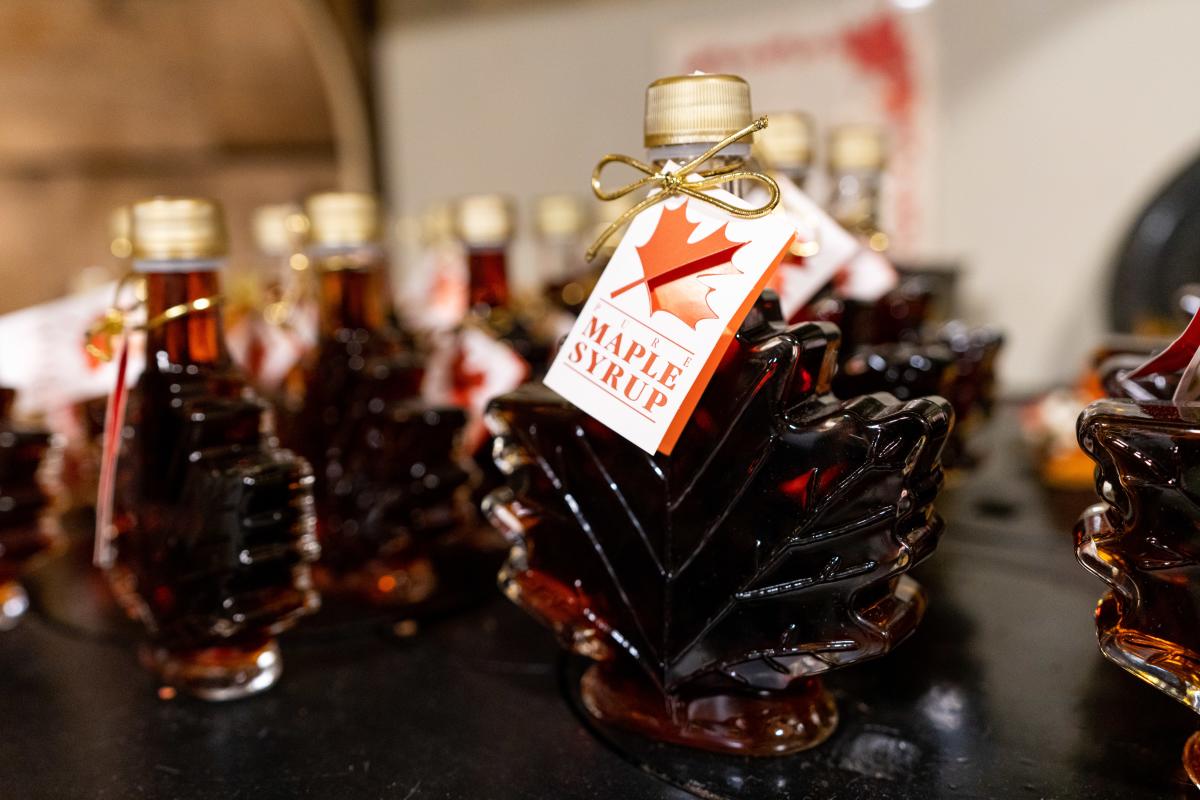 Sechler Sugar Shack outside of Confluence has been making fine maple products since 1850.
Everett Sechler and his wife Christine now run the camp with the help of their children, grandchildren, and great-grandchildren. If you're keeping track, that's the fifth, sixth, seventh, and eighth generations.
Everett's great-great-grandfather, Civil War veteran Jonas Sechler, started the camp. The process of making maple syrup has changed so much that it would be almost unrecognizable to the men who taught Everett.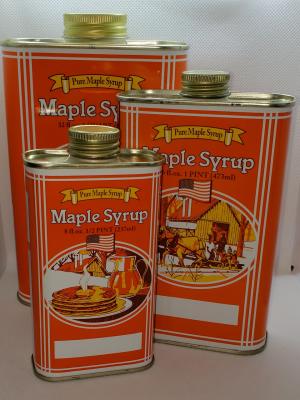 "If my grandfather came back, he would be shocked, and if my dad came back, he would know he was boiling syrup, but there's new equipment that he would have never dreamed of," the 72-year-old Everett said.
But the Sechlers don't want to completely ignore the old ways. Everett said they built an old-fashioned sugar camp that his great-great-grandsons will be operating, using wood and an old evaporator.
"They do it the way my dad it 50 years ago," he said.
Everett never dreamed that Sechler Sugar Shack would become a tourist attraction, but he said crowds are growing each year. One group from Kentucky has returned for a second visit after its members enjoyed the first trip so much, with some telling Everett that it was the highlight of a sojourn that included visits to see the Liberty Bell in Philadelphia and the battlefields of Gettysburg.
A few residents of the Turkeyfoot Valley are regulars who return year after year, but Everett is seeing more traffic from areas such as Uniontown, Greensburg, and Pittsburgh.
"It seems to be growing every year," he said of the Taste & Tour. "More and more people come each year."
Syrup is the most popular product at Sechler Sugar Shack, and visitors can get it in an old-fashioned metal can, a more contemporary plastic jug, or in any one of more than 30 glass bottle styles, ranging from one shaped like a hockey player to one paying tribute to those who, like Jonas, served in the Civil War.
Taste & Tour attendees will be able to sample treats such as sugar cakes, maple spread on crackers, maple and ham baked beans, and maple cake with ice cream covered in maple syrup.
Maple Harvest Tours
Laurel Hill State Park's sugar camp will be open to tours on Saturday, March 11. Guests can explore the history of maple sugaring from the days of discovery to modern-day evaporation. Enjoy a tasting and take a bottle of maple syrup home.
Tours will be led at 10 a.m. and 1 p.m., with a walk of about a quarter mile, as guests will visit stations throughout a historic group camp at Laurel Hill State Park.
Look for the "Maple Harvest Tour" sign along Laurel Hill Park Road and meet at Camp Tree Army.
Individuals in need of accommodation to participate in park activities due to a disability can contact the Pennsylvania Bureau of State Parks: at 888-PA-PARKS (voice,) (717) 558-2710 (local or international voice,) 711 (AT &T Relay Services.) With at least three days' notice, interpreters for people who are deaf or hard of hearing are available for educational programs.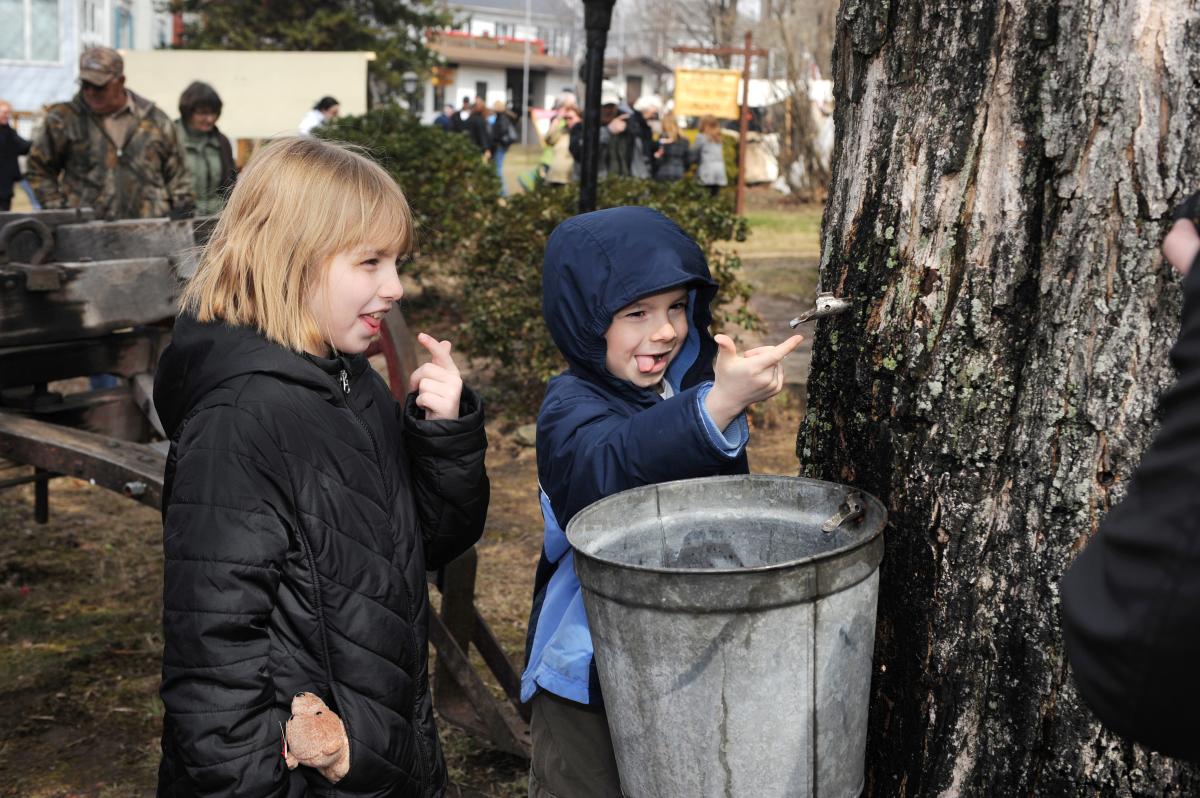 Head to the Maple City of Meyersdale for the ever-popular Pennsylvania Maple Festival, which runs from April 22-23 and April 26-30, 2023.
Dating to 1948, the festival is a spring rite of passage in Somerset County with staples such as the annual Maple Queen competition, tours of the Historic Meyers Homestead, and sugar shack demonstrations.
Bring the young ones to Kids' Corner, where children can make crafts, get their faces painted or find other kid-friendly activities. Or enjoy an adult beverage at Sit & Sip Garden, where guests age 21 and over can participate in tastings of beer, wine, whiskey, rum, hard cider, moonshine, and more. Craft beverage makers participating include Bella Terra Vineyards, Christian W. Klay Winery, Rusty Musket Distilling, and Tall Pines Distillery. 
Events schedule:
Quilt show: 9 a.m.-5 p.m., April 22-23, 29; 9 a.m.-4 p.m., April 26-28; 9 a.m.-3 p.m., April 30
Festival pancake and sausage dinners: 8 a.m.-3 p.m., April 22-23, April 29-30; 8 a.m.-2 p.m., April 26-28
Community Night pancake and sausage dinner: 5-7 p.m., Thursday, April 27 
"Legend of the Magic Water," dinner theater performances: 6 p.m., April 28-29
Truck/motorcycle/side-by-side/ATV show: 10 a.m.-3 p.m., Sunday, April 23
Maple Race Run/Walk: Saturday, April 29
Grand feature parade: 1 p.m., Saturday, April 29
Antique/classic/street-rod auto show: 10 a.m.-3 p.m., Sunday, April 30
 Horse-pulling contest: 1 p.m., Sunday, April 30