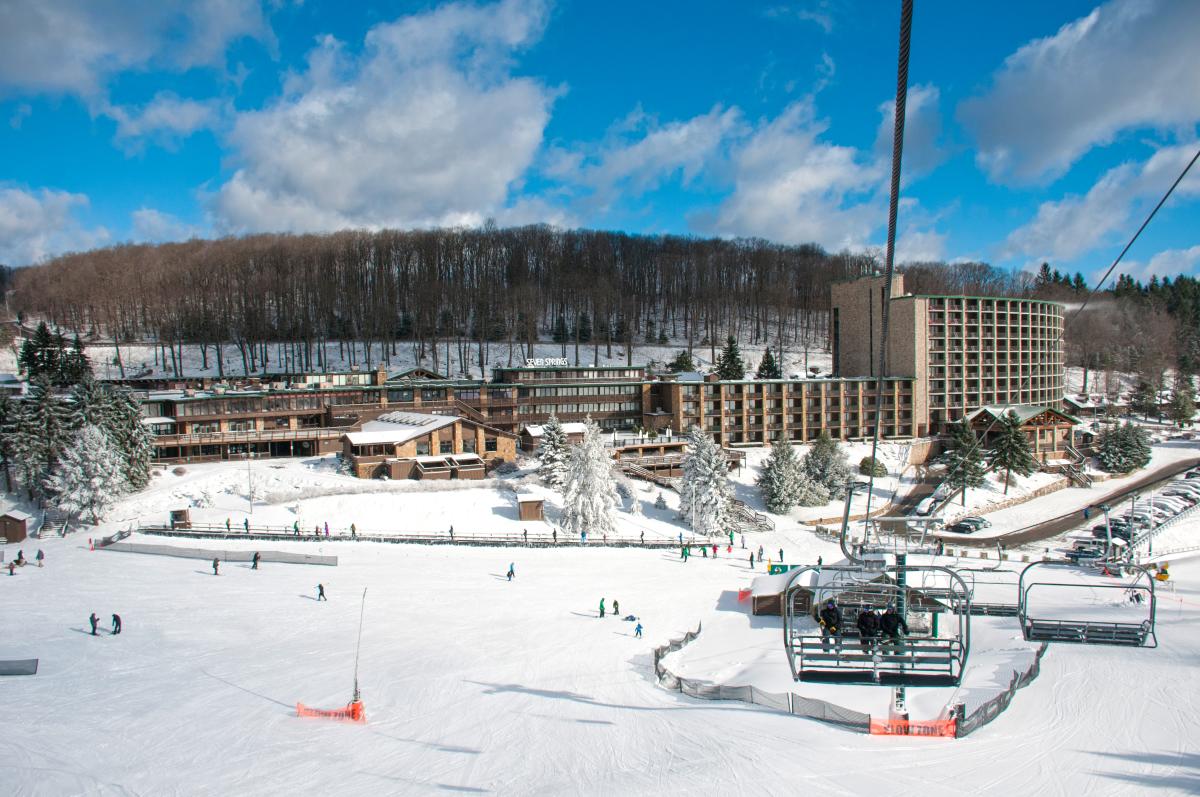 Following more than a decade of dramatic growth, Seven Springs Mountain Resort, Inc. announced today an agreement to sell Seven Springs Mountain Resort, Hidden Valley Resort, and Laurel Mountain Ski Area to Vail Resorts, Inc. (NYSE: MTN), the premier mountain resort operator.  Vail Resorts is a world-class company uniquely positioned to further enhance the experience at each resort. 
The sale, which is expected to close this winter season, will mark the conclusion of the successful ownership of the Nutting family.  Dating back to July of 2006 with the purchase of Seven Springs Mountain Resort, the resort operations have expanded to include neighboring Hidden Valley Mountain Resort in September of 2013 and bringing operations at Laurel Mountain online in December of 2016. 
During this time the resort significantly grew employment opportunities, nearly doubling the number of personnel during winter operations from approximately 900 to more than 1,700.  The renewed focus on year-round programming helped to drive an equally dramatic climb in employment levels during the summer months when the number of employees went from approximately 600 to more than 1,000.
The upgraded winter operations, renovated hotel and events spaces, new luxury spa and world-class sporting clays facility, enhanced dining experiences, and expanded activity offerings helped drive a record number of passholders and more annual guests to the resort than at any time in its history.  In addition, Seven Springs grew to be one of the top-rated ski resorts in the East, while its terrain parks and super-pipe have also consistently been rated as the best in the East. 
"The resorts truly are a part of the fabric of this region and a critical community asset.  I am extremely proud of our stewardship of Seven Springs and its sister resorts, and even more so of all the people we have worked side-by-side with to transform them into what they are today," said Robert Nutting, President and CEO of Seven Springs Mountain Resort, Inc.  "Our team of professionals helped change the way our resorts are viewed by guests throughout the Northeast and Mid-Atlantic regions and within the industry.  It has been an honor to be a part of their incredible growth for more than a decade as we leave each resort a much stronger community asset than we found it."
While Seven Springs Mountain Resort, Inc. has agreed to sell the assets related to the mountain operations of the resorts, including base area lodging, conference center, and amenities, the company will remain committed to the Laurel Highlands by retaining several neighboring operations.  The company will continue to own and operate the Sporting Clays at Seven Springs, Seven Springs Golf Course and Hidden Valley Golf Club, Highlands Market, Highlands Resort Realty, and retain certain real estate for potential future development.
"We are forever grateful for the record number of passholders, passionate homeowners, and all of our guests who have made so many memories with us on the mountain," said Nutting.  "We look forward to remaining actively committed to and engaged in the greater Laurel Highlands community." 
"Vail Resorts is a perfect successor with a proven track record of honoring the unique character of each of its resorts," added Nutting.  "They are the industry leader in investing in the guest experience, employee development, and environmental stewardship.  We are thrilled that the resorts will now become part of Vail Resorts network and are confident that Vail Resorts will continue to invest in what makes these resorts so special."
"We are incredibly excited to have the opportunity to add Seven Springs to our family of resorts along with Hidden Valley and Laurel Mountain," said Kirsten Lynch, chief executive officer of Vail Resorts. "As a company, we have been focused on acquiring resorts near major metropolitan areas as we know many skiers and riders build their passion for the sport close to home. These great ski areas in Pennsylvania are a perfect complement to our existing resorts, creating a much stronger connection and compelling offering to our current and future guests in Pittsburgh as well as those in other critical markets such as Washington, D.C., Baltimore, and Cleveland."
Winter operations at each resort, which began with a successful opening day this past Saturday at Seven Springs, will continue in the ordinary course of business throughout the 2021-22 season.  Current passholders, hotel guests, as well as group and event leaders will not be effected through the transition of ownership.  Vail Resorts plans to add access to the three resorts' passholders to select Epic Pass products for the 2022-23 North American ski and ride season.
As the leading global mountain resort operator, Vail Resorts currently owns 37 resorts across three countries and 15 U.S. states – including some of the world's most iconic destinations such as Vail Mountain, Breckenridge Ski Resort, Park City Mountain, Whistler Blackcomb, and Stowe Mountain Resort. In Pennsylvania, the company owns and operates five ski areas: Liberty Mountain Resort, Roundtop Mountain Resort, Whitetail Resort, Jack Frost, and Big Boulder. Recently named to Newsweek's list of America's Most Responsible Companies, Vail Resorts is committed to supporting its stakeholders through its bold sustainability goal, Commitment to Zero; robust community impact initiatives; and the company's EpicPromise Employee Foundation.
About Seven Springs Mountain Resort, Inc.
Seven Springs has grown into Pennsylvania's premier four-season family resort.  It is located one hour southeast of Pittsburgh and is among the largest ski resorts in Pennsylvania with 285 skiable acres and 750 vertical feet.  In addition to skiing and snowboarding, Seven Springs offers significant resort amenities, including a 418-room hotel, conference center, a full-service spa, and tubing. Hidden Valley offers 110 skiable acres and 470 vertical feet, with 26 slopes and trails and two terrain parks. Laurel Mountain offers 70 skiable acres and 761 vertical feet. For more information please visit www.7springs.com.
# # #
Alex Moser
Director of Marketing & Communications
Seven Springs Mountain Resort | Hidden Valley Resort | Laurel Mountain