LATROBE, Pa. (May 25, 2021) – Passengers arriving at and departing from Arnold Palmer Regional Airport will now be greeted by an impressive array of artwork and installations, designed to showcase Westmoreland County and the Laurel Highlands.
Last fall, representatives from GO Laurel Highlands approached the airport's executive director about collaborating on a project to enhance the airport by creating a sense of arrival and showcasing the county and the region's attractions. The project was quickly supported by the airport authority and the county commissioners. Work began shortly thereafter.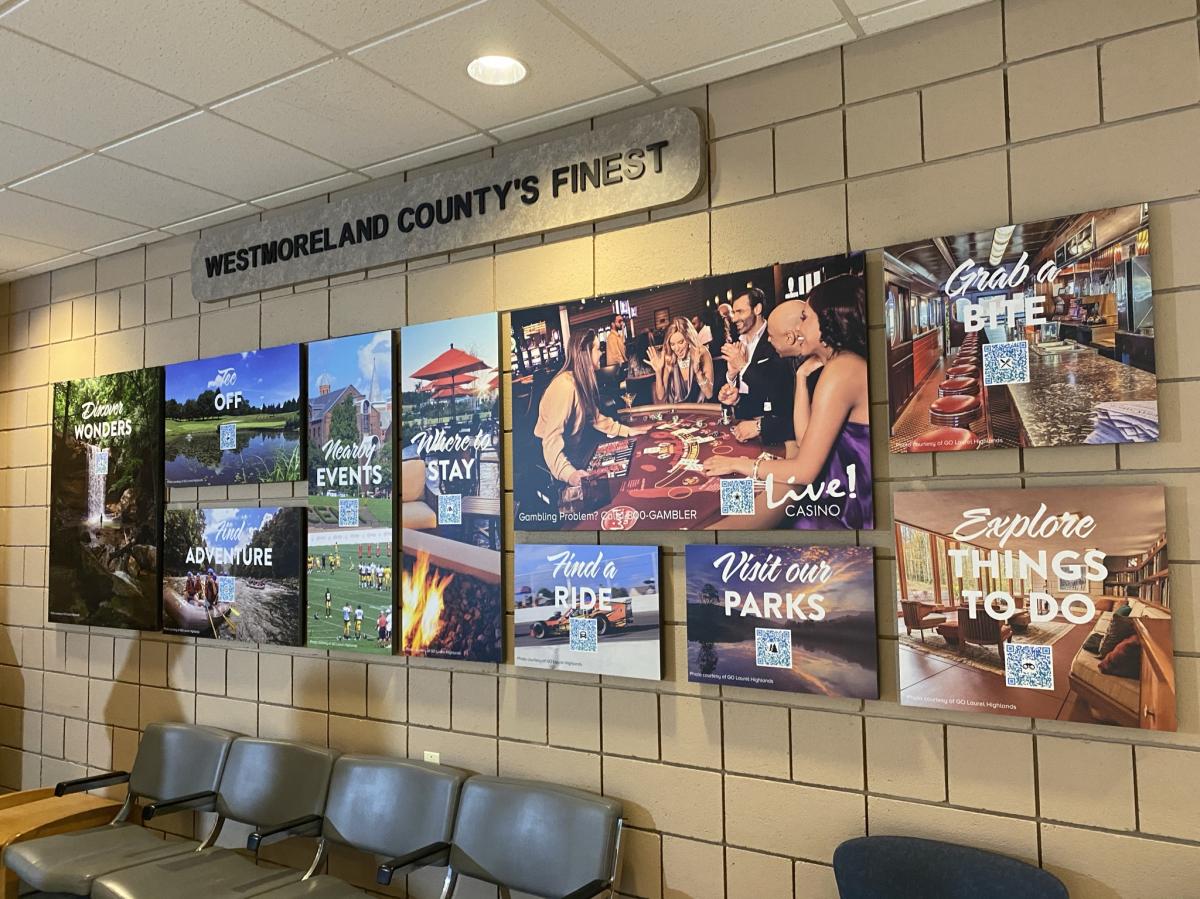 More than 50 new installations created by Blue Sky Sign Company of Greensburg include large 10-foot banners featuring beautiful local vistas, a three-dimensional skier, and a Resource Wall to help visitors find places to stay, eat, and explore. Featured locations include The Palace Theater, Idlewild & Soak Zone, Westmoreland Museum of American Art, Fort Ligonier, Frank Lloyd Wright architecture, Flight 93 National Memorial, and more. Installation was completed the week of May 17 and can now be seen by passengers and airport staff.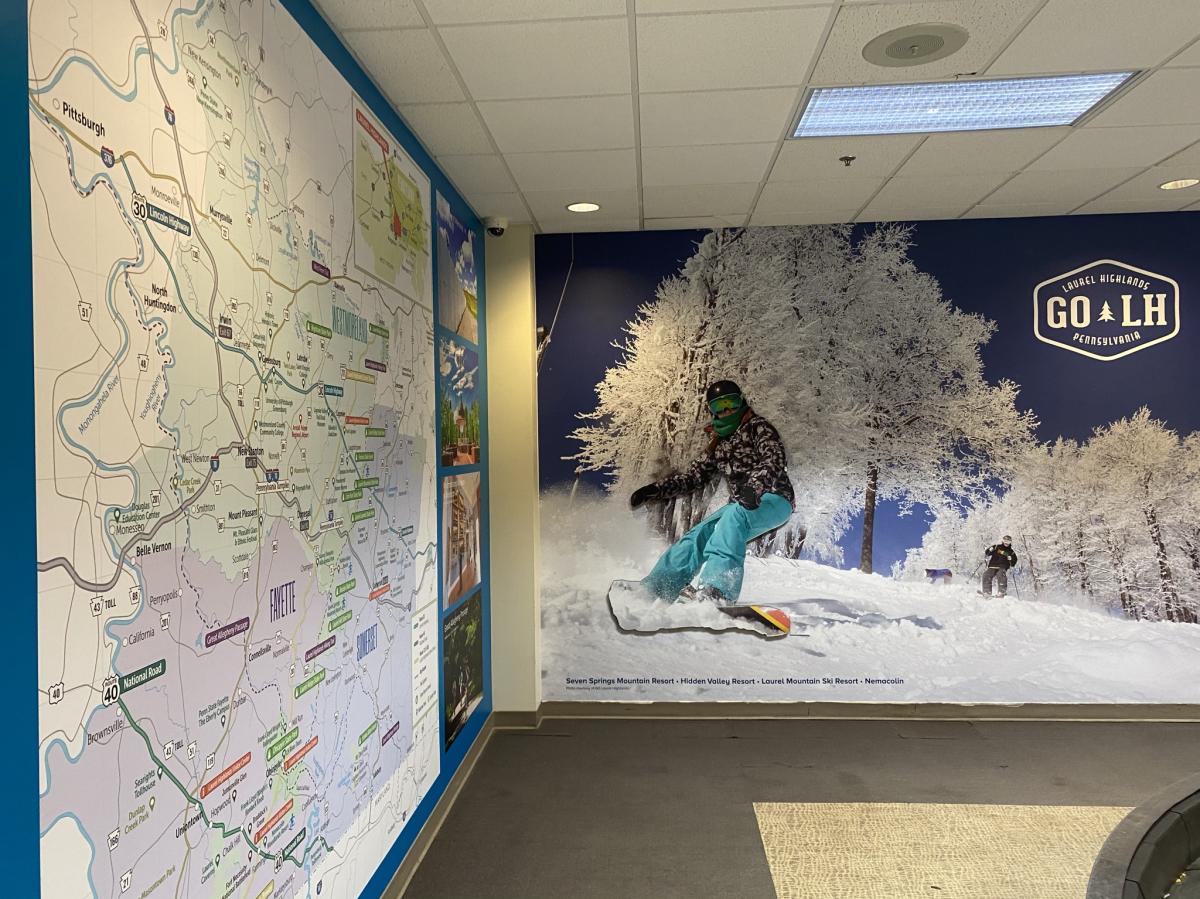 "GO Laurel Highlands was excited to initiate and take the lead on this airport enhancement project," said Ann Nemanic, Executive Director of GO Laurel Highlands, the county's destination marketing organization. "Because the Arnold Palmer Regional Airport is utilized by visitors and residents alike, the installations throughout the airport serve a dual purpose. For visitors, we hope to project an immediate sense of arrival to a very special place. We know most arrive with a singular purpose, but through the varied installations, the goal is to plant the seed for a return in the future. For residents, we want them to have a sense of place. We want them to feel proud they are residents of Westmoreland County and are surrounded by the beauty of the Laurel Highlands each and every day."
"We are proud to collaborate with GO Laurel Highlands on this initiative to welcome visitors to our region," said Gabe Monzo, Executive Director, Arnold Palmer Airport. "Our response to the community to provide a reasonable resource for travel has been proven, now with this collaboration, it comes full circle, those airplanes fly both ways. We are in the spotlight and it's time to shine!"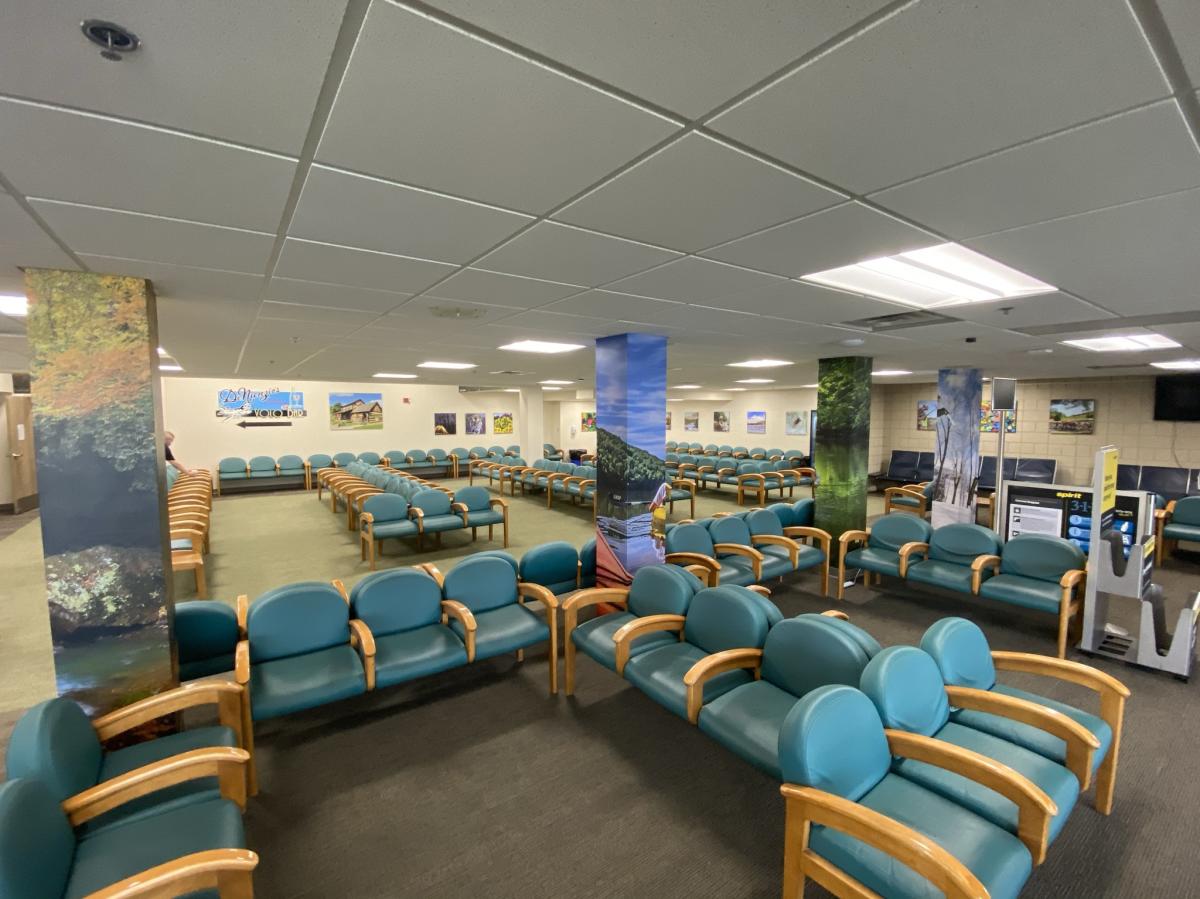 Arnold Palmer Regional Airport services 350,000 passengers annually and has seen continued growth in its operations. For instance, the airport authority recently expanded the site's facilities with the completion of an $18 million project and can now accommodate additional flights and larger aircraft. The new artwork and installations were funded by the county's lodging occupancy tax.
"As residents, we know just how spectacular this county is," said Jason Rigone, Executive Director, Westmoreland County Industrial Development Corporation. "Whether it's the beautiful landscape or the cool places to visit, there is just so much to enjoy.  Now we are taking the next step by showcasing it to the thousands of passengers who use this regional asset yearly.  When developing the Reimagining Our Westmoreland plan, it became obvious we should be highlighting what makes Westmoreland so great and I'd like to thank our partners at GO Laurel Highlands and the Westmoreland County Airport Authority for seizing the opportunity to share our county with the rest of the world."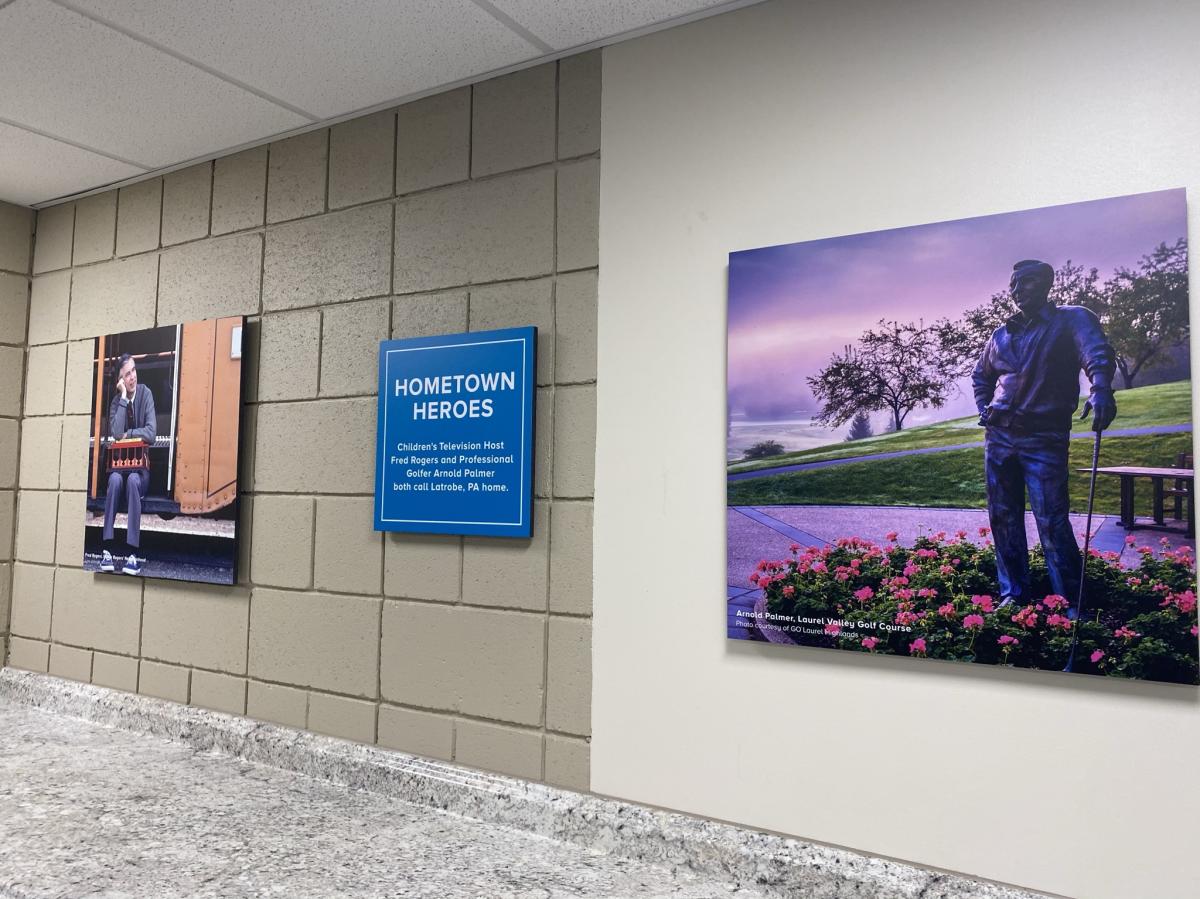 "One of the reasons why I chose to stay here in Westmoreland County is because of its beauty," said Commissioner Sean Kertes. "From arts and culture to outdoor amenities and activities, Westmoreland County has a great deal to offer to residents and visitors alike."
"Over the last year, we have seen a great influx of people coming to Westmoreland County to get away from tight, crowded spaces to relax and play in our mountainous, outdoor spaces," said Commissioner Doug Chew. "We are very excited to unveil Phase 1 of this Airport Enhancement project.  Now, visitors won't just have a great first impression; they'll have a great, lasting impression."
"Westmoreland County and the Laurel Highlands has fun and exciting family attractions all year round from skiing in the winter to hiking and kayaking in the summer," said Commissioner Gina Cerilli Thrasher. "The photos being displayed at the airport and advertised throughout the county are a great reminder to our own residents that we have the ultimate staycation in our backyards. Now more than ever is the perfect time to take advantage of the natural beauty and all the fun the Laurel Highlands has to offer."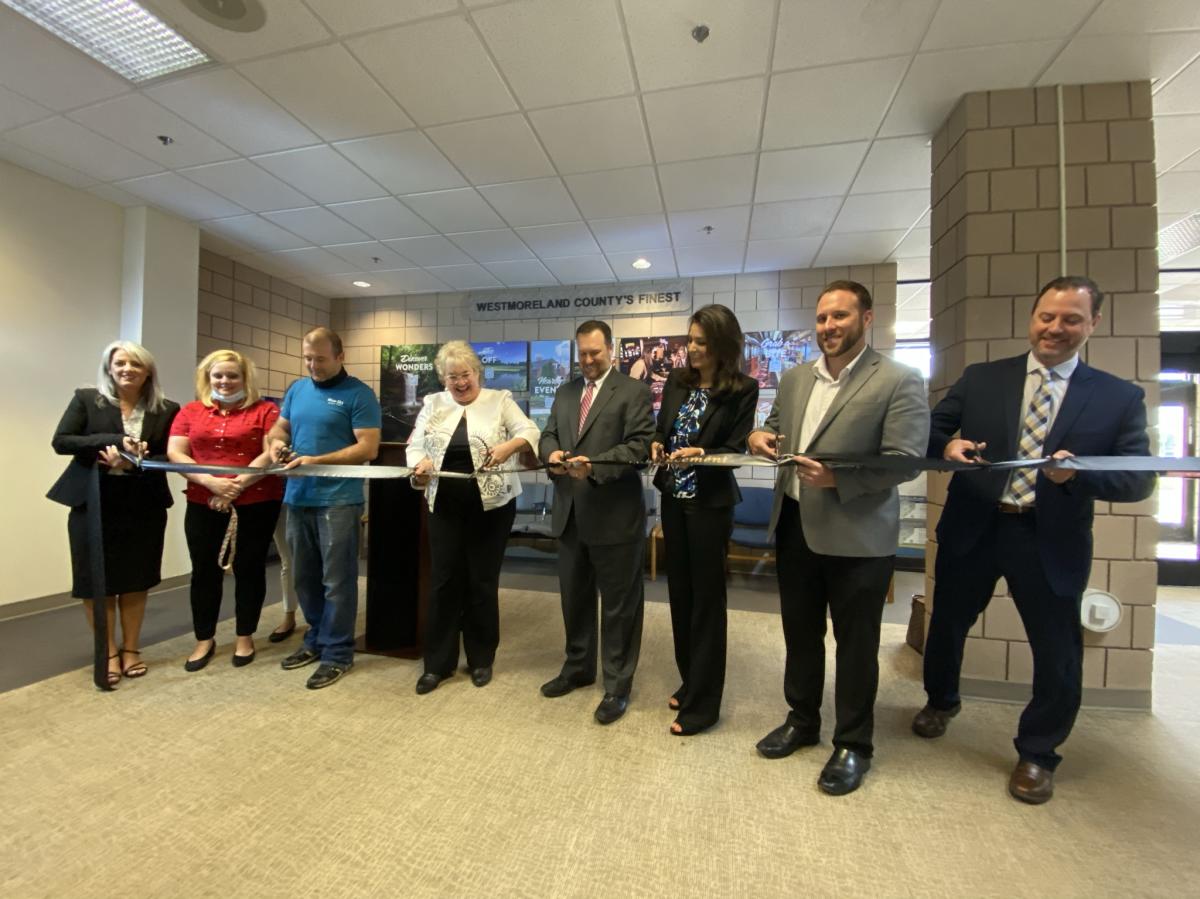 About Pennsylvania's Laurel Highlands
A magnificent mountainous region, the Laurel Highlands spans 3,000 square miles in southwestern Pennsylvania. Located a short drive east of Pittsburgh, the beautiful four-season destination offers spectacular natural scenery, outstanding outdoor recreation, historic sites and attractions, family activities, and world-class resorts. Notable destinations within the region include four architectural masterpieces by Frank Lloyd Wright – Fallingwater®, Kentuck Knob, Mäntylä, and Duncan House – Nemacolin, Seven Springs Mountain Resort, Flight 93 National Memorial, Idlewild and Soak Zone, whitewater rafting in Ohiopyle State Park, and more.
Located within 200 miles of the major metropolitan areas of Pittsburgh, Baltimore, Cleveland, and Washington D.C., the Laurel Highlands can be easily accessed from exits 67, 75, 91, and 110 of the Pennsylvania Turnpike.
Visitors to the Laurel Highlands can find information online at www.GOLaurelHighlands.com, calling 724.238.5661, www.facebook.com/laurelhighlandsPA, and www.twitter.com/laurelhighlands. Established in 1958, GO Laurel Highlands, formerly known as the Laurel Highlands Visitors Bureau, is the official destination marketing organization for Fayette, Somerset, and Westmoreland counties in southwestern Pennsylvania.
###