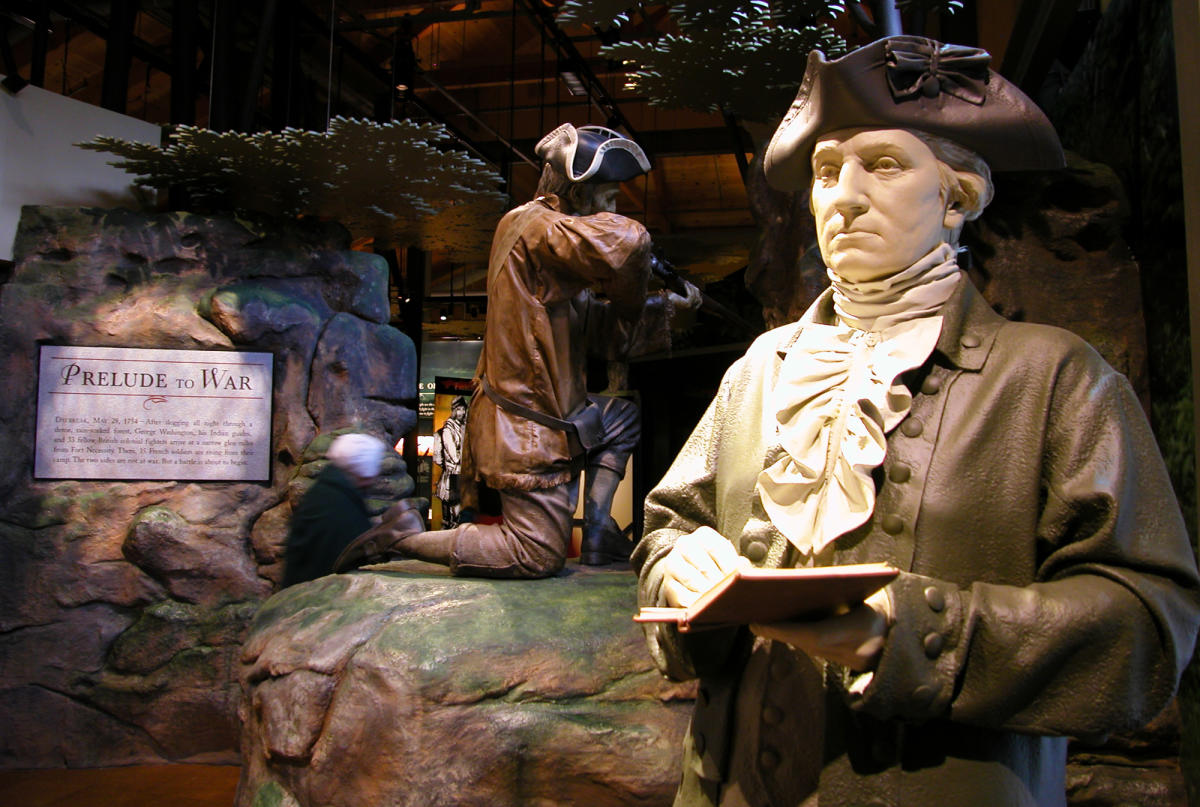 LIGONIER, Pa., (Jan. 15, 2020) – An ambitious young officer heads west to claim lands for the British. Along the way, he makes mistakes, but he also works hard, persists and makes a name for himself. Some believe that George Washington's trials and tribulations in Pennsylvania's Laurel Highlands helped him grow into a legendary military leader and eventually the first President of the United States of America.
"Great Crossings of the Youghiogheny River"
Yough River Lake, near Route 40 Bridge, Addison
May 18, 1754 
Lt Col. George Washington, who is just 22-years old, was in command of about 150 troops in the Virginia regiment. He was on a mission to capture the French fort, Fort Duquesne, at what was called "the forks of the Ohio" in present-day Pittsburgh to reinforce an advance party of Virginians and prevent the French from seizing their claim. Washington decided to see if he could use the Youghiogheny River as a means to reach the fort quickly and avoid building miles of road across the mountains, but high water prevented the army from crossing the river.
"The Turkeyfoot"
Along the Great Allegheny Passage in Confluence
May 20, 1754 
Washington and five men set off in a canoe from the Great Crossings to explore the Youghiogheny River. Finding the canoe too crowded, they stopped in present-day Confluence to build another vessel, likely a log raft. Washington referred to this site as the "turkeyfoot," after the shape formed by the confluence of the Youghiogheny and Casselman rivers and Laurel Hill Creek.
"A Falls"
Ohiopyle Falls, Ohiopyle
May 21, 1754 
Washington observed the falls and wrote it was "nearly forty feet perpendicular" and concluded that the Youghiogheny River "can never be made navigable." Here he was forced by the powerful Ohiopyle Falls to abandon river passage.
"The Great Meadows"
Fort Necessity National Battlefield, Farmington
May 24, 1754 
Excited to locate an open meadow, Washington writes that by cutting down some bushes they have "prepar'd a charming field for an encounter." Perhaps it was a little premonition of what is to come…
"A Very Obscure Place Surrounded by Rocks"
Jumonville Glen
May 28, 1754 
Late in the evening the day before, Washington receives news from his Seneca Indian ally, the Half King, that a party of French soldiers is nearby. After hiking all night, he joined with his American Indian allies to surround the French and find out what they were up to. While Washington positioned his troops, the French spotted them. It is unclear whether the French or British fired the first shot, but then Washington's troops open fire. After a brief skirmish, 10 Frenchmen were dead, including Ensign Joseph Coulon, sieur de Jumonville. Both sides claimed the other fired first with the French also blaming Washington for the assassination of Jumonville. Washington rebuffed, saying he waited until the French ran for their arms before giving the order to fire. This event marked the first shots of the French and Indian War.
Fort Necessity
July 3-4, 1754 
A lone French soldier escaped from the skirmish and reported to the French military leaders at Fort Duquesne, who then planned retaliation against the British. In anticipation of a French attack, Washington returned to the Great Meadows and ordered the construction of a small stockade named Fort Necessity. Five weeks later, on July 3, 1754, he and nearly 400 troops were attacked by a force led by Captain Louis Coulon de Villiers, brother of the slain Ensign Jumonville. The French surrounded the small fort. After fighting all day in the pouring rain, Washington lost 30 soldiers and 70 were wounded. At midnight, Washington agrees to his first and only military surrender.
 The next day, Fort Necessity was surrendered. Poor translation of the terms of surrender led Washington to sign his name to the document, ultimately holding him responsible for the assassination of Ensign Jumonville.
Engagement with the French on the Monongahela
Braddock's Field History Center, Braddock
July 9, 1755 
Washington joined British General Edward Braddock as a volunteer aide-de-camp, as the English once again tried to capture the French-held Fort Duquesne in present-day Pittsburgh. Only seven miles from their destination, Braddock's large army of about 1,400 soldiers encountered the French and their American Indian allies. After fighting for about three hours, the British suffered huge losses. Washington had four bullets shot through his clothes but survived unscathed. Braddock was mortally wounded and directs Washington's lead the troops' retreat.
Braddock's Grave
July 13-14, 1755 
While on the retreat, less than a mile from Fort Necessity, Braddock succumbed to his injuries. The next day, Washington gave the eulogy at his gravesite and Braddock was buried in the middle of the road. Wagons were rolled over the top of the gravesite to prevent the general's body from being discovered and desecrated by enemies.
Fort Ligonier
October-November 1758
Washington arrived at Fort Ligonier in late October of 1758. On November 12, he was sent a few miles from the fort to assist a group of Virginians who were in a skirmish with a raiding party from Fort Duquesne. Mistaking the Virginians for the enemy, a devastating friendly fire incident ensued in which 40 men were killed or went missing. Three prisoners from Fort Duquesne were taken during the incident. One gave intelligence that Fort Duquesne was weak. General John Forbes led a force, that included Washington, to finally take their objective. On November 25, 1758, Forbes's troops entered the burned out and abandoned ruins of Fort Duquesne, renaming it Pittsburgh. 
Stewart's Crossing
Col. William Crawford's Cabin, Youghiogheny River Park, Connellsville
October 13, 1770
En route to Fort Pitt at present-day Pittsburgh, Washington and his men visit the home of William Crawford, Washington's childhood friend and land agent. Crawford joins the group to travel the Ohio River looking at land.
About Pennsylvania's Laurel Highlands
A magnificent mountainous region, the Laurel Highlands spans 3,000 square miles in southwestern Pennsylvania. Located an hour east of Pittsburgh, the beautiful four-season destination offers spectacular natural scenery, outstanding outdoor recreation, historic sites and attractions, family activities and world-class resorts. Notable destinations within the region include four architectural masterpieces by Frank Lloyd Wright – Fallingwater®, Kentuck Knob, Mäntylä and Duncan House – Nemacolin Woodlands Resort, Seven Springs Mountain Resort, Flight 93 National Memorial, Idlewild and Soak Zone, whitewater rafting at Ohiopyle State Park and more.
Located within 200 miles of the major metropolitan areas of Pittsburgh, Baltimore, Cleveland and Washington D.C., the Laurel Highlands can be easily accessed from exits 67, 75, 91 and 110 of the Pennsylvania Turnpike.
Visitors to the Laurel Highlands can find information online at www.LaurelHighlands.org, calling 724.238.5661, www.facebook.com/laurelhighlandsPA and www.twitter.com/laurelhighlands. Established in 1958, the Laurel Highlands Visitors Bureau is the official destination marketing organization for Fayette, Somerset and Westmoreland counties in southwestern Pennsylvania.
###