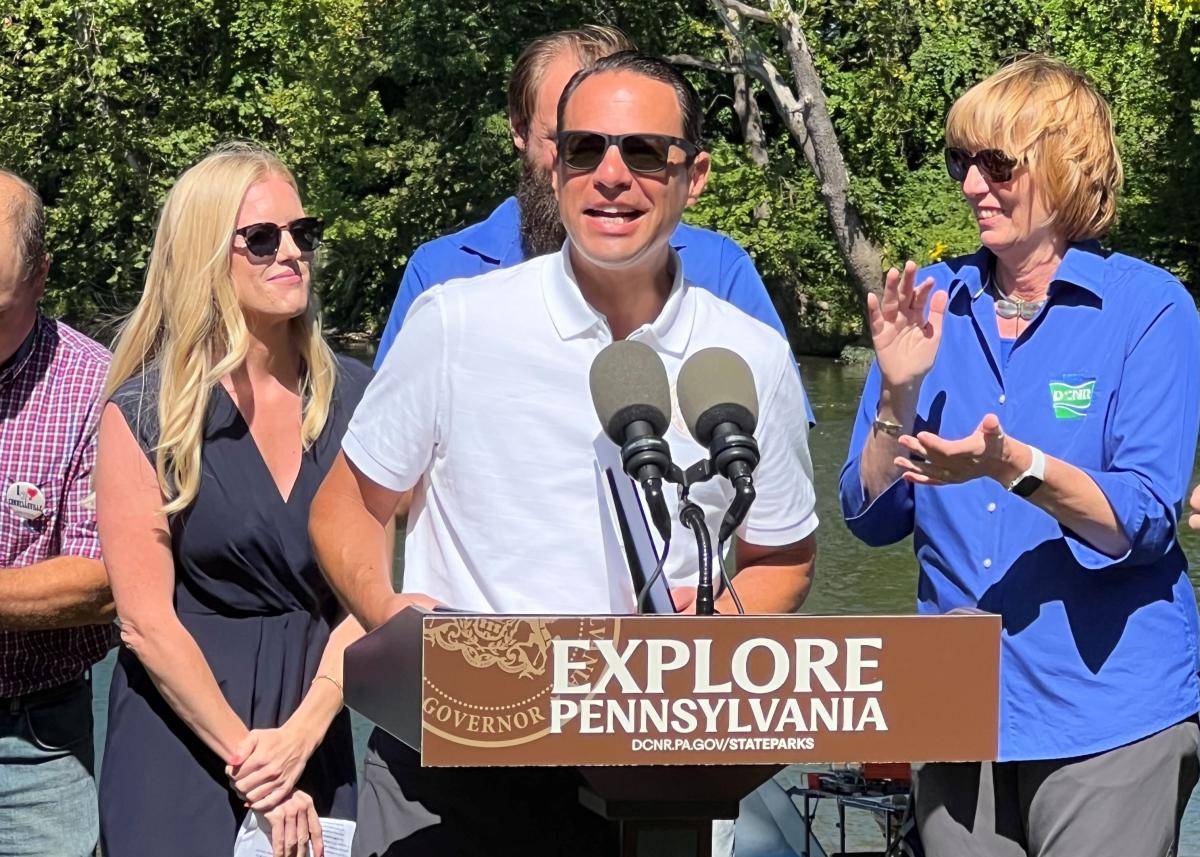 CONNELLSVILLE – Standing in the heart of one of the Laurel Highlands' outdoor hubs, Gov. Josh Shapiro announced the launch of the Pennsylvania Office of Outdoor Recreation on Thursday.
The location didn't come about by chance.
"Pennsylvania's full of great parks and outdoor places like this, but we wanted to specifically be here in Connellsville because this is a great example of how it all comes together," Shapiro said during a press conference at Yough River Park along the 150-mile Great Allegheny Passage in Fayette County. "(Connellsville is an example of) how outdoor recreation can lift up a community, can create jobs and economic opportunity."
Ann Nemanic, executive director of GO Laurel Highlands, said the announcement was great news for Fayette, Somerset and Westmoreland counties.
"The Laurel Highlands was honored to have Governor Shapiro stand on the banks of the Youghiogheny River to announce the commonwealth's significant investment in outdoor recreation," Nemanic said. "The town of Connellsville is a superb example of how economic development is spurred by tourism and outdoor recreation.  As the official destination marketing organization for three counties with hallmark recreational assets, GO Laurel Highlands is proud to champion this initiative.  "
Home to eight state parks and two state forests totaling more than 150,000 acres of public lands, the Laurel Highlands has long been known as an outdoor lovers' paradise. The Great Allegheny Passage, which runs from Pittsburgh to Cumberland, Maryland, is estimated to bring 100,000 visitors to Connellsville each year.
"I think it's fair to say that this community has been transformed by the Great Allegheny Passage, which has turned this small industrial city into a thriving hub of visitors and economic activity," said Rick Siger, the state's secretary of the Department of Community and Economic Development. "The value of new development spurred by the GAP will be in the tens of millions of dollars in the coming years."
Efforts are underway to connect the Westmoreland trail system to Connellsville and there is a push to develop the Iron Horse Bridge into a park.
"As our city clerk says, we will then be the Breezewood of the trail system here in Southwestern Pa.," Connellsville Mayor Greg Lincoln said.
Shapiro highlighted the 2023-24 budget's $112 million investment in state parks and forests – the largest in decades – during the event.
"Our state parks and outdoor recreation industry are key to Pennsylvania's economy – hosting nearly 40 million visitors each year and boosting local businesses and the local economy in and around our parks," Shapiro said. "When we invest real money to make our natural resources more accessible for Pennsylvanians, it helps communities and businesses grow and thrive. The budget that I recently signed delivers on the promise of a new Pennsylvania Office of Outdoor Recreation to strengthen our communities and grow the commonwealth's outdoor economy."
Nathan Reigner will lead the department with a focus on growing the state's outdoor sector, which adds $14 billion to Pennsylvania's economy and accounts for 152,000 jobs. The office will coordinate efforts with the Department of Conservation and Natural Resources, the departments of Community and Economic Development and Health, PennDOT, and others, to create a cohesive strategy for the growth and expansion of the outdoor sector.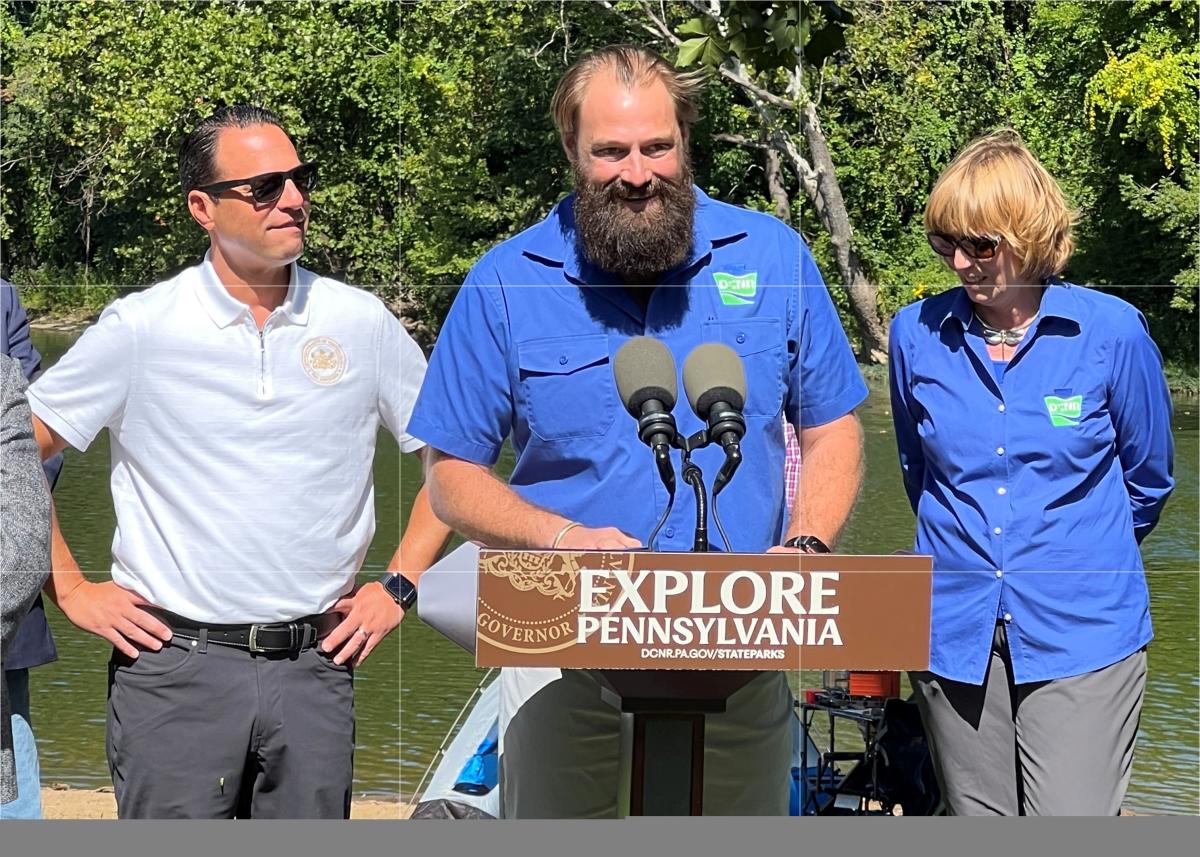 Shapiro's main focus was on the economic impact of outdoor recreation, but he said it's about more than dollars and cents.
"It's also just fun," the governor said. "It's an opportunity to get outside and lower your blood pressure and see smiles across faces, get a chance to actually talk to your kids."
Shapiro said he was excited to get a look at the Great Allegheny Passage, joking that Allegheny County executive Rich Fitzgerald has been "bugging" him to ride a portion of the GAP, which has been ranked among the top recreational trails in the nation.
"I think I'm going to be able to do that this year or next," Shapiro said. "We're trying to work it out on the schedule. I'm excited to ride a few miles and experience the trail for myself."
The GAP isn't the only trail drawing visitors to the region. The Laurel Highlands Hiking Trail, which features shelter areas that allow for 70-mile through hikes, is a popular option that runs from Ohiopyle in Fayette County, through Somerset and Cambria counties before ending near Seward, Westmoreland County.
Watersports enthusiasts flock to the Laurel Highlands for whitewater opportunities on the Youghiogheny, Stonycreek and Loyalhanna rivers. Rafting, canoeing and kayaking are favorite options, and stand-up paddleboarding is gaining popularity in the region.
The Laurel Highland's waterways also provide excellent fishing. Connellsville's mayor pointed out that the two largest walleye ever caught in Pennsylvania were pulled from the Youghiogheny about a half-mile from the spot where the press conference was held. The region's cold mountain streams are also home to excellent trout fishing.
"It's so appropriate to be here in the Laurel Highlands, in Fayette County, to be on the banks of the Youghiogheny River," said Cindy Adams Dunn, secretary of the state's Department of Conservation and Natural Resources. "It's a legendary river in the outdoor world."
The Laurel Highlands has been ranked as one of the nation's top fall foliage destinations for the past three years, and hunters love autumn in the region, when deer, turkey and bear are in season.
The Laurel Summit is historically the snowiest spot in Pennsylvania, according to the National Weather Service, and Mother Nature regularly turns the Laurel Highlands into a winter playground. With 33 slopes and trails, Seven Springs Mountain Resort is the largest ski resort in Pennsylvania. Nearby, Hidden Valley Resort and Laurel Mountain give skiers and snowboarders ample opportunity for outdoor recreation when the temperature drops. State parks also offer cross country, snowshoeing and snowmobiling opportunities.
About Pennsylvania's Laurel Highlands
A magnificent mountainous region, the Laurel Highlands is an outdoor lover's paradise that spans 3,000 square miles in southwestern Pennsylvania. Located just an hour east of Pittsburgh, the beautiful four-season destination offers spectacular natural scenery, outstanding skiing, hiking, biking and golfing opportunities, historic sites and attractions, family activities and world-class resorts. Notable destinations within the region include four architectural masterpieces by Frank Lloyd Wright – Fallingwater®, Kentuck Knob, Mäntylä and Duncan House – as well as Nemacolin, Seven Springs Mountain Resort, Flight 93 National Memorial, Idlewild and SoakZone, whitewater rafting in Ohiopyle State Park and much more.
Located within 200 miles of the major metropolitan areas of Pittsburgh, Baltimore, Cleveland, and Washington D.C., Pennsylvania's Laurel Highlands can be easily accessed from exits 67, 75, 91 and 110 of the Pennsylvania Turnpike.
Visitors to the Laurel Highlands can find information online at GoLaurelHighlands.com, facebook.com/laurelhighlandsPA and twitter.com/laurelhighlands or by calling 724.238.5661. Established in 1958, GO Laurel Highlands, formerly known as Laurel Highlands Visitors Bureau, is the official destination marketing organization for Fayette, Somerset and Westmoreland counties in southwestern Pennsylvania.