Tribune Review: by Jeff Himler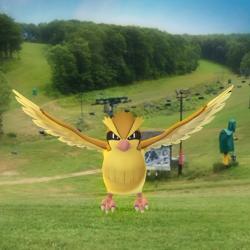 Hunters have caught plenty of Pidgeys in Ligonier, while there have been sightings of Bellsprouts at West Overton Village and of the ever-popular Pikachu at Seven Springs Mountain Resort.
The Pokemon Go app has given smartphone users a new reason to focus on their devices as they search for images of fictional creatures virtually linked to local landmarks. The exploding popularity of the pastime has provided an unexpected boost to many businesses and tourist destinations near such sites.
"I think of Pokemon Go as a new opportunity to engage with visitors, whether they're coming in from out of town or local residents," said Anna Weltz, director of public relations for the Ligonier-based Laurel Highlands Visitors Bureau. "When the buzz came through about the (app's) release, we all logged on and created accounts, and we realized just how many Pokemon there were around our office."
Figuring that a proportionate amount of the unusual characters were waiting to be found throughout Westmoreland, Fayette and Somerset counties, the bureau reached out to members and visitors and created a related webpage.
Weltz said the page — laurelhighlands.org/pokemon — has garnered 868 views since it was created July 15. It lists places where Pokemon creatures have been spotted, PokeStops where virtual items used to catch the characters can be obtained and "gyms," locations where players can collect characters to do battle with rival teams.
According to the bureau, the Ligonier Diamond is among sites where players can access multiple PokeStops.
Susan Grunstra, executive director of the Ligonier Valley Chamber of Commerce, said the game has attracted young adults as well as families to Ligonier Borough.
"It's definitely brought more people into town, especially on the weekend," she said. "It's great. It's a broad appeal to different age groups."
Taylor McCracken, a clerk at the Ligonier Creamery ice cream shop, said the business has benefited from nearby PokeStops.
"There have been a few people come in with the app open, and they ended up getting something even though getting a snack wasn't their first idea," she said.
McCracken said she's taken advantage of an extra option with the game — placing a "lure" that temporarily will generate more characters for players to hunt at a given PokeStop.
"Occasionally, I will put a lure on, and more people tend to come in," she said.
As a tie-in, the shop created a Pokemon treat featuring cherries in a French vanilla ice cream colored yellow to match the hue of Pikachu.
Other area attractions that are offering Pokemon Go tie-ins are Laurelville Christian Retreat Center in Mt. Pleasant and West Overton Village and Museum in Scottdale.
Through Sept. 5, the retreat will knock $1 off admission to its swimming pool and other public amenities for Pokemon Go players.
West Overton is planning a Pokemon Crawl from 5 to 7 p.m. Aug. 10. During the free event, visitors will be able to use a Wi-Fi hot spot to play in two local PokeStops and a Pokemon gym.
Two centers of higher education — St. Vincent College near Latrobe and Seton Hill University in Greensburg — have jumped on the Pokemon Go phenomena as a new way to attract more visitors to their campuses, particularly secondary school students who will soon be looking to pursue degrees. In each case, the school's staff has developed a map showing PokeStops and a Pokemon gym on the campus and in adjacent areas.
"We thought this was a great opportunity to get people on campus in the demographic we're looking at," said Jared Bundy, St. Vincent's digital marketing specialist.
He said the map, released July 15, has been shared more than 100 times and has reached more than 10,000 viewers while related posts on the college's social media accounts have "blown up."
"We do know that area high school students have been visiting campus to play the game this summer, which can only serve to help them get to know Seton Hill University a little better," said Jennifer Reeger, director of media relations at the Greensburg school.
Bundy noted there have been talks about organizing a Pokemon Go battle between teams at the two colleges.
While there have been reports of Pokemon Go players trespassing where they're not wanted in other communities, administrators at such attractions as West Overton and historic Fort Ligonier say they welcome players to come to their parking areas and outlying grounds, whether or not they enter the museums.
"We've not experienced anything negative at all," said Julie Donovan, marketing director at the fort. "It's a great way to attract visitors to the fort."