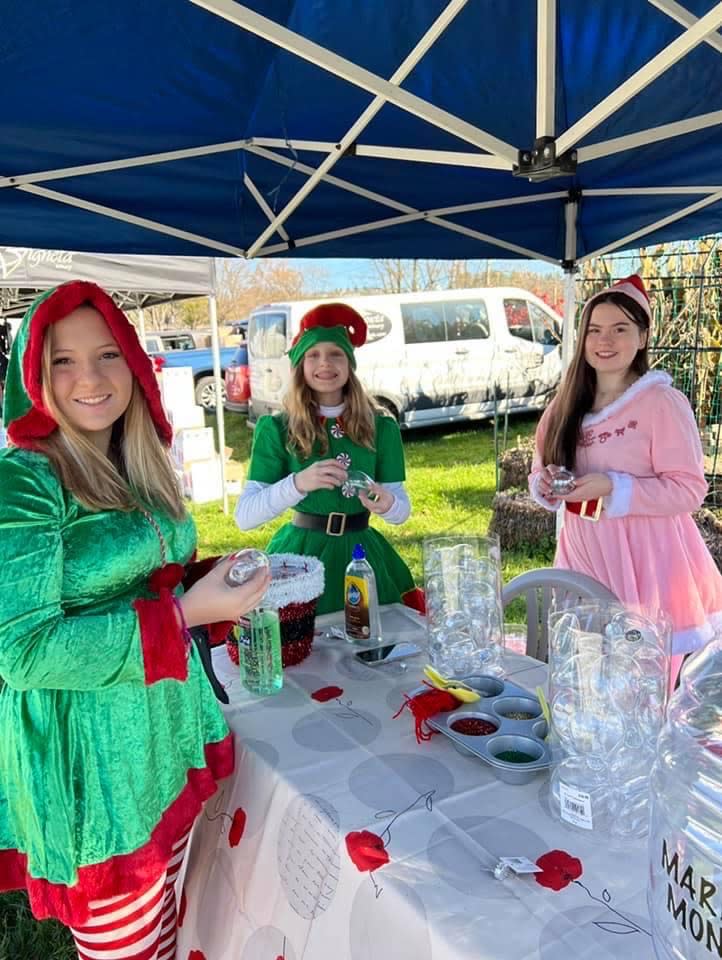 Ligonier, Pennsylvania – March 14, 2022 – The Ligonier Country Market's (LCM) efforts to educate children about nutrition, healthful eating, and how food goes from farm to table have received a very generous boost.
Highmark Blue Cross Blue Shield (BCBS) and Allegheny Health Network (AHN) have awarded the LCM's Market Sprouts Kids' Club a $1,000 grant to help fund educational activities during the regular Saturday market in 2022. Highmark BCBS and AHN officials notified the LCM this month of the grant, for which the market had applied last fall.
"We are so very grateful to Highmark Blue Cross Blue Shield and AHN for their very generous support," said Cari Frei, the LCM's executive director. "This funding will help us to further expand the activities we offer to children and that align with the market's educational mission."
Specifically, the funds from Highmark BCBS and AHN will go toward sponsoring kids' activities focused on practicing proper nutrition and healthful eating habits, which are subjects that all three organizations value dearly, Frei said.
"We're still mapping out our Market Sprouts events calendar for the 2022 season," she said. "But we're already planning to offer chef-led cooking demonstrations — an omelet day, a vegetable soup day, and hopefully more — that will show kids how to select fresh ingredients, shop for them at the market, and make a healthful meal. This grant will directly make those activities possible."
Market Sprouts activities have been offered at the LCM's Saturday market since 2016, when a then 11-year-old Katie Andrews of Ligonier devised and launched the program. The focus is to offer educational and art-related activities on nature, agriculture, nutrition, and related topics so children attending the market can learn and have fun while their parents shop.
"All materials are provided for each child, so they just need to show up, have fun, and learn," Frei said. "And the activities are 100% free to all children and their families."
Ms. Andrews, now a senior at Ligonier Valley High School, dresses as original LCM mascot "Daisy Mae" and leads the activities with "Lilly Lavender," played by Addison Gray, 14, of Latrobe. For the 2022 season, a third mascot, "Sophia Sunshine," to be played by Jordan Smay, 13, of Indiana, will join them. Adults with required security clearances supervise all activities.
In its earliest days, Market Sprouts averaged seven to 10 children for weekly activities. But, over the last four to five years, attendance at Market Sprouts events has skyrocketed, with average weekly attendance reaching 100 kids prior to the pandemic halting activities in 2020.
Limited Market Sprouts activities resumed in summer 2021 with pre-packaged "take-and-make" crafts. As the pandemic eases, LCM officials are hopeful that the club's activities will resume as normal in 2022.
"In the future, we'd love to be able to offer farm tours, kids' classes, and other activities outside of the regular Saturday market," Frei said. "So that's why we're so thrilled and thankful to have Highmark Blue Cross Blue Shield and AHN come alongside us as partners to help us move in that direction."
Watch the LCM's Facebook page and ligoniercountrymarket.com for news and updates on Market Sprouts and all LCM events and activities.
The LCM will begin its 2022 season Saturday, May 21. The market is held from 8 a.m. to noon, rain or shine, at the Loyalhanna Watershed Association (LWA) Farm at West Main Street and Springer Road in Ligonier Township.
Cari Frei
Ligonier Country Market
Executive Director
www.ligoniercountrymarket.com
724-858-7894