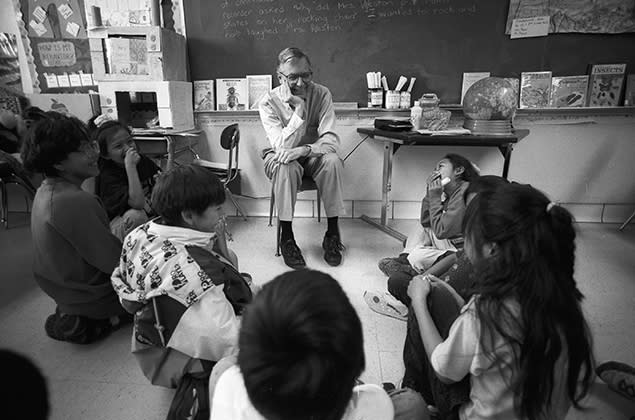 By Chris Rodell for USA Today
For much of the world, The Land of Make-Believe is a fabled state of mind. But in Fred Rogers' hometown of Latrobe, Pennsylvania, it has elements of a reality show.
Though Rogers lived in the Pittsburgh enclave of Squirrel Hill while making his iconic children's show, "Mr. Rogers' Neighborhood," Latrobe – an old steel town with a population of 7,885 –  is where he conceived what became a global phenomenon that nurtured multiple generations of kids.
Rogers, who died in 2003 at age 74, is back on the pop-culture radar thanks to the biopic "It's a Beautiful Day in the Neighborhood" (out Friday), which stars Tom Hanks as Rogers and filmed in Pittsburgh. But his presence is always felt in Latrobe.
"He's on our utility poles, on our store windows and he's in our hearts," says Mayor Rosie Wolford. "His image is a constant reminder of how we all need to carry on Fred's vision for kindness. His message will always matter."
It's a message that has a way of really getting around. But what else would you expect from a message that travels by trolley?
In Latrobe, the trolley is to town identity what little green men are to Roswell, New Mexico. A popular local bumper sticker boasts, "My Other Car is a Trolley."