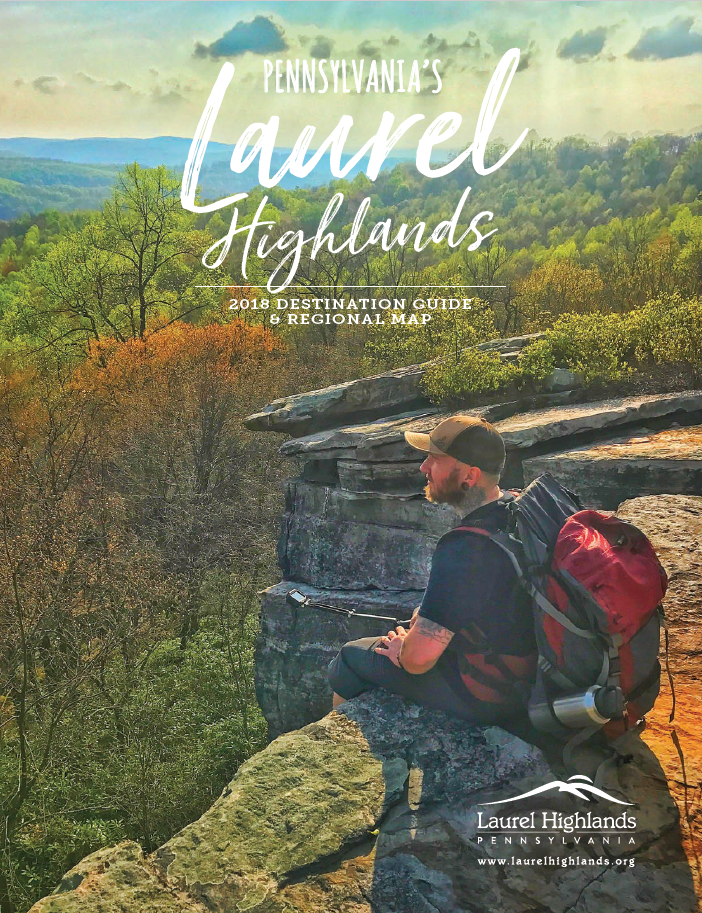 LAUREL HIGHLANDS, PA., (Feb. 12, 2018) – The Laurel Highlands Visitors Bureau (LHVB) announced the release of its 2018 Destination Guide to the tri-county region in southwestern Pennsylvania.
The 88-page color booklet is an informational guide to the Laurel Highlands, featuring a category-based layout that makes it easy for readers to find information on family fun, outdoor adventure, shopping, dining, lodging, historic sites and businesses.
Also in the guide are two-page spreads on each of the region's three counties, valuable coupons and feature editorial about the much anticipated opening of the Tower of Voices at the Flight 93 National Memorial, the 40th anniversary of the Great Allegheny Passage, the region's abundance of breweries, wineries and distilleries, as well as unique wedding venues and rustic reception locations. An events section showcases a year-round calendar of fun things happening in the Laurel Highlands, while the community resources section assists in finding businesses or organizations in the area when needed.
"In the world of digital, it is interesting to continue to produce a printed piece," said Ann Nemanic, Executive Director of the LHVB. "Visitors still want something in their hands, in essence, a guide. They do their homework online prior to visiting and certainly use their mobile devices once they are here, but there is something about a printed guide that continues to be relevant in the world of travel.
"This year's edition draws your attention immediately with the unique cover," added Nemanic. "Inside, colorful two-page spreads provide captivating original photography to help paint the picture of our beautiful region. In addition, the copy in our 2018 guide is written by our staff members, who are local residents with personal knowledge of what makes the Laurel Highlands a destination of choice."
The guide's cover image, a submission to the LHVB's annual photo contest, features Acme resident Mark Archer taking in the expansive, vibrant view from Coll's Cove, a challenging rock climbing spot in Forbes State Forest, close to Ohiopyle State Park.
The guide also includes the winning photos from the 2017 Laurel Highlands Visitors Bureau Photo Contest, as well as information on how to enter the 2018 photo contest, which will accept submissions Feb.1- Aug. 31, 2018. Additional information about the 2018 photo contest is available at www.laurelhighlands.org/photocontest.
The Laurel Highlands Visitors Bureau publishes 175,000 copies of the destination guide for distribution at numerous consumer travel shows, Pennsylvania Welcome Centers, Pennsylvania Turnpike Visitors Centers, 85 regional brochure racks, Arnold Palmer Regional Airport, VisitPittsburgh Welcome Centers, Laurel Highlands Visitors Centers, regional chambers of commerce and at LHVB tourism partner businesses.
"Our guide literally hits the road for us as a marketing tool," added Nemanic. "The guide is provided at travel and consumer shows beginning in early January in our target markets of Columbus, Pittsburgh and Washington D.C. You will spot our guide in lodging properties, attractions, the Arnold Palmer Regional Airport and the Pittsburgh International Airport. The Pennsylvania Turnpike distributes more than 37,000 copies annually and we rely on the Pennsylvania Welcome Centers to share our guide as well."
To have a free copy of the 2018 Laurel Highlands Visitors Bureau delivered to you, please call (724) 238-5661, ext. 101, or fill out an online request form here. A flip-through digital version is also available online here.
About Pennsylvania's Laurel Highlands
A magnificent mountainous region, the Laurel Highlands spans 3,000 square miles in southwestern Pennsylvania. Located an hour east of Pittsburgh, the beautiful four-season destination offers some of the most spectacular natural scenery, outstanding outdoor recreation, historic sites and attractions, family activities and world-class resorts. Notable destinations within the region include three architectural masterpieces by Frank Lloyd Wright – Fallingwater®, Kentuck Knob and Duncan House – Nemacolin Woodlands Resort, Seven Springs Mountain Resort, Flight 93 National Memorial, Idlewild and Soak Zone, whitewater rafting at Ohiopyle State Park and more.
Located within 200 miles of the major metropolitan areas of Pittsburgh, Baltimore, Cleveland and Washington D.C., the Laurel Highlands can be easily accessed from exits 67, 75, 91 and 110 of the Pennsylvania Turnpike.
Visitors to the Laurel Highlands can find information online at www.LaurelHighlands.org, calling 800.333.5661, www.facebook.com/laurelhighlandsPA and www.twitter.com/laurelhighlands. Established in 1958, the Laurel Highlands Visitors Bureau is the official destination marketing organization for Fayette, Somerset and Westmoreland counties in southwestern Pennsylvania. Check out the 2018 Laurel Highlands Destination Guide!
###