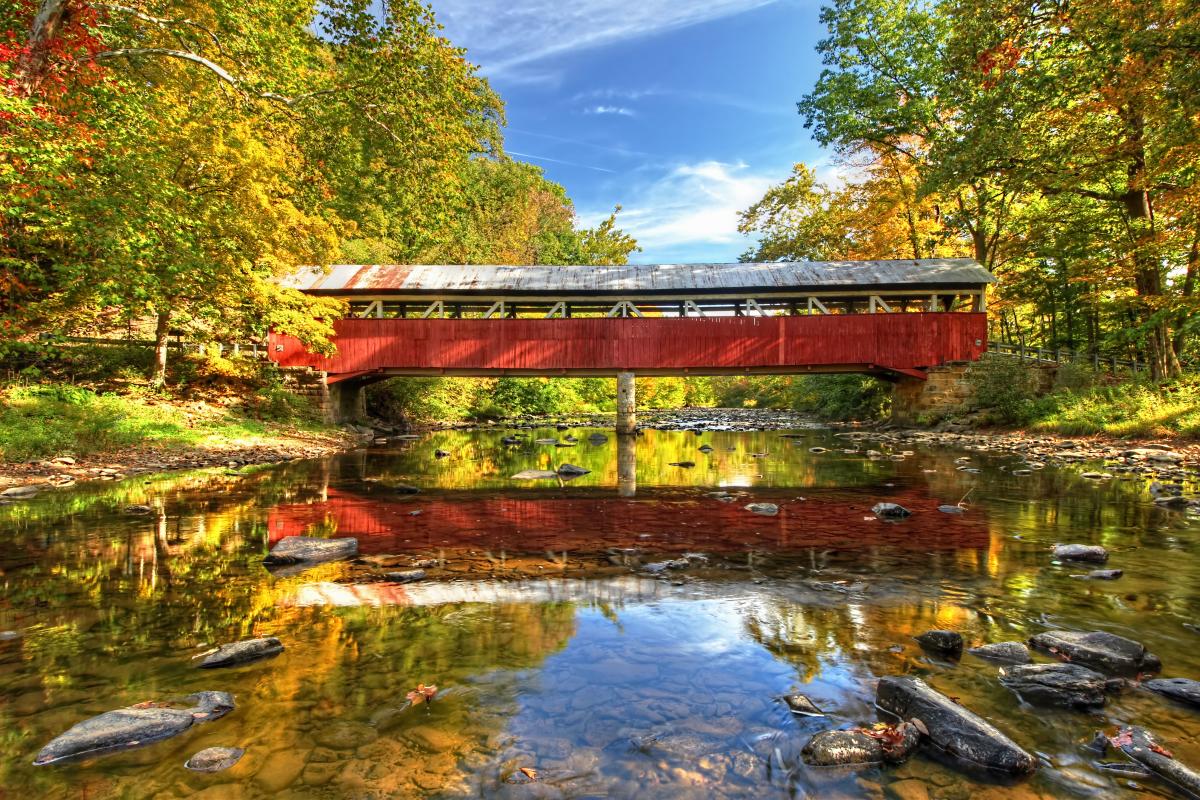 LIGONIER, Pa., (July 30, 2020) – This week USA Today announced that Pennsylvania's Laurel Highlands has been nominated as one of the top 20 Best Destinations for Fall Foliage, as selected by USA Today 10Best Editors.
Winners will be selected by readers' choice, with voting available online now through August 24 at noon ET. Votes may be cast once per day.
The winning destinations will be announced on the 10Best website on Friday, September 4, just in time to prepare fall trips to the Laurel Highlands for leaf peeping season. Winners with the most votes will be designated as the Readers' Choice for the Best Destination for Fall Foliage and be awarded a badge of recognition as the 10Best Readers' Choice.
"There's nothing quite like a fall driving excursion," said Ann Nemanic, Executive Director, Laurel Highlands Visitors Bureau. "When visitors travel through the Laurel Highlands they are greeted by crisp cool breezes, rolling vistas of spectacular color, and historic covered bridges for the perfect fall photo op."
Pennsylvania's Laurel Highlands were previously selected for multiple USA Today 10Best lists, including winning one of the top Best New Destinations in 2018 for Flight 93 National Memorial's Tower of Voices and Best Pennsylvania Attractions for Ohiopyle State Park.
"The Laurel Highlands has always been a popular destination for leaf peepers," said Nemanic. "The region boasts designated routes for motorcycle enthusiasts, historic routes like the National Road and the Lincoln Highway, and the 68-mile Laurel Highlands Scenic Byway is a must during the fall season. Now more than ever, a driving excursion is a wonderful way to enjoy outdoor open spaces."
10Best.com provides users with original, unbiased, and experiential travel content of top attractions, things to see and do, and restaurants for top destinations in the U.S. and around the world. Their staff is made up of a collection of local travel experts that specialize in the region or city they write about.
About Pennsylvania's Laurel Highlands
A magnificent mountainous region, the Laurel Highlands spans 3,000 square miles in southwestern Pennsylvania. Located an hour east of Pittsburgh, the beautiful four-season destination offers spectacular natural scenery, outstanding outdoor recreation, historic sites and attractions, family activities and world-class resorts. Notable destinations within the region include four architectural masterpieces by Frank Lloyd Wright – Fallingwater®, Kentuck Knob, Mäntylä and Duncan House – Nemacolin Woodlands Resort, Seven Springs Mountain Resort, Flight 93 National Memorial, Idlewild and Soak Zone, whitewater rafting at Ohiopyle State Park and more.
Located within 200 miles of the major metropolitan areas of Pittsburgh, Baltimore, Cleveland and Washington D.C., the Laurel Highlands can be easily accessed from exits 67, 75, 91 and 110 of the Pennsylvania Turnpike.
Visitors to the Laurel Highlands can find information online at www.LaurelHighlands.org, calling 724.238.5661, www.facebook.com/laurelhighlandsPA and www.twitter.com/laurelhighlands. Established in 1958, the Laurel Highlands Visitors Bureau is the official destination marketing organization for Fayette, Somerset and Westmoreland counties in southwestern Pennsylvania.