Contact: Anna Weltz
aweltz@laurelhighlands.org
724-238-5661, ext. 108 (Office)
The Palace Theatre Celebrates 90 Years
of Entertainment in the Laurel Highlands
LAUREL HIGHLANDS, PA., (January 18, 2016) – Throughout 2016, Westmoreland Cultural Trust will be celebrating the 90th Anniversary of The Palace Theatre, commemorating nine decades of entertaining residents of Westmoreland County and the surrounding Laurel Highlands.
What began as the crown jewel of the Manos Theatre empire in 1926 has continued throughout the years to be at the center of artistic activity in the Greensburg area.  Renamed The Palace Theatre in the 1970s after a few changes of ownership, the non-profit  Westmoreland Cultural Trust acquired this historic performing arts center 26 years ago in 1990, and has since restored and preserved its legacy with the support of many individuals, businesses, foundations, city, county and state government.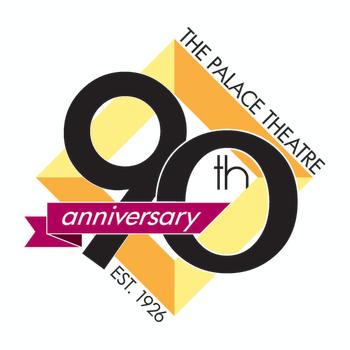 To kick-off the year-long celebration, Westmoreland Cultural Trust invited six local universities and art centers to participate in a 90th Anniversary logo competition. Participants included students and artists from Seton Hill University, University of Pittsburgh at Greensburg, Westmoreland County Community College, Latrobe Art Center, Norwin Art League, and Greensburg Art Center. The winning logo was designed by Alexandra Parady, a student at Seton Hill University.  Raised in New Castle, PA, Alexandra is a Junior Graphic Design Major and 2D Studio Art Minor planning to graduate in the spring of 2017. The logo will be used on all marketing and publicity materials for the next calendar year. 

February 27, the Trust will dedicate their signature fundraising event, Party at The Palace, to the 90th Anniversary of the historic theatre. The VIP Pre-party will be held on The Palace Theatre stage and feature passed hors d'oeuvres and complimentary champagne.  The main event will see guests moving throughout the outer rooms of the theatre with hors d'oeuvres from local restaurateurs and live entertainment from regional theatre organizations in Westmoreland County.   

Westmoreland Cultural Trust is adjusting membership fees in 2016 to reflect this year's celebration. New and returning members will enjoy a special rate of 90% of the original membership fee.  Member perks may include advance notice and pre-sale privileges to shows at The Palace Theatre, waived handling charges for events, reduced room rental rates and a variety of other special offers and discounts, dependent upon the membership level chosen.  

Residents are asked to share written accounts of memorable shows or experiences that they have had at the Manos or Palace Theatres. Interior or exterior photos prior to 1990, and pre-1995 items including programs, ticket stubs or posters would be of particular interest. Donations of these items or permission to copy or photograph the mementos are welcome. Items and images may be used in a secure display during future shows; stories may be included in a keepsake publication slated for fall. Written memories or items can be sent to teresa@thepalacetheatre.com or c/o Teresa Baughman, The Palace Theatre, 21 W. Otterman Street, Greensburg PA 15601. A personal visit is also welcome by calling 724-836-8000, x206, in advance to schedule an appointment.
Details on these and other 90th Anniversary events and all upcoming activities can be found at www.westmorelandculturaltrust.org or www.thepalacetheatre.org or by calling 724-836-1123.

About The Palace Theatre:
The Palace Theatre is owned and operated by Westmoreland Cultural Trust, a 501c3 non-profit organization whose mission is to stimulate cultural and economic development in the Westmoreland County region, to promote the performing arts; preserve and enhance the region's assets for the benefit of the community.  Visit us on the web at www.westmorelandculturaltrust.org
About the Laurel Highlands Visitors Bureau:
The Laurel Highlands Visitors Bureau is a destination marketing organization dedicated to promoting Fayette, Somerset and Westmoreland counties in Pennsylvania. Established in 1958, the LHVB implements year-round seasonal marketing campaigns throughout the Northeast and Mid-Atlantic to enhance awareness of the Laurel Highlands as a travel destination, which increases overnight stays, generates jobs and contributes to the economic growth and quality of life for the region. 
The visitors bureau and its partners influence thousands of decision-makers and millions of visitors to choose the Laurel Highlands through direct sales, marketing, public relations, branding and visitor services. Destinations within the area include three architectural masterpieces by Frank Lloyd Wright – Fallingwater ®, Kentuck Knob and Duncan House; Seven Springs Mountain Resort, Nemacolin Woodlands Resort, the Flight 93 National Memorial, Idlewild and Soak Zone, whitewater rafting at Ohiopyle State Park and so much more. 
Located within 200 miles of the major metropolitan areas of Pittsburgh, Baltimore, Cleveland and Washington D.C., the Laurel Highlands can be easily accessed from exits 67, 75, 91 and 110 of the Pennsylvania Turnpike.
To discover all that the Laurel Highlands has to offer, please call (724) 238-5661 or visit www.laurelhighlands.org, www.facebook.com/laurelhighlandsPA and www.twitter.com/laurelhighlands.