LIGONIER, Pa., (Oct. 9, 2019) – Nearly 160 members of the tri-county's tourism industry gathered Tuesday night in the lodge at Laurel Mountain Ski Area in celebration of the Laurel Highlands Visitors Bureau's 61st annual dinner. Over the course of the evening, the group enjoyed craft beverages showcased on the Laurel Highlands Pour Tour, a delicious dinner catered by Seven Springs Mountain Resort's culinary team, and the presentation of three tourism awards and scholarships to two students.
Trailblazer of the Year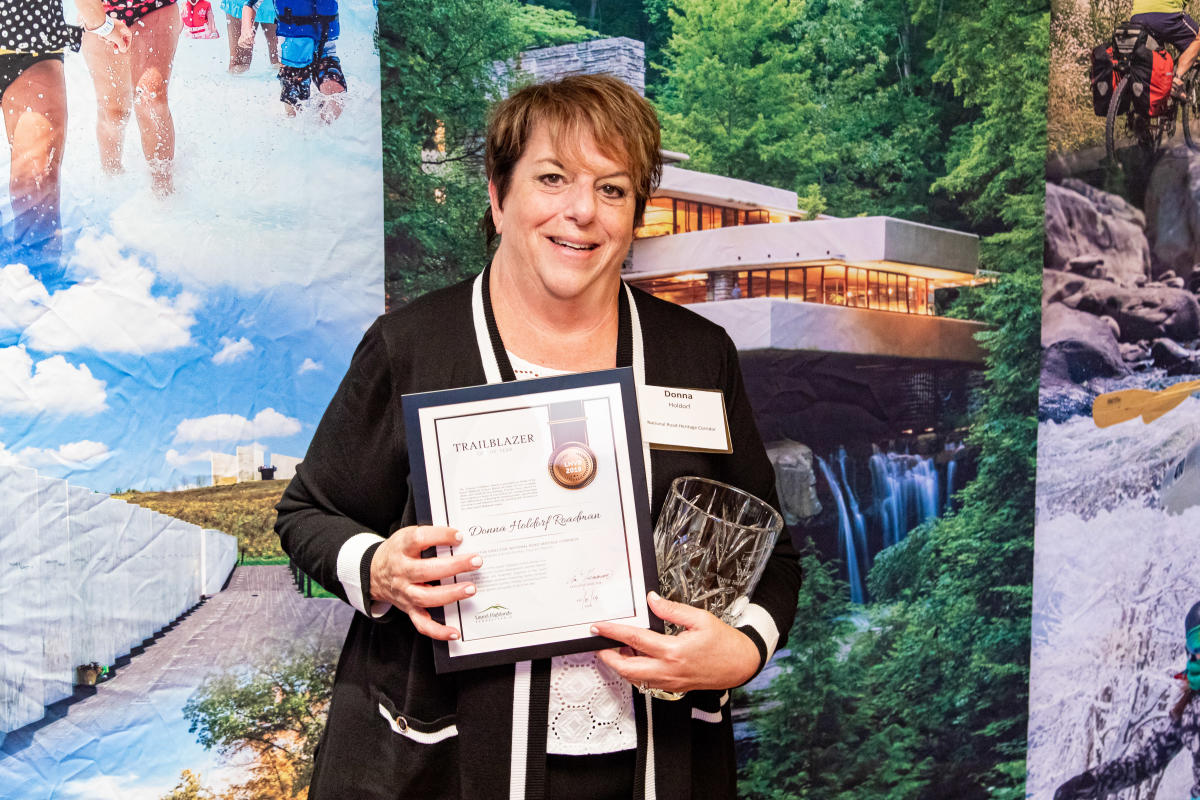 The Laurel Highlands Trailblazer of the Year is an organization, business or individual who helps to build the region's tourism assets and strengthen the Laurel Highlands brand. This person or organization lives and functions outside the box, is never afraid to venture into uncharted areas and works diligently to enhance and improve the region.
Donna Holdorf, Executive Director, National Road Heritage Corridor, was presented the award for 2019 Trailblazer of the Year by LHVB Executive Director Ann Nemanic. Holdorf was unaware of her selection until the evening's festivities.
"For 28 years, our paths have crossed many times over the byways and highways of the Laurel Highlands," said Nemanic. "You want Donna at the table, on the phone and in your circle. She gets the job done because she has vision, passion and purpose. She is also extremely insightful. When, and if, she ever utters the word retirement, she will be missed. She can never be replaced. Trailblazers are never because they've forged the trail for others to follow. To continue the success for the Laurel Highlands, we must follow her example, follow her passion and follow in the footsteps of this remarkable woman."
Pathfinder of the Year
The Laurel Highlands Pathfinder of the Year is presented to someone who is important to the fabric of the Laurel Highlands. This person or organization carves a path for something they love, and by so doing, lead visitors to the Laurel Highlands and to their front door. These individuals put their heart and soul into their business each and every day and understand how to provide quality guest service, are innovative and continue to expand upon their venture.   
Tall Pines Distillery of Salisbury, Pa., was presented the award for 2019 Pathfinder of the Year by LHVB's Director of Public Relations, Anna Weltz. Their products were incorporated into signature cocktails for the event.
"Their unique distilled moonshine carries on the heritage of this craft in Somerset County dating back to the late 1700s," said Weltz. "Tall Pines now operates the very first legal moonshine distillery in the county. Lisa and Keith Welch take tremendous pride in using natural products and natural flavors. Like many entrepreneurs in the Laurel Highlands, Tall Pines started out small, but that didn't last long. They host events onsite or take their moonshine on the road, legally of course."
Tourism Employee of the Year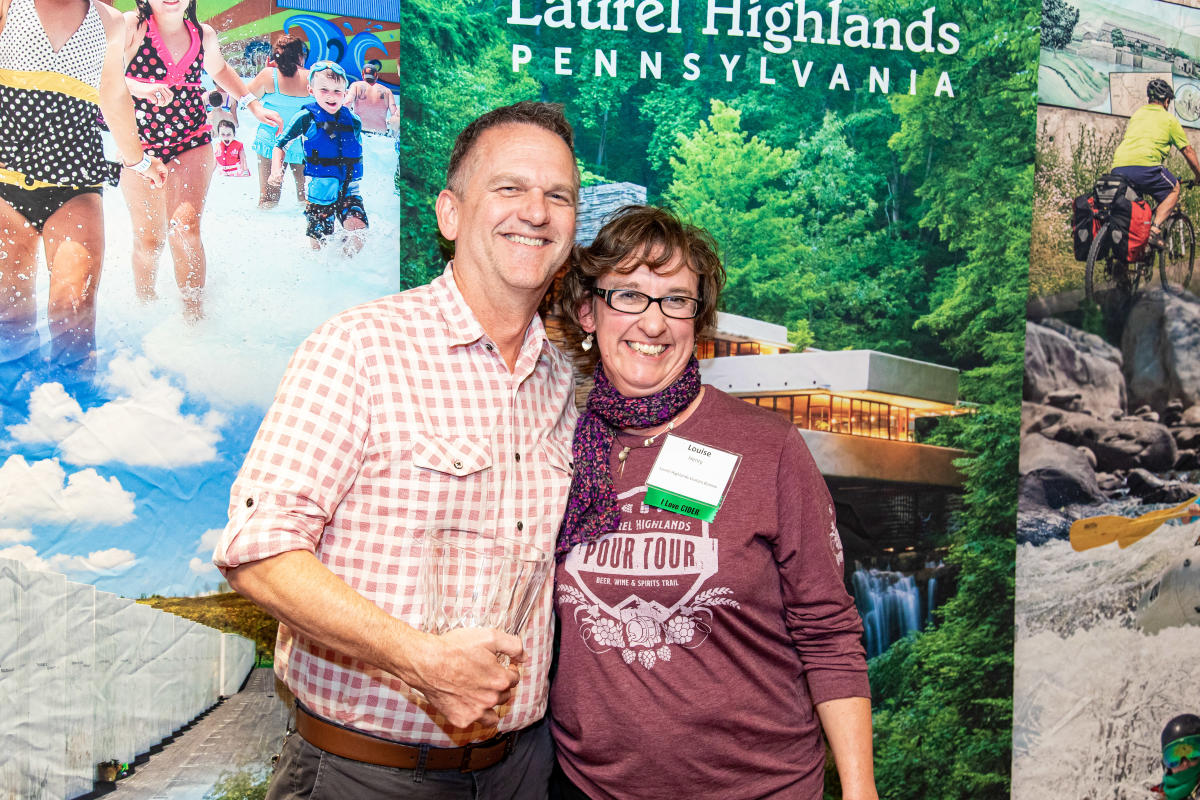 The Laurel Highlands Employee of the Year is nominated by LHVB partners in order to celebrate a special team member who goes above and beyond within their organization or business. 
Dean Simpson, Marketing Manager for Touchstone Center for Crafts, was presented the award for 2019 Tourism Employee of the Year.
"Over the past two years, Dean has shown great competence and commitment to promoting not only our organization, but a myriad of regional organizations, businesses, attractions and individuals in the Laurel Highlands," wrote Stefanie Glover, the center's Development Coordinator, in her recommendation. "He is an active member of the community, exceeding the expectations and duties of what his position requires. The promotional efforts have grown by leaps and bounds with Dean's efforts. Through his social media posts, e-newsletters, advertisements, website creation and updates he has created a level of engagement with our members, students, visitors and potential patrons of Touchstone. He loves his job as well as our region. You can see it when he is giving a tour, greeting a group of students or engaging with a visitor on our campus or at an event."
Tourism Scholarship Winners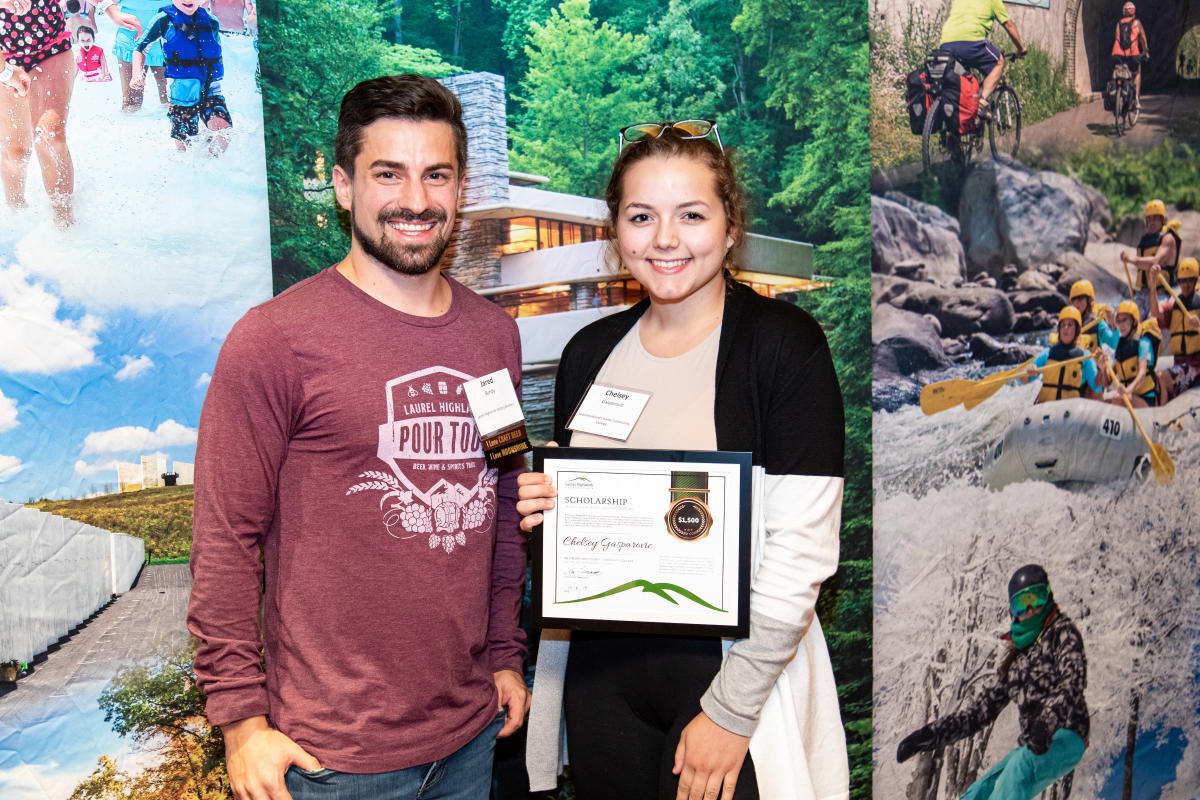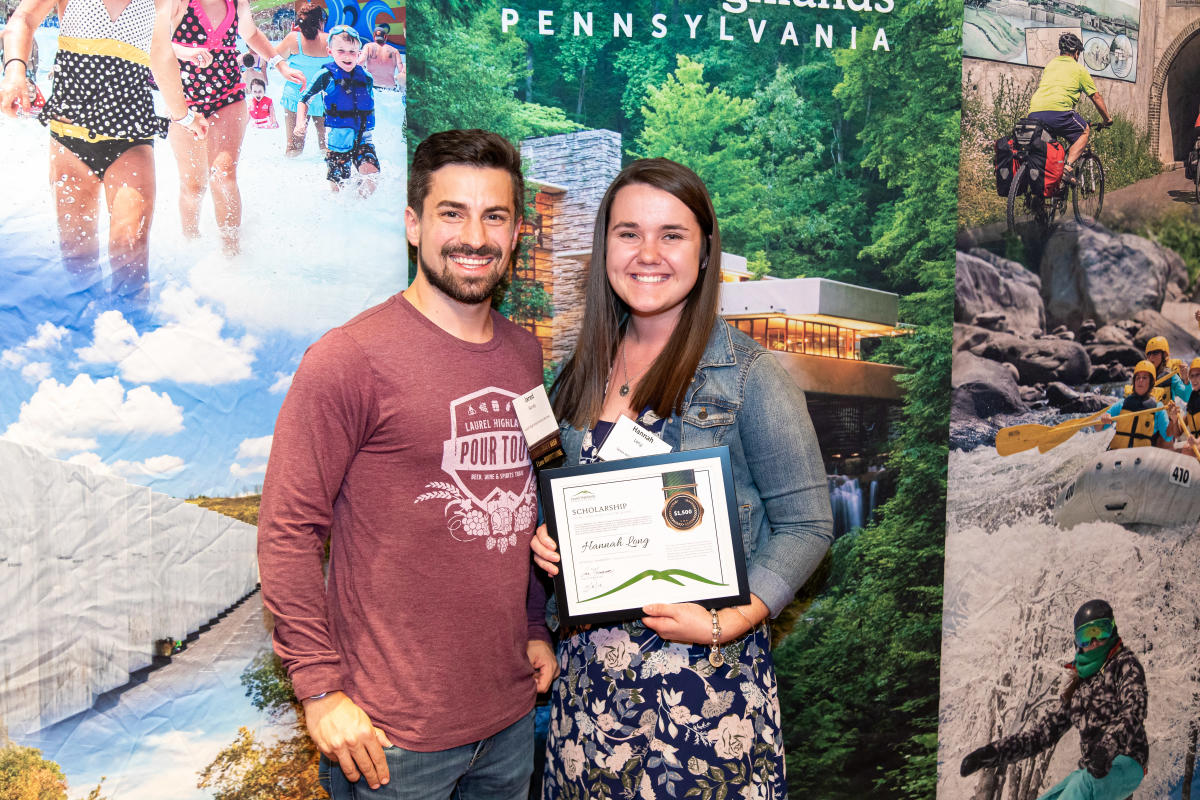 Thanks to the incredibly generous donations to the 2018 annual dinner's silent auction, the LHVB was able to present a $1,500 scholarship to two students majoring in hospitality and tourism.
Chelsey Gasparovic, a Culinary Arts and Hospitality major at Westmoreland County Community College. In addition to her college classes, she works full-time at the Rolling Rock Club and serves in the United States Army National Guard.
Hannah Long, a Hospitality and Tourism major at Seton Hill University, from Bridgeville, Pa. An events intern at West Overton Village and Museum, she will graduate in May 2020.
About Pennsylvania's Laurel Highlands
A magnificent mountainous region, the Laurel Highlands spans 3,000 square miles in southwestern Pennsylvania. Located an hour's drive east of Pittsburgh, the beautiful four-season destination offers spectacular natural scenery, outstanding outdoor recreation, historic sites and attractions, family activities, and world-class resorts. Notable destinations within the region include four architectural masterpieces by Frank Lloyd Wright – Fallingwater®, Kentuck Knob, Mäntylä and Duncan House – Nemacolin Woodlands Resort, Seven Springs Mountain Resort, Flight 93 National Memorial, Idlewild and Soak Zone, whitewater rafting at Ohiopyle State Park, and more.
Located within 200 miles of the major metropolitan areas of Pittsburgh, Baltimore, Cleveland, and Washington D.C., the Laurel Highlands can be easily accessed from exits 67, 75, 91, and 110 of the Pennsylvania Turnpike.
Visitors to the Laurel Highlands can find information online at www.LaurelHighlands.org, calling 724.238.5661, www.facebook.com/laurelhighlandsPA and www.twitter.com/laurelhighlands. Established in 1958, the Laurel Highlands Visitors Bureau is the official destination marketing organization for Fayette, Somerset, and Westmoreland counties in southwestern Pennsylvania.
###