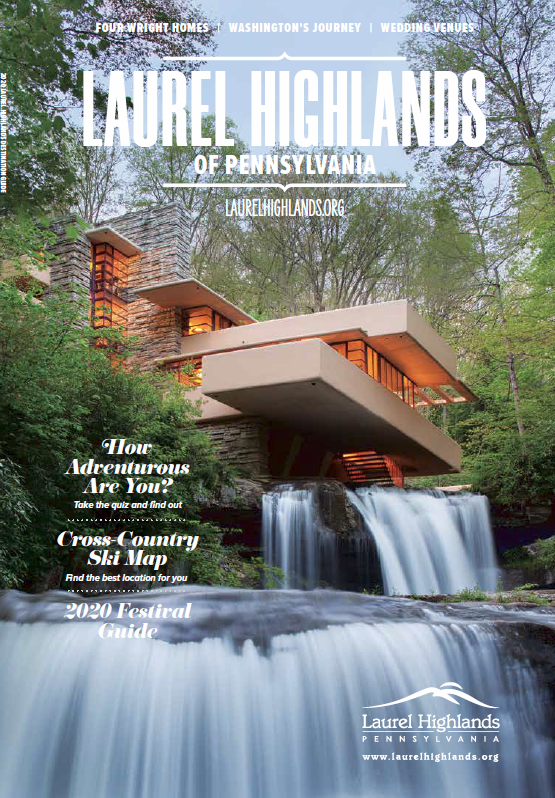 LIGONIER, Pa., (Jan. 9, 2020) – The Laurel Highlands Visitors Bureau (LHVB) announced the release of its 2020 Destination Guide to the tri-county region in southwestern Pennsylvania. The reimagined 72-page full-color piece serves as the principal promotional brochure for Fayette, Somerset and Westmoreland counties' tourism information.
"Every year, our LHVB team gets excited about working, designing and writing content for a new Destination Guide. 2020 is no exception," said Ann Nemanic, LHVB's Executive Director. "We enter a new decade of tourism promotion and this is our signature piece.  175,000 copies will be distributed in numerous outlets and serves as our primary fulfillment for visitors interested in coming to the Laurel Highlands. There's a little something inside the guide for everyone to entice them to put our region on their 'must visit' list in the upcoming year.   
Over the years, the Laurel Highlands Destination Guide has evolved in size, content, design and imagery to best suit visitors' wants and needs.
"Some of the features that we've implemented in recent years are modern paper options, authentic large-scale photography that captivates viewers and compelling content that keeps visitors reading from cover-to-cover," said Kristin Ecker, Senior Director of Marketing and Project Management. "The content offers itinerary ideas, useful maps and quick reference lists and editorial-style features from across the region that not only highlight the attraction, but also the story of the people behind the business. The design is clean and organized, which makes the piece easy to read and visually appealing.
The 2020 Laurel Highlands Destination Guide's magazine-quality content showcases some of the region's newest attractions, tourism entrepreneurs and local history and heritage.
Feature stories include:
"A Full Frank Lloyd Wright Immersion in Pennsylvania's Laurel Highlands," highlighting the UNESCO-designated Fallingwater, as well as nearby Kentuck Knob and Polymath Park
"Savor Every Bite, Made in the Laurel Highlands: The Historic Stone House Restaurant"
"Sweet Treats, Made in the Laurel Highlands: Sand Hill and Greendance – The Winery at Sand Hill"
"Your Guide to Laurel Hill State Park," which celebrates its 75th anniversary in 2020
"George Washington Was Here, a Walk Through History," retracing Washington's journey through the region in the 18th century
"How Adventurous Are You?," a fun self-guided quiz showcasing regional adventures of various intensity levels
"A Blizzard of Winter Fun," sharing a winter's worth of adventure including cross-country skiing, sledding, downhill skiing and snowmobiling
Visitors will also find traditional favorites including a 2020 calendar of major festivals and events, a regional map and valuable coupons.
Sourced from the LHVB's annual photo contest, the photography brings the guide to life. The winning images from the 2019 photo contest are showcased on page 43 of the guide, as well as information on how to enter the 2020 Laurel Highlands Photo Contest, which will accept submissions Feb. 1-July 31, 2020.
The Laurel Highlands Visitors Bureau publishes the destination guide for distribution at numerous consumer travel shows, Pennsylvania Welcome Centers, Pennsylvania Turnpike Visitors Centers, 85 regional brochure racks, Pittsburgh International Airport, Arnold Palmer Regional Airport, VisitPittsburgh Welcome Centers, Laurel Highlands Visitors Centers, regional chambers of commerce and at LHVB tourism partner businesses.
To order a free copy of the 2020 Laurel Highlands Destination Guide, please call (724) 238-5661, ext. 101, or fill out an online request form. A flip-through digital version is also available online.
About Pennsylvania's Laurel Highlands
A magnificent mountainous region, the Laurel Highlands spans 3,000 square miles in southwestern Pennsylvania. Located an hour east of Pittsburgh, the beautiful four-season destination offers spectacular natural scenery, outstanding outdoor recreation, historic sites and attractions, family activities and world-class resorts. Notable destinations within the region include four architectural masterpieces by Frank Lloyd Wright – Fallingwater®, Kentuck Knob, Mäntylä and Duncan House – Nemacolin Woodlands Resort, Seven Springs Mountain Resort, Flight 93 National Memorial, Idlewild and Soak Zone, whitewater rafting at Ohiopyle State Park and more.
Located within 200 miles of the major metropolitan areas of Pittsburgh, Baltimore, Cleveland and Washington D.C., the Laurel Highlands can be easily accessed from exits 67, 75, 91 and 110 of the Pennsylvania Turnpike.
Visitors to the Laurel Highlands can find information online at www.LaurelHighlands.org, calling 724.238.5661, www.facebook.com/laurelhighlandsPA and www.twitter.com/laurelhighlands. Established in 1958, the Laurel Highlands Visitors Bureau is the official destination marketing organization for Fayette, Somerset and Westmoreland counties in southwestern Pennsylvania.
###