I do not know about you, but my family is starting to get a bit of cabin fever. Humans were not meant to hibernate, so I have been looking at new things we can do as a family this winter. Something that has piqued my interest is snowshoeing. Seems like something we could do together or even just my husband and me. Naturally, I had a bunch of questions, so I reached out to our tourism friend, Ed Callahan, District Forester, Forbes State Forest, for some insight and tips.
What type of clothing should I wear?
You should layer your clothing. Start by having a moisture-wicking layer next to the skin, followed by insulating layers, and an outer shell with hood to cut wind and shed water, as well as pants that shed water and cut wind. As you move, you will build up heat, so wearing clothing that you can unzip is a bonus. A good pair of insulated lightweight gloves, and head covering is a must. Leg and neck gaiters are a bonus. Leave cotton clothes at home. Wear waterproof footwear.
Where can I get rental equipment?
What should I consider when renting or buying snowshoes?
Snowshoe size depends on your body weight and the equipment weight you will be carrying. General guidelines are that 21" shoes are suitable for combined weight of 80 to 150 lbs., 25" shoes for 120 to 200 lbs., and 30" shoes for 170 to 250 lbs.
In dry powdery snow, use larger shoes to increase surface area, and in wet compact snow go with the normal size or possible smaller size. There are also different styles of snowshoe, mostly what you would rent around here would be the typical 'recreational' snowshoe.
Rotating bindings have a pivot at the heel and reduce leg fatigue and snow from getting into the shoes but can be awkward when climbing over obstacles. Fixed bindings allow for comfortable strides and better climbing over obstacles but can kick up snow onto the back of your legs and into shoes.
What should I pack for my first snowshoeing adventure?
Snacks, water (you can become dehydrated easily even in the cold), map, flashlight, cell phone, signal device such as a 'pealess' whistle. Beginners would also benefit from trekking poles.
Are there any stretches or exercises I should do before or after?
Yes, those that stretch the various leg muscles – calves, hamstring, and quads.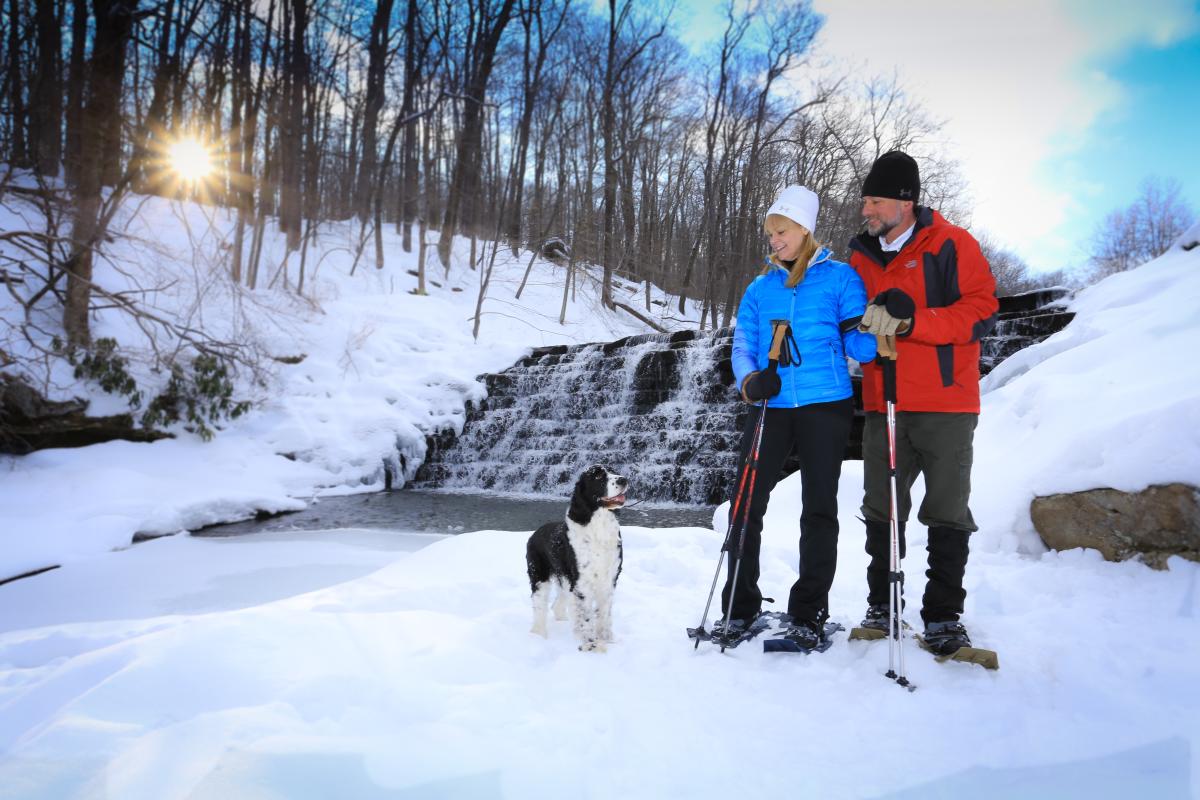 Can I bring my dog?
Yes, but this brings up a good point. Snowshoers should yield to skiers using the same trails, especially when they are going downhill. To reduce conflict on joint-use trails groomed for cross-country skiing, snowshoers should stay off the groomed part of the trail, especially out of any set tracks. These guidelines apply also to dogs. We suggest taking some time to read over the DCNR'S Winter Recreation Etiquette and Safety Guide before hitting the trails.
Where should I start?
One of the best places to start is on the Forbes State Forest, Laurel Mountain Division. We keep access plowed to our warming hut on Laurel Summit Road. There you will find restrooms, and as the name implies – a warming hut with a wood-burner. The Laurel Summit Nordic Ski Patrol occupies half of the warming hut. This all-volunteer force is trained in winter rescue and has impressive First Aid skills.
From the warming hut you can head out on Loop Trail, to Lippos Loop, and then return. There are many interconnecting trails in this area of the Forbes State Forest, with many different levels of difficulty.
There are so many trails on state forest and state park they would be too numerous to mention here, but the trails on Laurel Mountain are a great place to start.
Side note: You can scope out these web cams for a look at the snow conditions on Laurel Mountain and Laurel Ridge State Park, closer to Rockwood.
Suggestions for intermediate trails?
A great intermediate trail within Forbes State Forest is Wolf Rocks Trail. The round-trip is about four miles but is mostly level.
Side note: You can also check out the Laurel Ridge Cross Country Ski Center, near Rockwood, for more trails to explore. They offer rental equipment, as well as a diverse selection of trails. There is a small daily fee to access their trails.
Other parks to consider as your skills improve…
Another side note: If you need trail maps for any of these parks, you can use the interactive map feature on the DCNR'S website or contact GO Laurel Highlands at 724-238-5661 and we can mail some to you.
How can we be sure to protect the natural environment while snowshoeing?
You cannot do much to mess up the environment on snowshoes. But as with all activities, practice Leave No Trace principals including packing out everything you packed in.

What makes the Laurel Highlands a great destination for snowshoeing?
One of the best reasons is that the Laurel Highlands has snow when surrounding areas do not. The natural beauty of this area is world-class. And there are many trails in many different areas, you can snowshoe to your heart's content.
Anything else you think a beginner should know?
Always tell someone where you are going.
Check the area you are going to for any rules and regulations.
Start small – do not bite off more than you can chew on your first couple outings, until you know your limits.
Start on easy trails.
Pay attention to your route, trails are sometimes harder to stay on in the winter as the corridor is not as obvious.
If exposed skin starts to burn or sting, it is a good idea to go inside and warm up.
If you become confused or begin shaking you may be developing hypothermia – seek shelter immediately.
If possible, attend an environmental education snowshoe program on your first outing.