Grab your buds or the family, and set out for a quiet weekend away from the hustle and bustle. Trout season begins this Saturday! Find yourself a secluded cabin in the woods, the perfect camping spot, a great place to stay, and, of course, the best streams, stocked or wild. The water temperatures are rising, the fish are spawning, and something's bound to bite.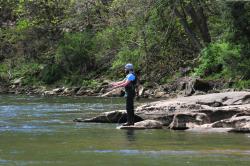 With the exception of Alaska, Pennsylvania has more fish-able miles of water than any other state in the U.S. Every year, lucky fishermen report getting fish on their hooks that exceed 24 inches. The Laurel Highlands offers some of the best chances to catch several big fish in one day. Legally, there is somewhere to fish all year round, if you practice catch and release and fish with flies. Certain limits and length minimums apply throughout the year, so be sure to check out fishandboat.com for more specific details before heading out. 

Fly fishermen, shoreline anglers, boaters, and chair fishermen alike will find an oasis in the Laurel Highlands. Whether you prefer peaceful lakes or exciting stocked trout streams, you're sure to find somewhere you'll enjoy casting your line. Experienced guides are also available to show you their secret spots and share helpful tips. 

Dozens of streams across our three county region are stocked with brown, brook, and rainbow trout. We've also got the spot for fisherman looking to catch some large and smallmouth bass, channel and bullhead catfish, tiger muskellunge, walleye, pan fish, pike, and bluegill as well as many other species. Check out our stream and lake information for an overview of some of the best places to fish, stocked streams, and well-maintained lakes. For more information and specific regulations, we recommend going straight to the source, fishandboat.com, for fishing licenses and boating registration as well as a detailed and interactive county stream map. 
Great Places to Fish With Kids
Twin Lakes Park, Greensburg: With the lakeside trail that makes a figure eight around both lakes, a playground and the picturesque setting, Twin Lakes is the perfect spot to fish with the family. When the kids are tired of waiting for a catch, let them play or walk off some steam on the nearly-level lakeside trail. 
Keystone State Park: Bring a frisbee and make a picnic out of your fishing day, with the dozens of picnic sites around the lake. Bring the RV or rent a cabin to turn your fishing weekend into a camping getaway. 
Laurel Hill State Park: The Lake at Laurel Hill is stocked with fish and open year round. The beach, playground, and nearby stocked streams make this the perfect place to fish with kids. 
Start planning for your fishing trip today!