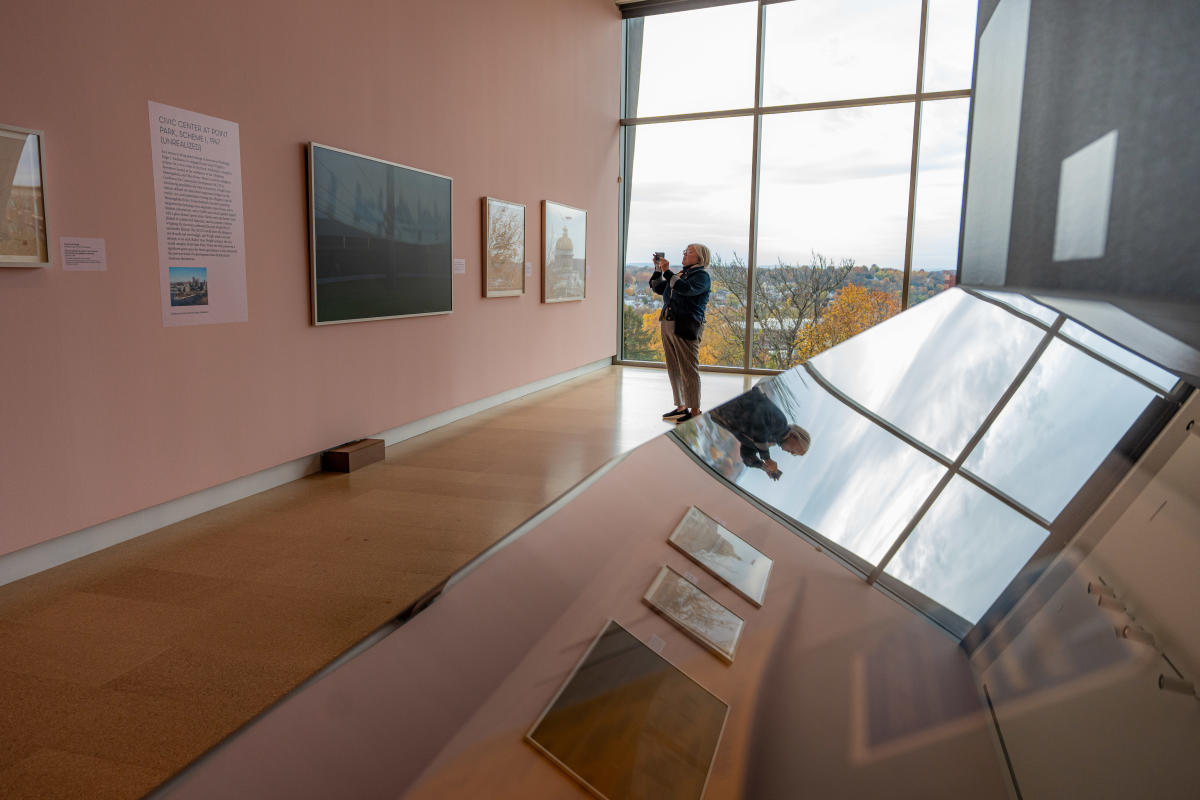 How would Pittsburgh's history have changed if Frank Lloyd Wright's visions for the city had been realized? It's an intriguing question raised by "Frank Lloyd Wright's Southwestern Pennsylvania," a new exhibit at The Westmoreland Museum of American Art in Greensburg.
Admission to The Westmoreland, which is open from 10 a.m. to 5 p.m. every day but Monday and Tuesday, is free, so it's the perfect opportunity for those who don't know much about Wright to learn of his work as well as a chance for architecture lovers to see some of the master's unrealized projects. The exhibit runs through Jan. 14, 2024.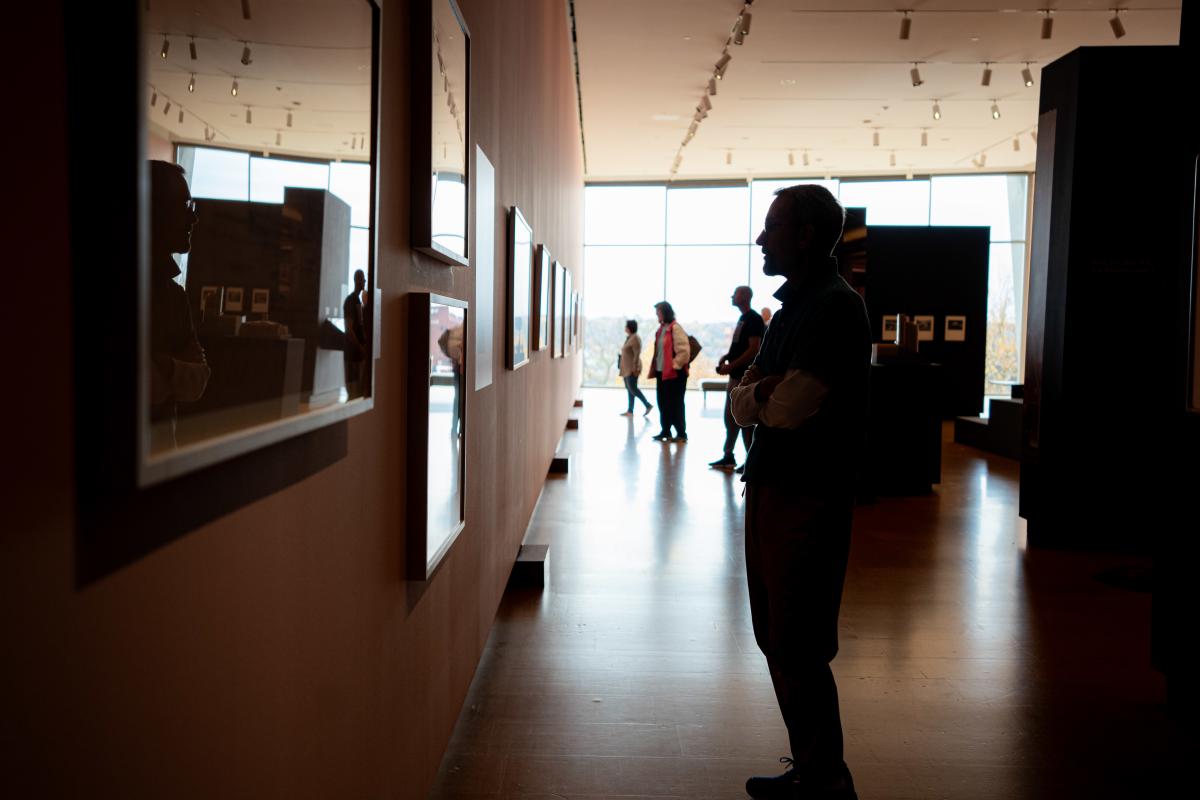 Wright, considered by many to be the greatest American architects of all time, designed more than 1,000 structures over the course of his lifetime, including some of the world's most recognizable buildings. One of those – Fallingwater – is located right here in the Laurel Highlands. The house, cantilevered over a Fayette County waterfall for Edgar and Liliane Kaufmann, was voted "the best all-time work of American architecture" in a 1991 poll of American Institute of Architects members, and it was ranked as this country's most loved building in a 2023 study by Buildworld.
In addition to Fallingwater, the Laurel Highlands is home to Kentuck Knob and Polymath Park, making it the perfect jumping off point for the Great Wright Road Trip, which links those three to Wright structures in Buffalo, New York.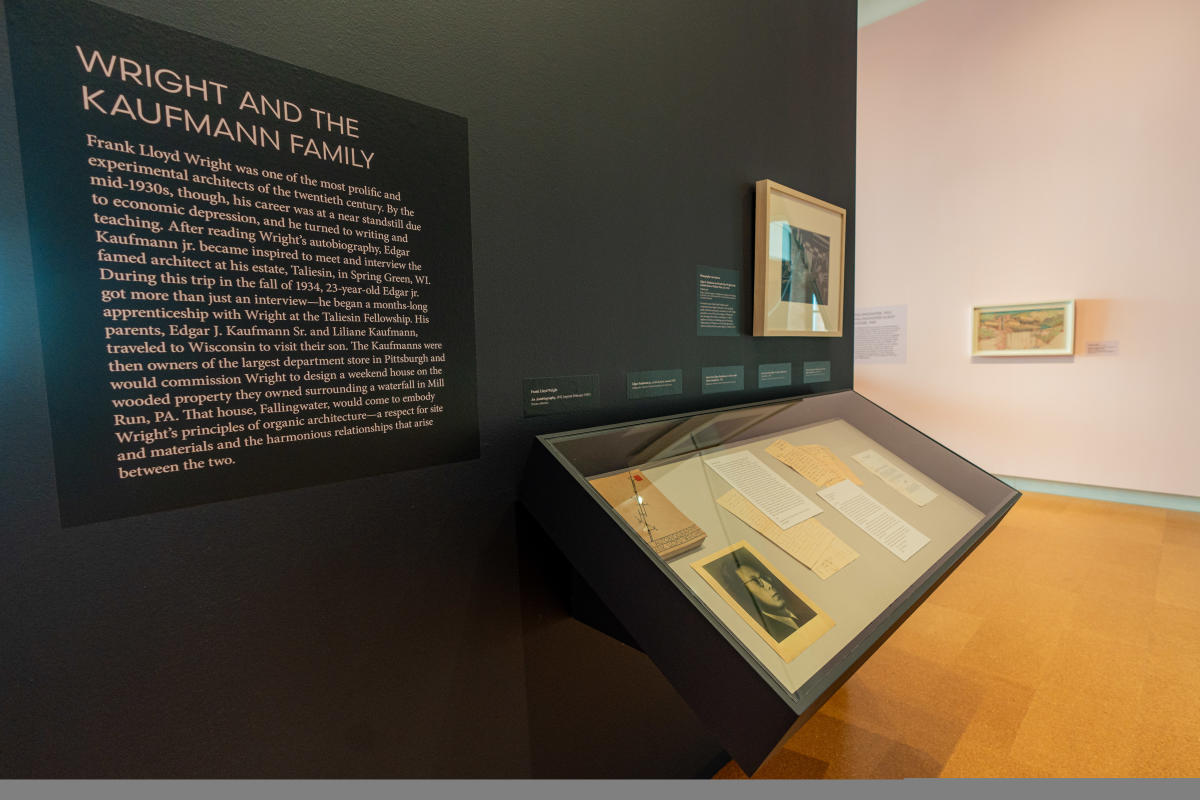 Wright also designed the Guggenheim Museum in New York City. More than six decades after his death, he continues to fascinate, as evidenced by The Westmoreland exhibit which took nearly four years to complete. It is a joint venture between the museum and the Western Pennsylvania Conservancy, which operates Fallingwater.
The result is stunning.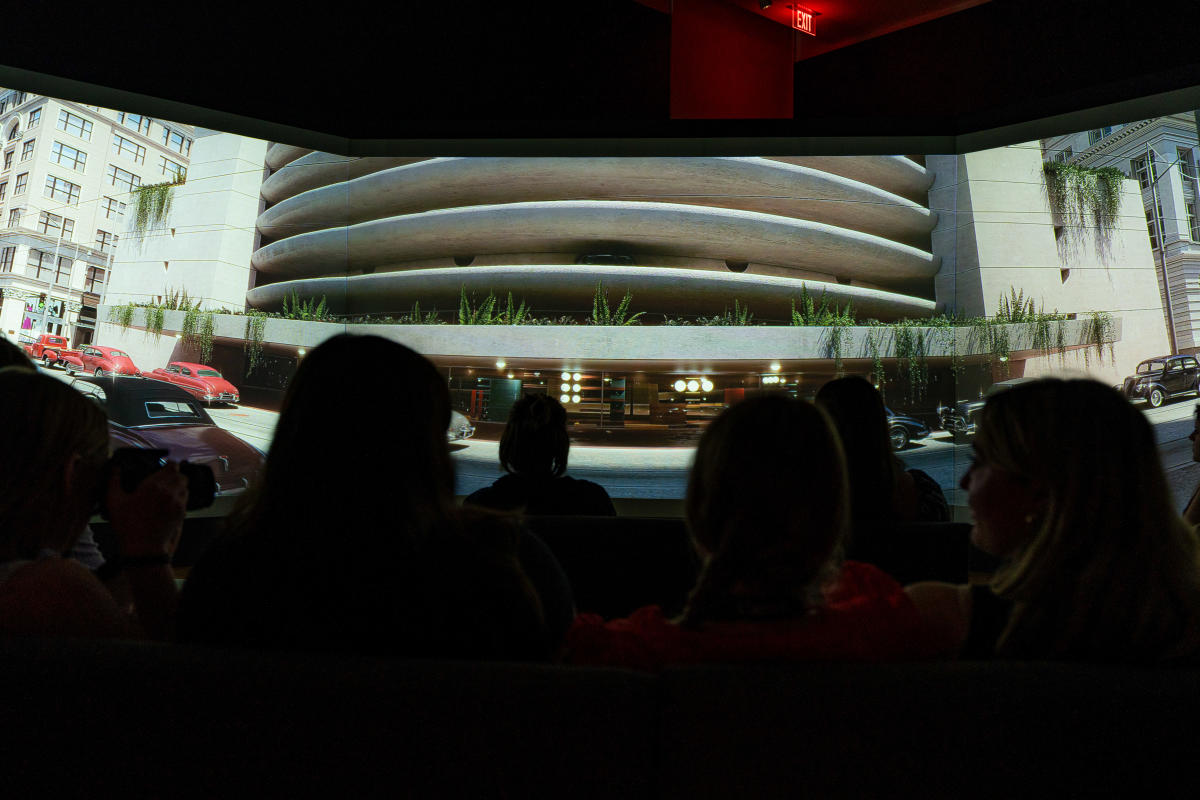 Skyline Ink Animators + Illustrators of Oklahoma has put together incredibly realistic animated films that showcase Wright's reimagining of The Point (1947), a self-service garage for Kaufmann's Department Store (1949), the Point View Residences designed for the Edgar J. Kaufmann Charitable Trust (1952), the Rhododendron Chapel (1952), and a gate lodge for the Fallingwater grounds (1941).
The museum's Cantilever Galleries house a viewing theater that shows a 12-minute film featuring Wright's three unrealized Pittsburgh designs. Utilizing the same 3D rendering technology used in the film industry, it is accompanied by a musical score from Daniel May with Marty Ashby and produced by MCG Jazz.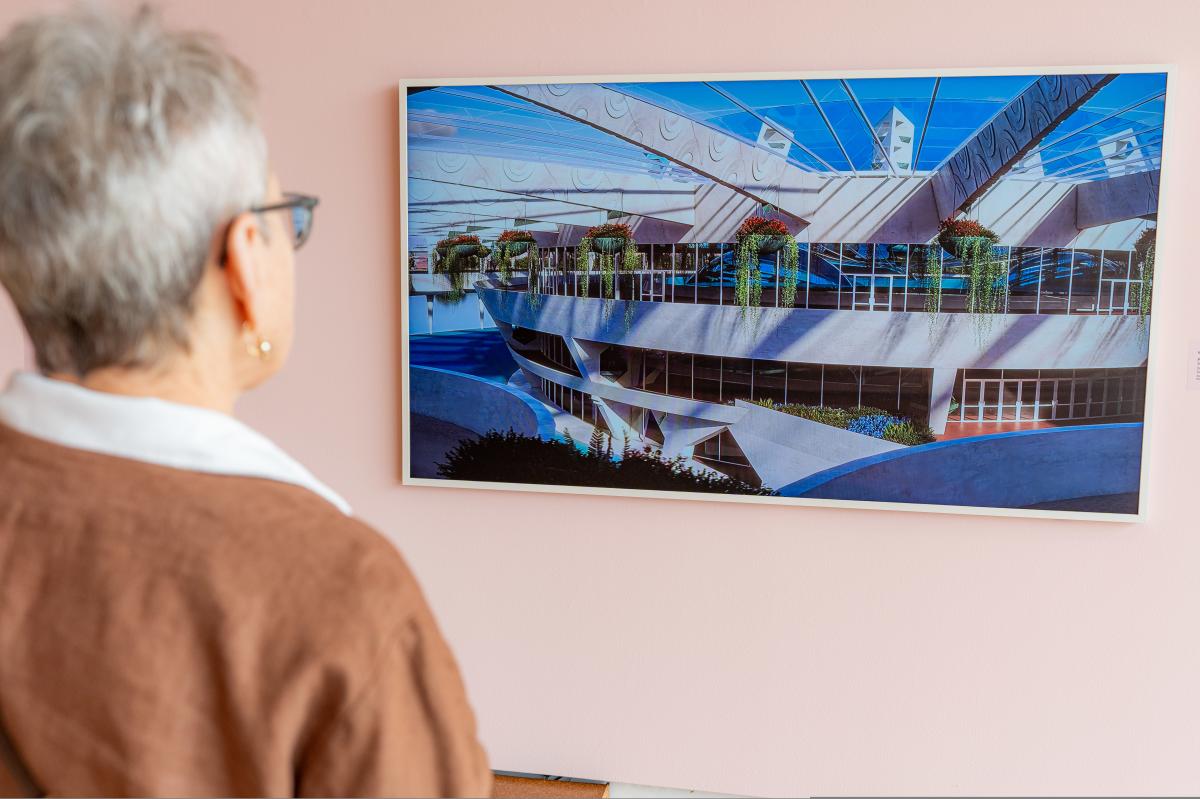 The animations are further contextualized by 3D models, architectural drawings, and historic photography. One of the most striking photos is "The Golden Triangle in 1947," a large vinyl print by John R Shrader for Swoger Studio that showcases Pittsburgh's industrial might in that era. Seeing it in the same space as Wright's designs for the Steel City, which still somehow look futuristic in 2023, is jarring.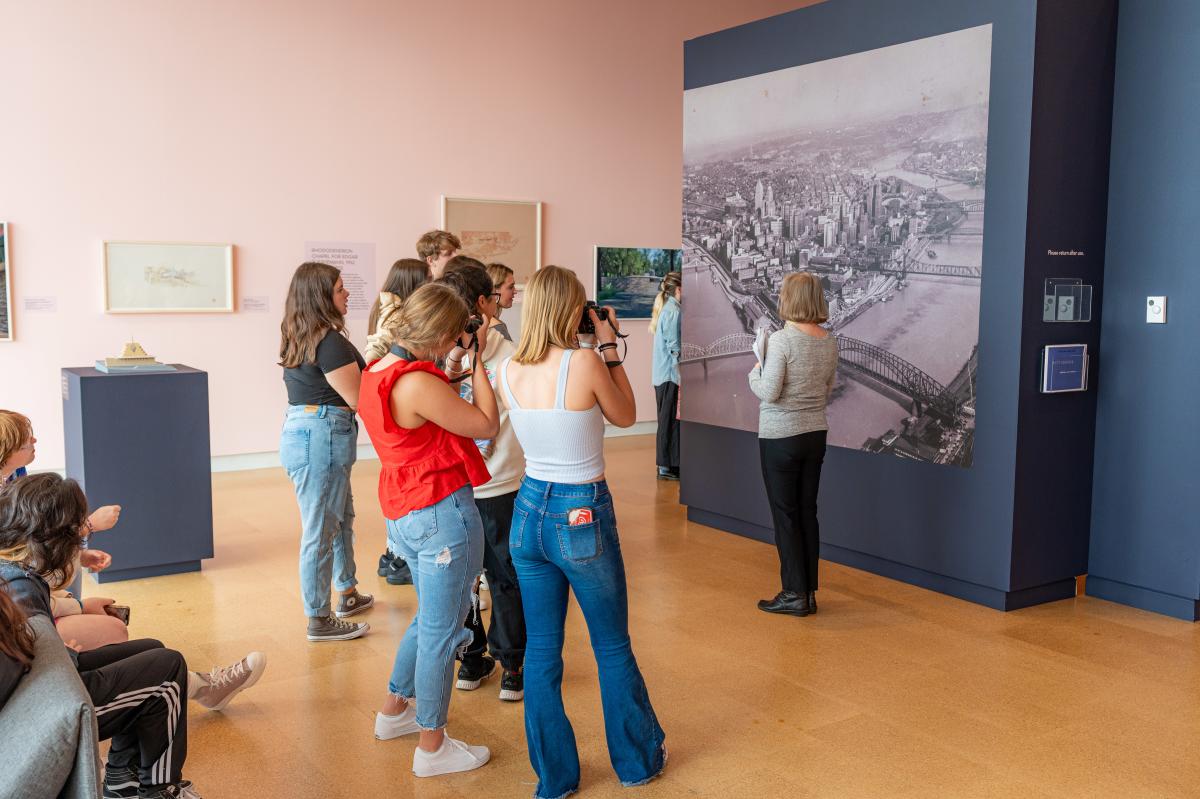 Justin Gunther, Fallingwater's director and vice president of the Western Pennsylvania Conservancy, seems to acknowledge this phenomenon in a press release from the museum.
"This exhibition celebrates the genius of Frank Lloyd Wright's design in a new and approachable way, but it also asks visitors to question how these projects might have changed the Pittsburgh region as we know it, for better or for worse," Gunther said.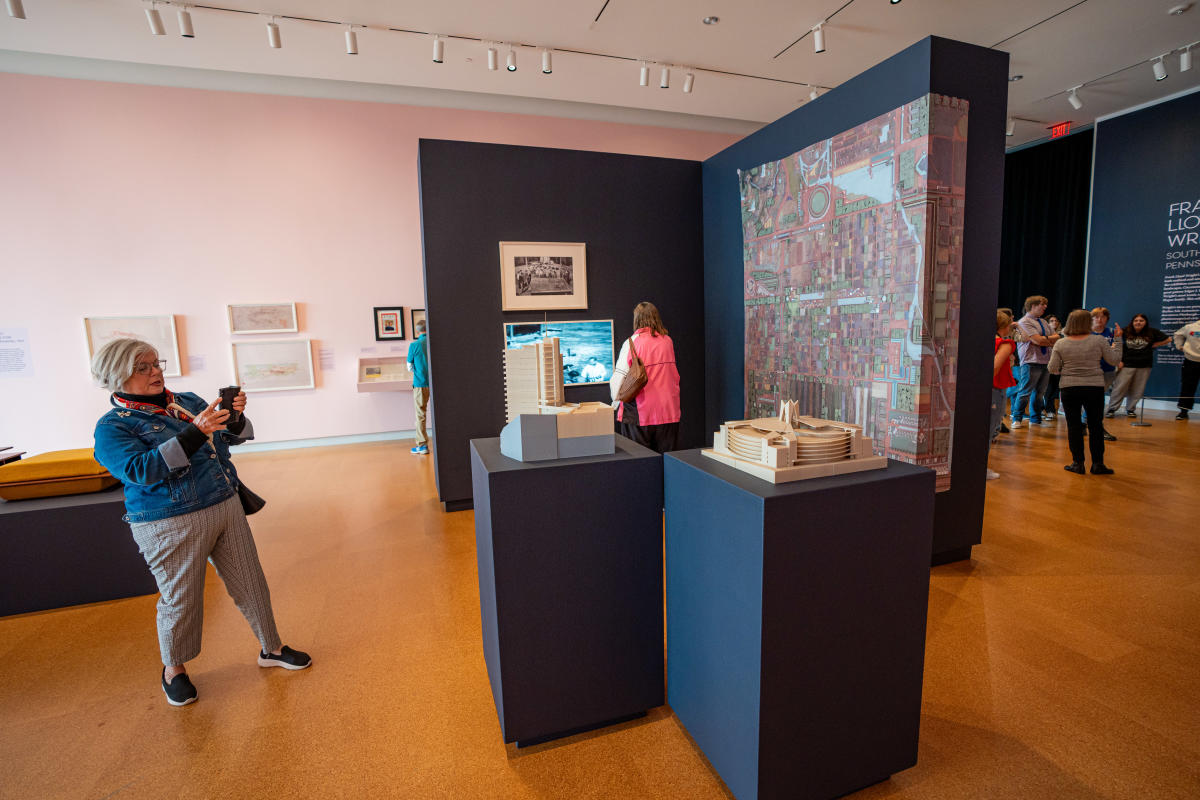 Would the projects have accelerated Pittsburgh's rise from a smoke-filled industrial city powered by blue-collar workers and the steel industry to today's version, which is reliant on well-educated workers in the high-tech and healthcare fields? Could Wright's structures have helped change the fortunes of Kaufmann's department stores? Or would his vision for The Point have helped transform Pittsburgh into a tourism hub?
Wright's projects were ultimately seen as too expensive, and that was before the inevitable cost overruns for which he was notorious. Had his structures been built, perhaps the staggering price tag would have accelerated the city's economic demise decades before the death of the steel industry.
It's impossible to tell, of course, but there are many interesting possibilities to ponder as you explore this incredible exhibit.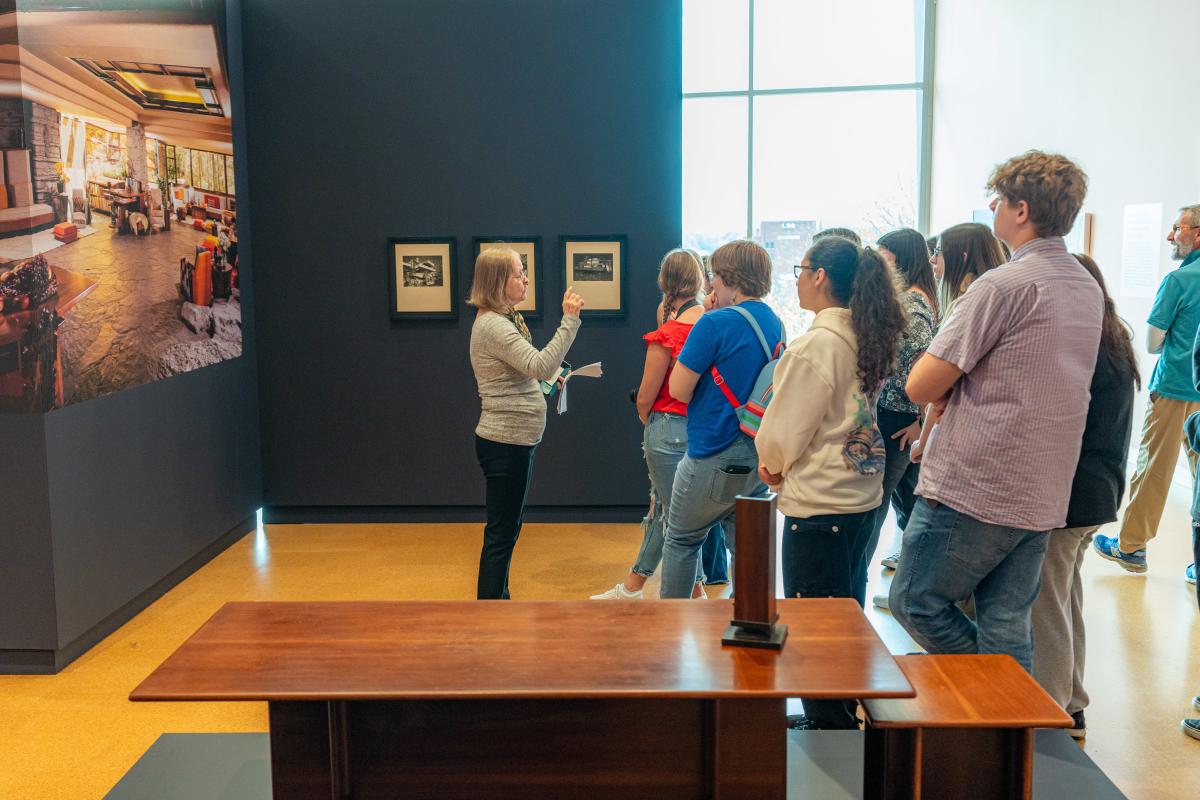 A complementary exhibition, "Toshiko Mori & Frank Lloyd Wright: Dialogue in Details," is being presented in The Westmoreland's Paneled Rooms through Jan. 14, 2024. It highlights the relationship between two architectural works – Wright's 1907 Martin House, the home complex for businessman Darwin D. Martin and his family, and Mori's 2009 Eleanor and Wilson Greatbatch Pavilion, a visitor center and interpretive gallery for guests at the Martin House historic site. "Dialogue in the Details" features two sculptural totem structures representing details from both buildings, as well as a suite of documentation regarding the two projects. Presented at half-scale, the sculptures speak to one another in an unfolding dialogue regarding history, precedent, and reference.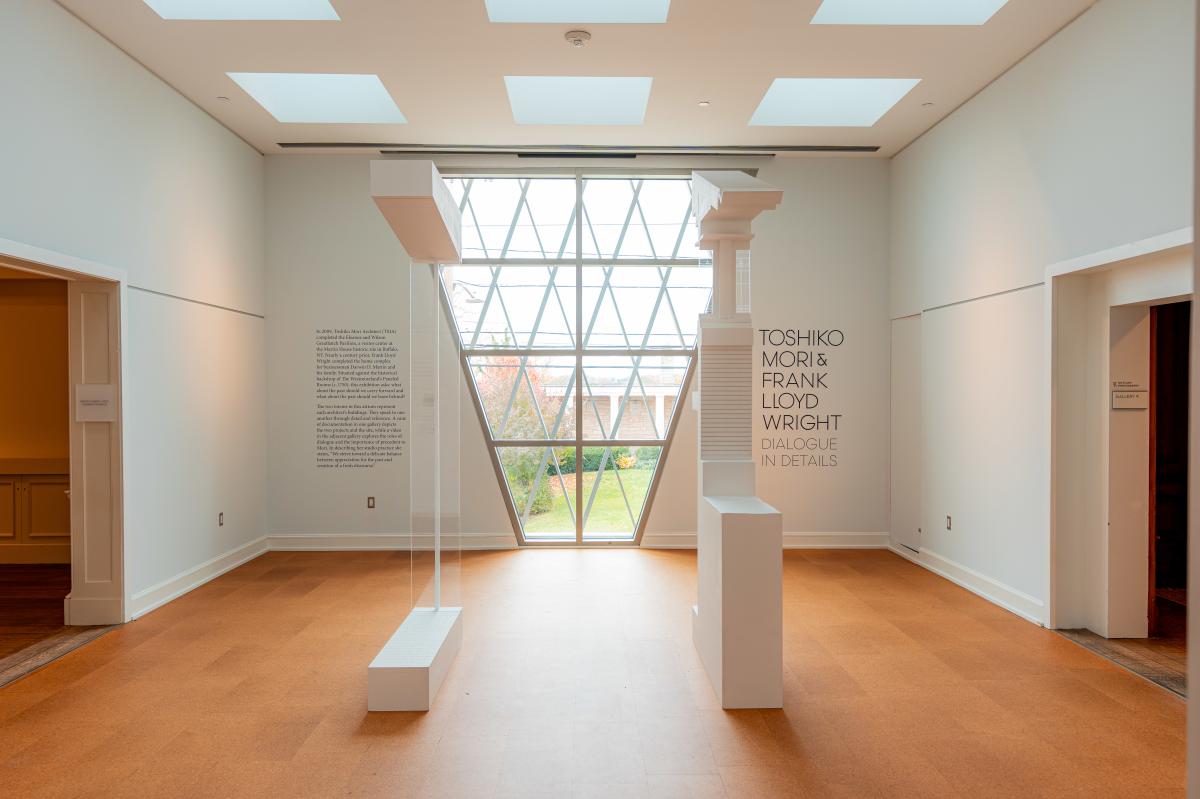 Additionally, an exhibition focusing on the unbuilt works Wright designed specifically for the Fallingwater estate will be on view in Fallingwater's Speyer Gallery through the end of December 2023. More details on this exhibition can be found at fallingwater.org/exhibitions.