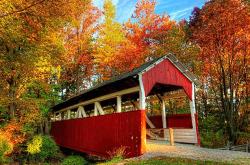 Leaf peeping – traveling to view and photograph the changing fall foliage – is a favorite pastime for many on the East Coast each autumn, including here in the Laurel Highlands. Brilliant shades of orange, crimson and gold adorn the rolling hills and countryside, turning the region into an awe-inspiring landscape of vivid colors.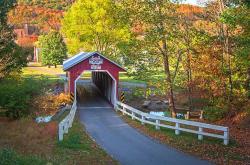 There is no exact science to predicting when leaves will change colors, though factors like tree species, elevation and weather play an important role. Here in the Laurel Highlands, leaf peeping is usually best in late September through early October. We suggest those wanting a more precise fall foliage report visit the Pennsylvania DCNR website for weekly fall foliage reports.

While the Laurel Highlands offers a plethora of activities to celebrate and view the fall foliage, autumn is also the perfect time for a leisurely driving tour of Somerset County's 10 historic covered bridges, which provide the ultimate leaf peeping tour destinations. 

A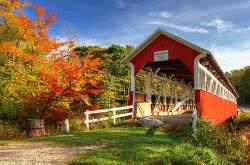 t one time, Pennsylvania was home to more than 1,000 covered bridges. Though it's estimated that less than 200 of these unique, charming structures remain today, the Keystone State still boasts the distinction of being the "Covered Bridge Capital of the World." Thirty-six of Pennsylvania's 67 counties are home to at least one covered bridge with Lancaster County boasting 29, the highest number of any county.

T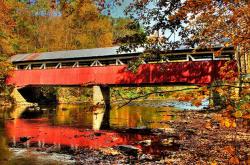 o the naked eye, Somerset County's 10 covered bridges may all appear to be the same. They're all wooden structures with pitched roofs and painted red with white trim. If you've seen one covered bridge, you've seen them all, right? Wrong. Upon closer inspection, each of Somerset County's bridges differs from one to the next. Aside from differing in length and the number of spans, the bridges vary in structure, too, as either burr truss designs or multiple kingpost truss bridges. There are other differences, too, if you take the time to look.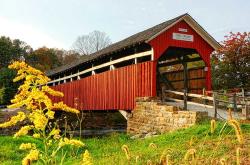 The details surrounding these landmarks' origins are at times a bit fuzzy. For instance, some historians believe Walter's Mill Bridge, on the Somerset Historical Center property, was constructed in 1830, which would make it the oldest surviving covered bridge in Somerset County and possibly one of the oldest in Pennsylvania. Others maintain it wasn't built until 1859. Likewise, there are differing opinions on when Trostletown Bridge was erected, and no one knows who built Pack Saddle Bridge over Brush Creek in 1870. Those details are, as they say, lost to history, but we know that these structures were constructed in the mid- to late 19th century. Over the years, many – if not all – have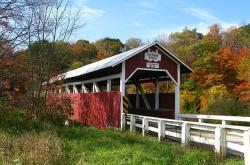 been refurbished and restored, often to accommodate automobile traffic or to repair damage caused by weather-related incidents. The New Baltimore Bridge, originally constructed in 1879, was destroyed by a 1996 flood and was replaced by a replica two years later. Pack Saddle and Glessner bridges have also undergone extensive rehabilitation projects in the past 20 years.

These covered bridges are beautiful any time of year, but are truly breathtaking when complimented by autumn's rich colors. They bring a certain romanticism and touch of history to life in our fast-paced, everyday society and make for stunning photo opportunities or just a fun day trip.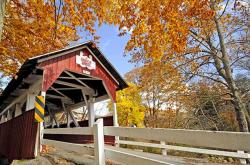 The Somerset County Chamber of Commerce offers a self-guided driving tour of all 10 covered bridges in America's County®. Beginning and ending in Somerset, the approximately 175-mile Somerset County Covered Bridge – And More! – Tour guides visitors to the 10 bridges, turn by turn, and highlights other points of interest along the way, including the Quecreek Mine Rescue Site, The Mountain Playhouse, Stonycreek Whitewater Park and the Great Allegheny Passage, tabbed by National Geographic's travel editors in 2012 as one of the top 10 places in the world to visit during fall. The brochure is available on the chamber's website or by contacting the chamber and requesting a copy.