Do you have friends who absolutely love the snow? You know, the ones who start talking about fresh powder in October? Me, too. And I definitely wasn't on the same wavelength as them.
I used to hate winter. My friends convinced me to try downhill skiing about 30 years ago and it didn't go well. I've held a grudge – against winter, not my friends – ever since. I also tried ice skating a few times. It didn't do anything to change my mind about outdoor winter sports.
To me the time between November and April meant months of being forced to shovel snow, clean it from my windshield and wade through it to get to the mailbox. But I got tired of being that guy. Why spend four or five months wishing for spring when we live in the winter playground that is the Laurel Highlands?
After all, people travel here from hours away just to enjoy the opportunities that many of us waste. So, I decided to embrace the winter weather and try cross country skiing for the first time. I connected with a couple of friends who enjoy cross country skiing and asked if they'd take me out to Forbes State Forest between Laughlintown and Jennerstown when the weather was accommodating.
What You'll Need
At the risk of being way too obvious, the first thing that you need to cross country ski is snow. Preferably 4 inches or more. A few days of snowfall made that possible on the trails near Laurel Mountain Ski Resort. By the way, the Pennsylvania Cross Country Skiers Association is a great resource for everything related to the sport. The group's website even has a live webcam so that you can check the conditions from your couch.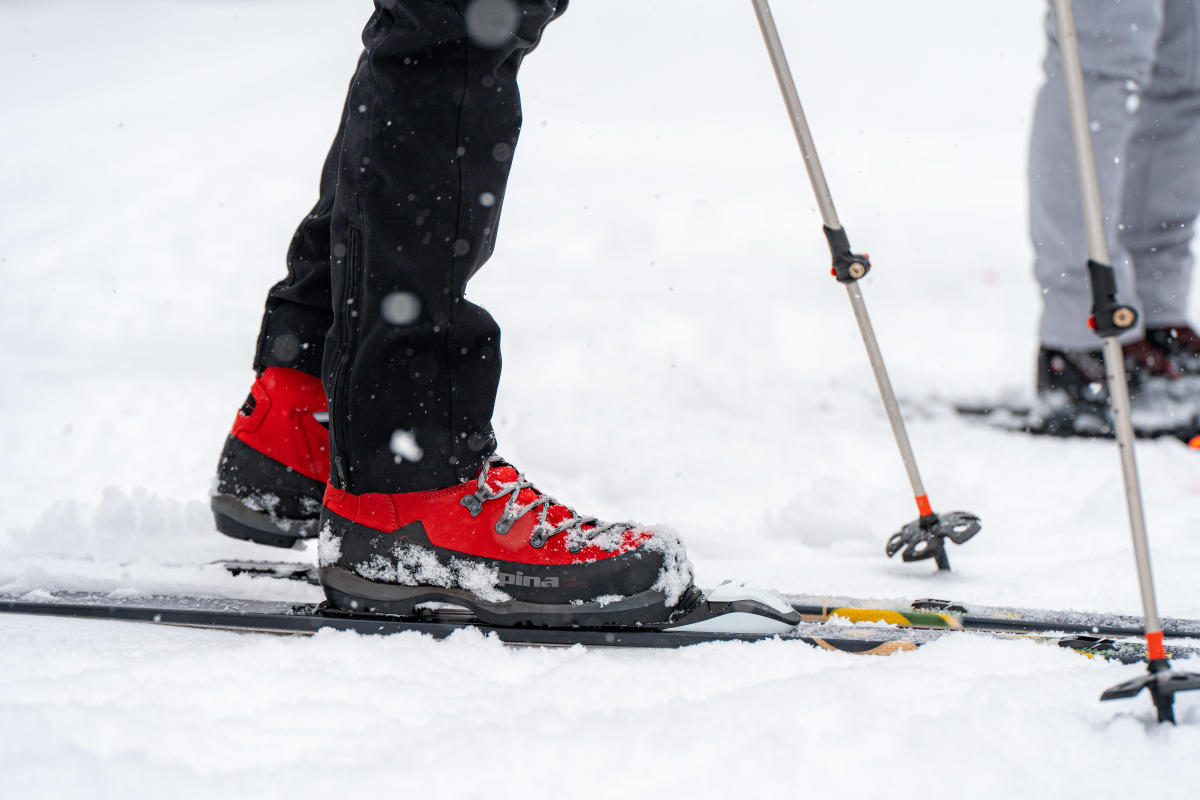 The second obvious need is equipment. You can rent a package of cross country ski boots, skis, and poles fairly inexpensively -- $25 got me an all-day rental, which I ordered online a day ahead of time, from Route 31 Bike, Board, and Ski in Somerset.
Other options in the Laurel Highlands include Thrifty Ski Rental in Donegal, the Laurel Ridge Cross Country Ski Center near Rockwood, and Laurel Mountain Ski Resort.
One of the great things about cross country skiing is that, unlike downhill skiing, it's easy to find places to do it for free in the Laurel Highlands.  
"Cross country skiing is a great, cheap way to get out of the house, get some great exercise and enjoy the outdoors," said John Rucosky, who served as my cross country skiing mentor. "It's good for your head. It's good for your body. Even renting skis is fairly cheap. Buying the equipment is fairly inexpensive. Compared to downhill skiing it's much less expensive."
I read a few articles online about how to dress, but it was about 20 degrees the day that we went, so I wasn't sure what I should wear. I opted for a base layer on top and bottom with fleeced-lined pants and a thermal top. I had my GO Laurel Highlands winter hat and gloves. I brought a heavy winter jacket and very thick socks but realized before I headed out that I would be overdressed if I opted for the last two.
"You want to dress as if you're going for a little jog," John told me. "You don't want to overdress because you're moving. It's exercise. You can get sweated up fairly easily. The basics are a waterproof or water-repellent jacket."
Luckily, I brought one of those as well.
A lightweight backpack is also a good option, as you can bring water and a snack for longer periods of skiing. It's also a great place to store layers of clothing that you might want to remove as you go.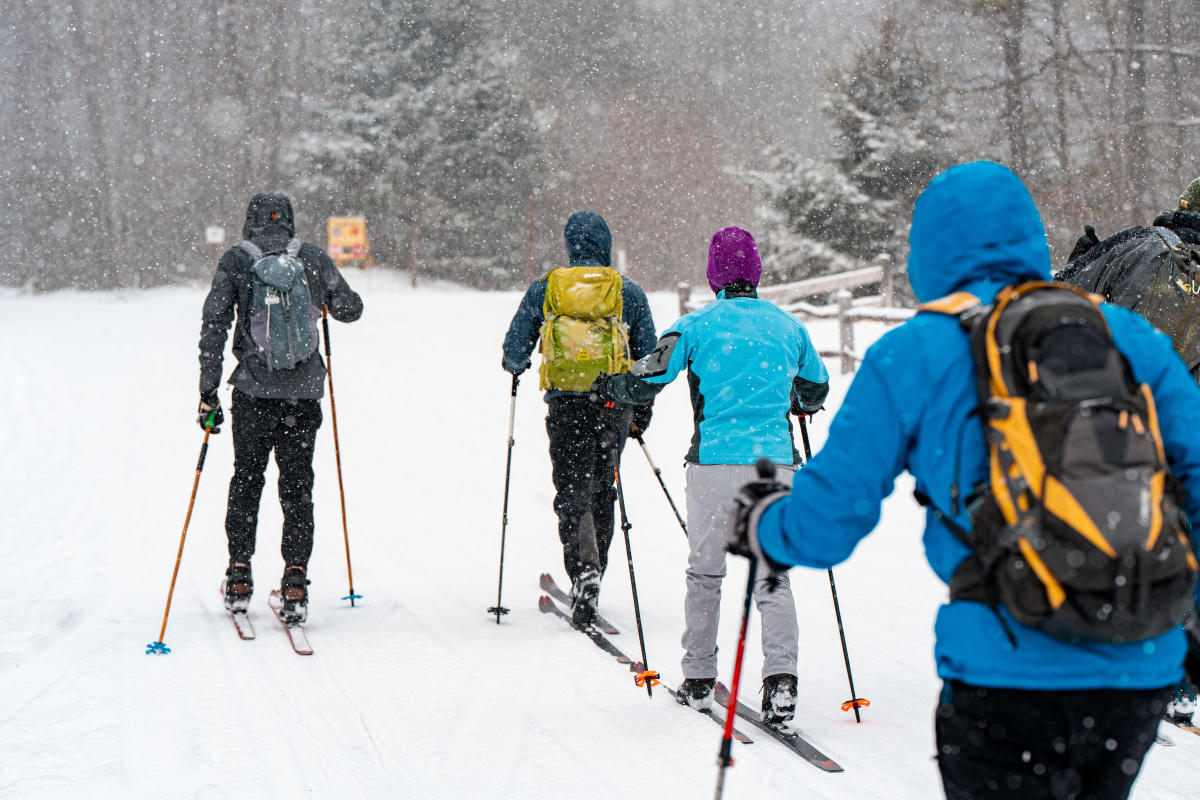 Where to Go
Laurel Mountain features more than 30 kilometers (18.6 miles) of trails across Laurel Mountain State Park, Forbes State Forest, and Laurel Summit State Park. Laurel Summit Nordic Ski Patrol covers the trails and volunteers staff the warming hut at weekends. The hut is also open on weekdays.
Some trails are groomed, which is nice.
"If they're groomed, you don't have to worry about cutting a trail," John said. "Sooner later, if you do this and you're the first one on the trail, you cut the trail, sometimes through deep snow. You have to have gaiters on your ankles to keep snow from going down inside your boots."
We didn't need to worry about that. The fresh snowfall brought outdoors lovers of all kinds to Laurel Mountain and there already were tracks on the trail we took. In addition to cross country skiers, we saw people snowshoeing, riding snowmobiles, and even a woman with a dogsled team. All are encouraged at Laurel Mountain, with specific trails designated for snowmobiles.
Other great spots for cross country skiing in the Laurel Highlands include: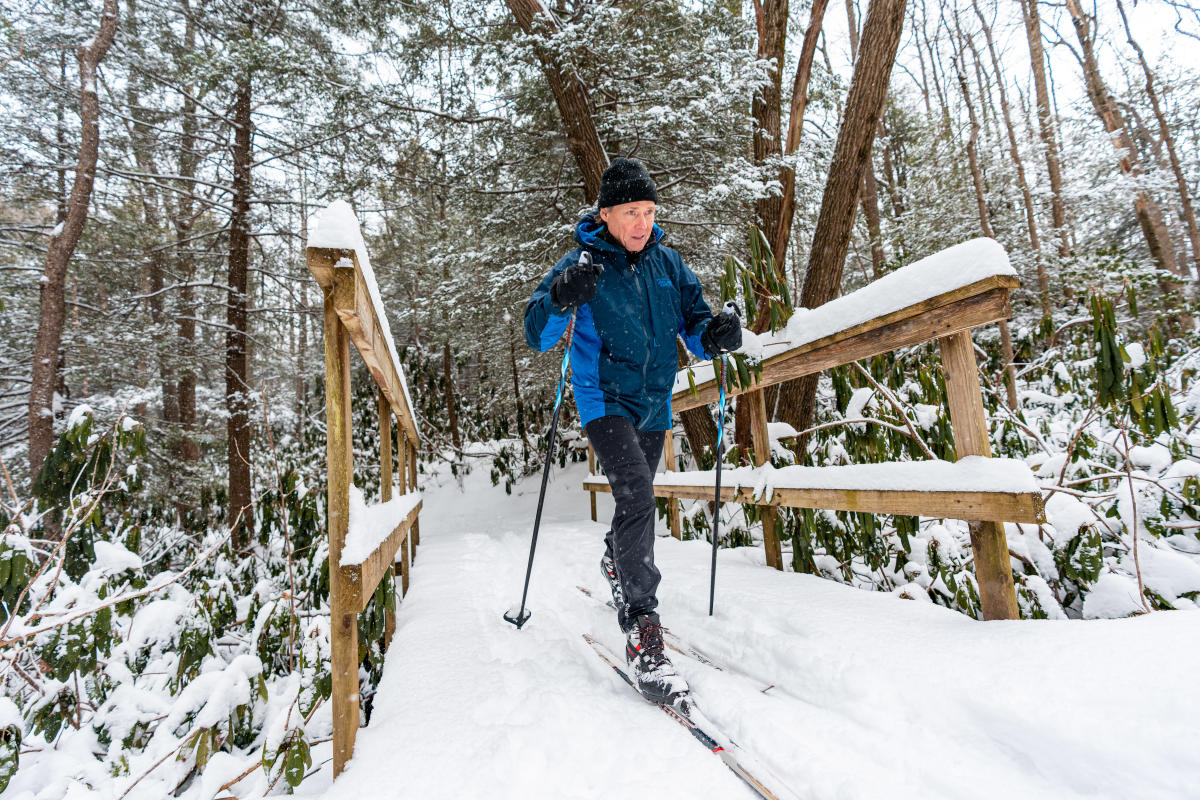 Learning the Basics
After my failures at downhill skiing, I was a little apprehensive about cross country skiing. I knew it wasn't the same but still wasn't sure how it would go. John didn't give me a ton of instruction, but in reality, there wasn't much to it.
"You just want to step and glide," he advised. "You want to keep your chest out and your posture good. You don't want to lean over in any way. Step and glide. As you step with one leg, reach out with the opposing arm and kind of pull yourself."
Starting out on the road, which was almost devoid of traffic wasn't so bad. I wobbled a little but didn't fall. Well, at least not until a vehicle came up behind us and the driver honked the horn to let us know he was there. I tried to vacate the roadway a little too quickly and took my first tumble. It wasn't a rough fall – more of a slow-motion crumple into the snow on the side of the road.
It did get a little more difficult when we headed onto the Spruce Run Trail. The snow-covered trees made for a beautiful setting, but I spent most of the time looking at my skis to make sure the tips weren't trying to find their way out of the tracks that John and Dave Sutor had made ahead of me.
Staying in their tracks made for a much faster experience – sometimes too fast. Any kind of downhill slope had me looking like Bambi on ice. Trying to stand up in skis can be a humbling experience, but the good news is the more you fall the better you get at it.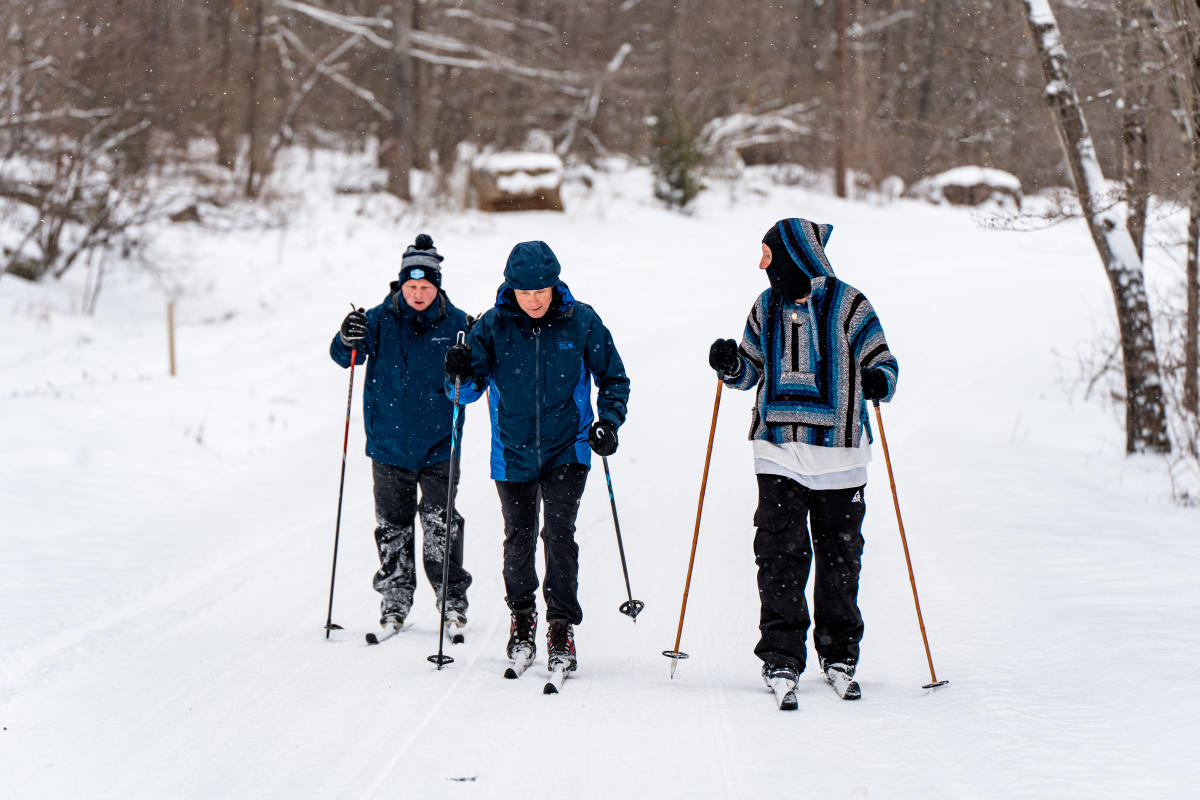 Going uphill was slightly different – John compared it to running with skis on – but the grade we were on was very slight, so it wasn't difficult.
We made it back to the road and about the time that I was getting cocky, thinking I had gotten the hang of it, I took a bone-rattling fall that came out of nowhere. Luckily, the only injury was to my pride.
All told, we probably skied between 2 and 2 ½ miles. I didn't think I was very tired until I tried to get into my SUV and didn't get my leg high enough to clear the door frame. I developed a little muscle soreness in my arms and legs over the next few days from the workout, but it was a good soreness.
I enjoyed the experience and would recommend it to anyone looking to get out and enjoy nature during the winter months. As with any strenuous activity, there is a slight danger of injury – I hit my elbow especially hard on one fall – but it's nothing too extreme.
If you are going to try cross country skiing for the first time, I'd recommend that you get the right equipment and go with someone who can help you master the basics. Then get out and enjoy the beauty that is winter in the Laurel Highlands!