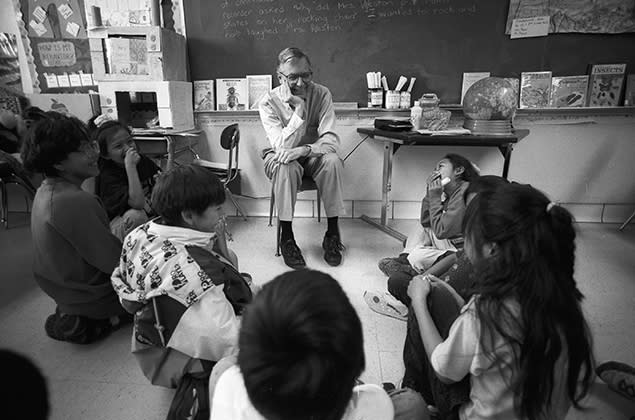 By Bob Batz Jr. for Pittsburgh Post-Gazette
Fred Rogers made an extraordinary impression on the people whose paths he crossed, mostly because he was so ordinary about it.
Anna Weltz, now director of public relations for the Laurel Highlands Visitors Bureau, cherishes meeting her "hero" in 1999 when she was a receptionist at Ligonier's Idlewild Park and he was there for business.
"He was as warm, friendly, kind and thoughtful in person as he was on TV."
Every story is positive and not just those told on the occasion of his death in 2003. At that time, then-Post-Gazette reporter Tim Reeves reflected on how Mr. Rogers showed him special attention after the death of Mr. Reeves' father, pastor at Sixth Presbyterian Church in Squirrel Hill.
"After that loss, I was a rather angry young man, and Fred showed me a special nurturing," he wrote. "He invited me to swim early morning laps with him at the Pittsburgh Athletic Association, a discipline he treasured."
Common are stories about Mr. Rogers making pool attendants, store clerks and strangers feel special. Writer Anthony Breznican told the world, via a viral thread of tweets on Twitter, how, as a struggling University of Pittsburgh student in 2001, he ran into this personality from his childhood on a campus elevator. Mr. Rogers not only hugged him but also sat down for a long, deep and warm chat that lifted him.
"It was almost impossible to hurry him along," says Joanne Rogers, his wife. Especially with children, he'd stop and talk and sign autographs.
Around Pittsburgh, she'd sometimes drive him so he could rush in and rush out of a store. Maybe.