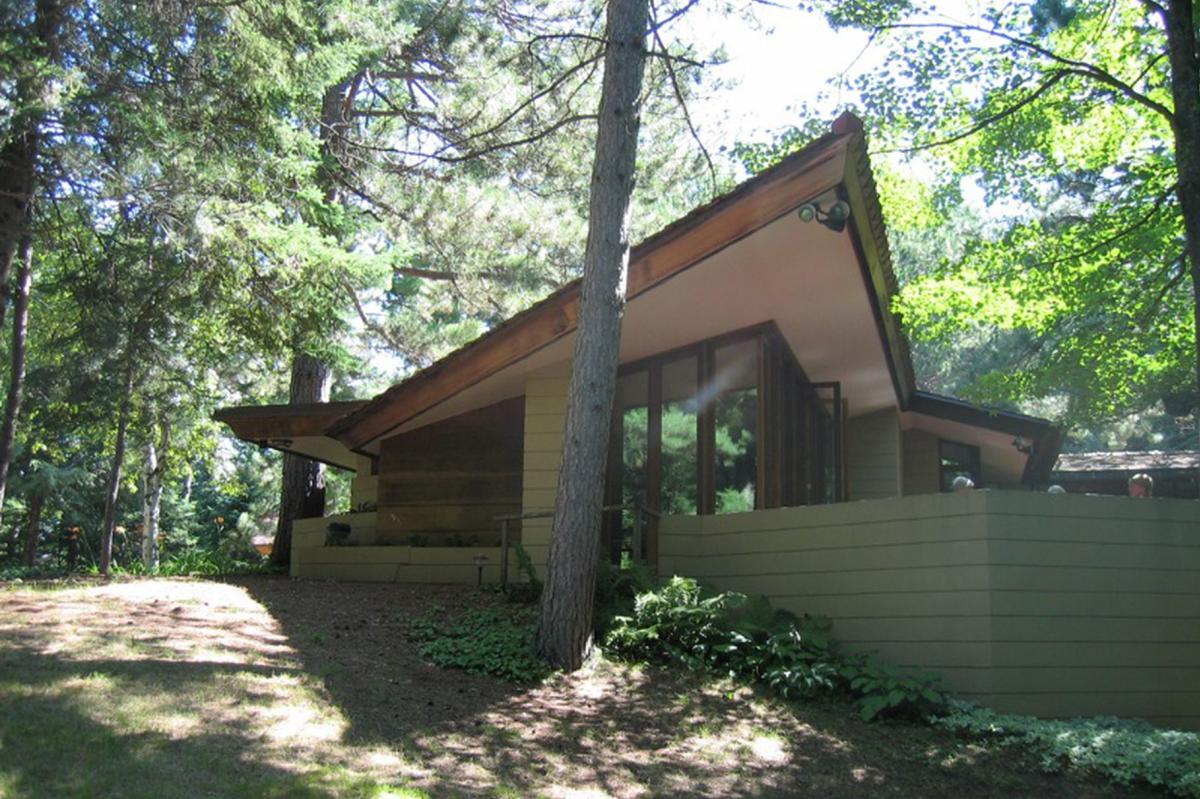 LAUREL HIGHLANDS, PA., (March 20, 2018) – After a 1,000-mile journey, Frank Lloyd Wright's Lindholm House, aka Mäntylä, will now join Fallingwater, Kentuck Knob and Duncan House in calling Pennsylvania's Laurel Highlands home.
Originally built in 1952 in Cloquet, Minn., the Lindholm House was carefully dismantled and shipped to Acme, Pa., in the spring of 2016, where it is currently being rebuilt by Thomas and Heather Papinchak. As owners and operators of Polymath Park, the Papinchaks are no strangers to Wright's creations. Their architectural resort offers overnight lodging at Wright's Duncan House, which was moved from Lisle, Ill., and rebuilt on the site in 2007, as well as two homes designed by his apprentice Peter Berndtson, the Balter and Blum homes.
"The groundbreaking and the addition of Wright's Lindholm house is keeping pace with the thriving and unique experience our guests encounter at Polymath Park," said Thomas Papinchak, Polymath Park's CEO and design-builder. "The Lindholm House has been kept private for decades; it will be exciting for all involved to unveil this original grand Usonian masterpiece."
Typifying Wright's "Usonian" style-his effort, late in life, to create affordable housing in a design language that expressed his distinctive perception of the "American landscape." The Lindholm and Duncan houses offer visitors a truly unique opportunity – the chance to stay overnight in a Frank Lloyd Wright house. The Llindholm House is expected to welcome guests in Summer 2018. When guests reserve either home, they are given access to the entire home, not just a specific room. These homes are two of a select few Frank Lloyd Wright buildings in the entire U.S. that offer overnight lodging. Reservations can be made online at www.polymathpark.com or by calling 877.833.7829.
A Must-Do Destination for Architecture Aficionados
To architecture experts, Frank Lloyd Wright was the greatest American architect who ever lived and one of the greatest the world has ever seen. To those who appreciate nature, it's easy to see how the magnificent natural landscape of Pennsylvania's Laurel Highlands inspired the prolific architect.
Wright (June 8, 1867-April 9, 1959) designed more than 1,000 structures in his lifetime and saw more than 500 of them to completion, but the high concentration of homes open for public tours in a setting as beautiful as Pennsylvania's Laurel Highlands is an uncommon occurrence.
Perhaps Wright's most widely-acclaimed creation, Fallingwater, was built between 1936 and 1939 for the Kaufmanns, a prominent family from Pittsburgh. Dramatically cantilevered over a waterfall, the house exemplifies Wright's concept of organic architecture: the harmonious union of art and nature. A National Historic Landmark, Fallingwater has been selected as one of "50 places of a lifetime" by National Geographic Traveler. Fallingwater is the only major Wright-designed house to open to the public with its furnishings, artwork and setting intact.
Just seven miles southwest of Fallingwater and high atop a bluff overlooking the Youghiogheny River Gorge stands another Frank Lloyd Wright architectural masterpiece, Kentuck Knob. A great believer in the beauty of natural materials, Wright combined the native sandstone with tide water red cypress to create a chorus of color and texture that replicates the surrounding landscape. Wright began this project for the Hagan family in 1953 at the age of 86, five years before his death. In addition to the house, the grounds of Kentuck Knob feature 30 pieces of sculptures by Andy Goldsworthy, Anthony Caro and Claes Oldenburg.
Located within a short drive of the four Laurel Highlands landmarks, Falling Rock at Nemacolin Woodlands Resort provides a tribute to the organic architectural style of Frank Lloyd Wright. Designed by David Merritt, who studied at Wright's school at Taliesin and then incorporated the master's philosophies into his own work, Falling Rock features 42 rooms, each of which is served by a butler. In addition to this top level of service, guests enjoy a pillow menu, nightly cookie turndown and exclusive access to an infinity pool.
About Pennsylvania's Laurel Highlands
A magnificent mountainous region, the Laurel Highlands spans 3,000 square miles in southwestern Pennsylvania. Located an hour east of Pittsburgh, the beautiful four-season destination offers some of the most spectacular natural scenery, outstanding outdoor recreation, historic sites and attractions, family activities and world-class resorts. Notable destinations within the region include three architectural masterpieces by Frank Lloyd Wright – Fallingwater®, Kentuck Knob and Duncan House – Nemacolin Woodlands Resort, Seven Springs Mountain Resort, Flight 93 National Memorial, Idlewild and Soak Zone, whitewater rafting at Ohiopyle State Park and more.
Located within 200 miles of the major metropolitan areas of Pittsburgh, Baltimore, Cleveland and Washington D.C., the Laurel Highlands can be easily accessed from exits 67, 75, 91 and 110 of the Pennsylvania Turnpike.
Visitors to the Laurel Highlands can find information online at www.LaurelHighlands.org, calling 800.333.5661, www.facebook.com/laurelhighlandsPA and www.twitter.com/laurelhighlands. Established in 1958, the Laurel Highlands Visitors Bureau is the official destination marketing organization for Fayette, Somerset and Westmoreland counties in southwestern Pennsylvania. Check out the 2018 Laurel Highlands Destination Guide!
###