Finally - a weekend without holiday madness! And what made this weekend even better? Fresh snow on the slopes of Hidden Valley Resort. We were well overdue for a family outing. SO much so that every.single.time a snowflake flew, our four-year-old daughter Emily would freak out and beg to go skiing. You see, Emily started skiing at age two. Some parents may think that's nutso, but my husband and I (and many ski professionals) would strongly disagree. Start 'em young! By doing so, you're giving them a lifelong passion, and they'll have a blast. 

Plus, what's not to love about itty-bitty, teeny-tiny skis and boots and seeing your baby's rosy cheeks, huge smile and the amazing NAP they'll take afterwards?!?! Seriously, sometimes we don't even make it out of the parking lot before Emily is sawing logs!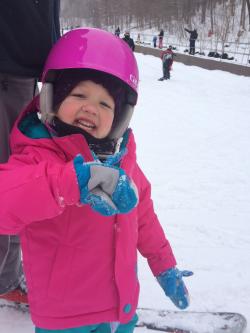 We typically take Emily skiing about 10 times per winter, and, since this was our first outing since last March, we were a little rusty. Mom forgot extra mittens, juice boxes for the ride home, and the most awesome invention ever created for little rippers – The Edgie Wedgie. This little contraption will hold the tips of your kiddo's ski together so they can stay balanced an keep a wedge position for better speed control. Thankfully, Hidden Valley Ski Shop manager Mike Demao and his team keep 'em in stock! 

Fortunately, Daddy was a ski and snowboard instructor many years ago, so he knows all the tips and tricks to help Emily learn. However, last year, we signed Emily up for a private one-hour lesson in the Little Rippers Ski School. Despite her shyness, Emily had a blast with Mary Beth and had majorly improved her skills. We're already planning to get her enrolled in the program again this winter. I can't say enough good things about the lesson program and the care the snowsports school staff takes in placing the right instructor with your child.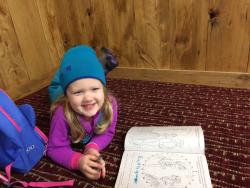 A few tips for the families planning to visit Hidden Valley this winter…
1.    Plan to arrive early so you can get a table to consider "headquarters" during your visit.
2.    Bring other fun things to do for in-between breaks. We like coloring books, tons of crayons, and anything Frozen.
3.    Families are welcome to bring snacks and drinks to enjoy in the Alpine and Southridge rooms. 
4.    Plan on having a late lunch or early dinner in the Clock Tower Restaurant. It's a great environment for families with a hearty menu.
5.    Bring an extra set of clothes and shoes for your little one to change into for the car ride.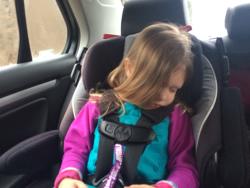 Now that we've gotten one trip under our belt this season, we're ready to make it part of our weekend ritual and can't wait to see Emily's skills improve with each visit and, of course, listen to her snore on the way home.