If you're a horror movie fan, you've seen "The Silence of the Lambs." But did you know that there's a filming location from the movie right in your backyard? For the first time ever, Buffalo Bill's House in Perryopolis is open to the public as a boutique accommodation and cinematic destination. Your reservation in the 111-year-old Queen Anne Victorian house gives you exclusive access to the entire property, making it a private, immersive experience.
The new owner of the house, Chris Rowan, came across an article about the house being for sale and had what he describes as a lightbulb moment. As a horror fan and art director by trade, he knew that he had the passion, knowledge and experience to turn the house into a filming location like no other.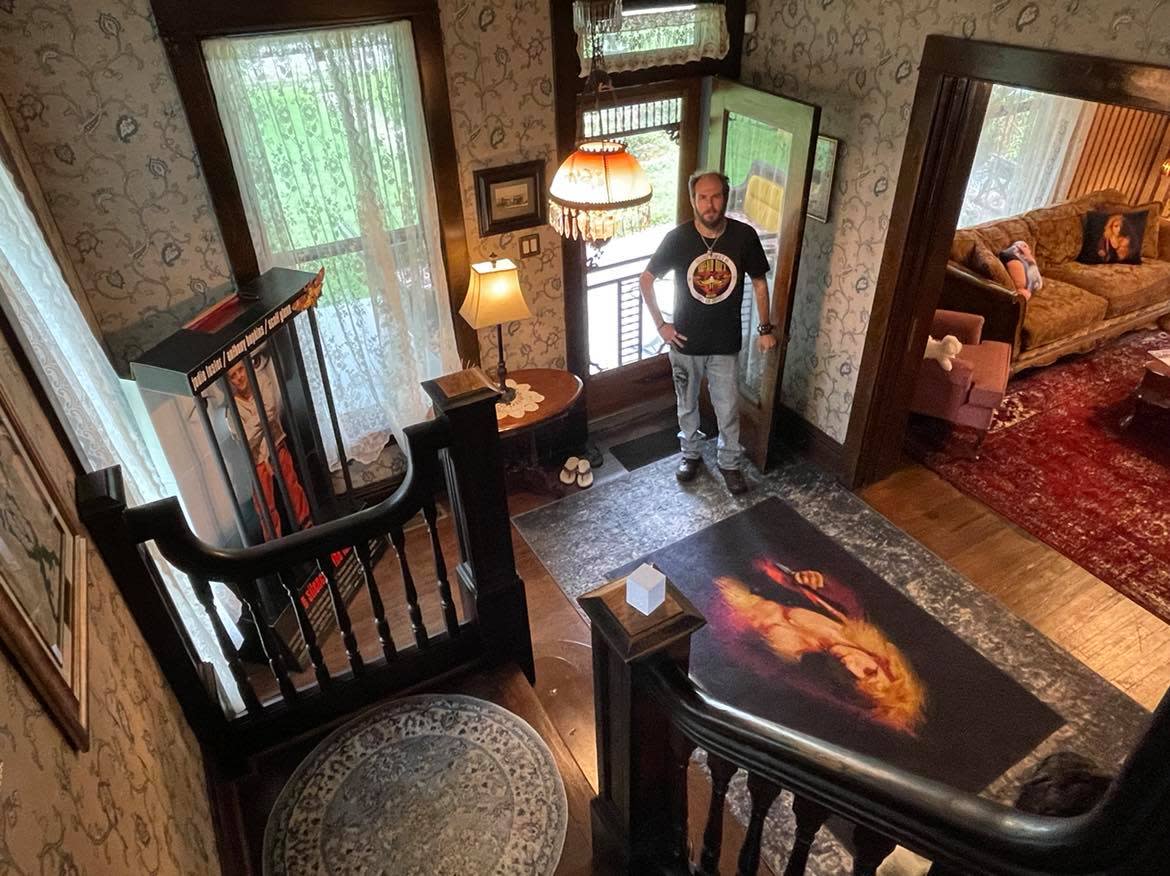 Despite there only being 15 to 20 minutes of footage at the house featured in the movie, the cast and crew spent more than 7 weeks filming in Buffalo Bill's House during the winter of 1990. The climax and some of the most iconic lines of the movie were filmed in this house, and Chris has made every effort to make sure that you can recreate all of those moments in Buffalo Bill's House during your stay. On the coffee table, you'll find a guide book full of still shots from the movie and where that was filmed in the house, so you don't miss a single photo op. For example, the school bus across the street that was never moved after filming or the drawer that Buffalo Bill rummaged through for business cards.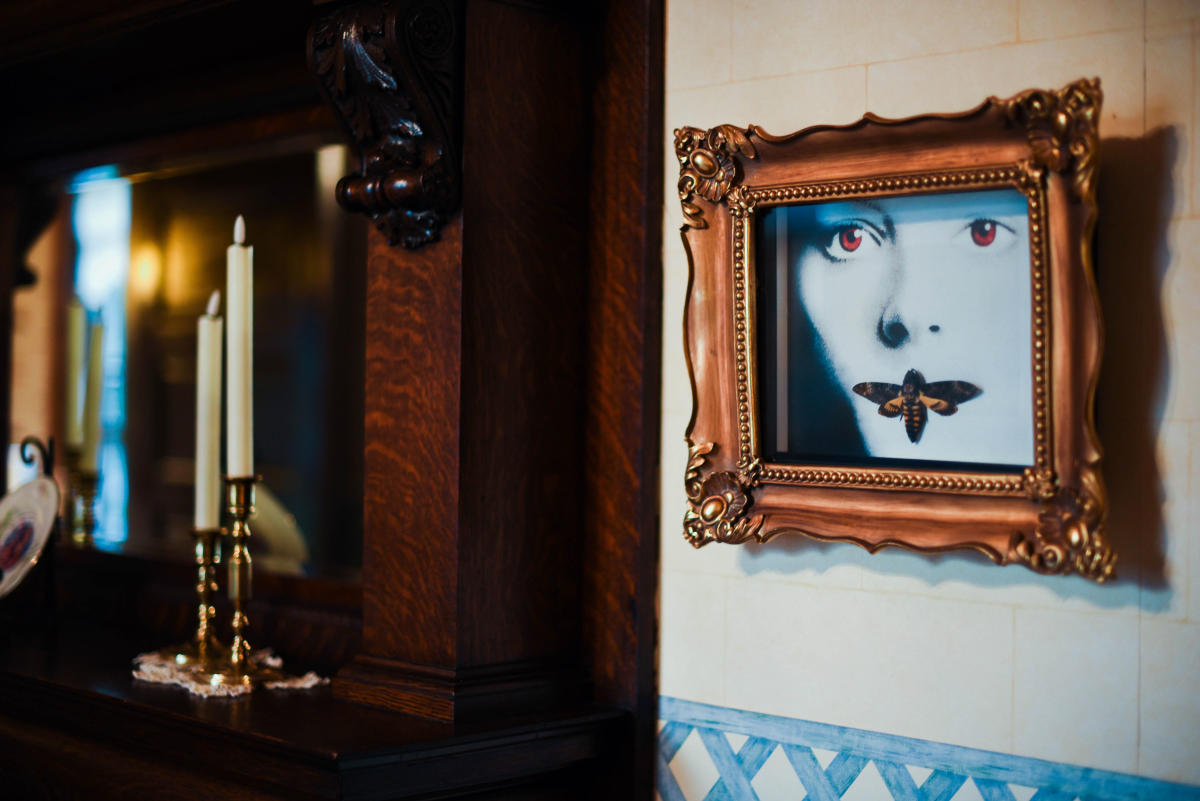 While decorating, Chris treated the house as a movie set in order to devise a concept. As a result, the house's décor doubles as an art gallery, with pieces of art everywhere, many donated by Silence fans all over the world. The collection includes three mounted and framed Death's-head hawkmoths, the most recognizable item from "The Silence of the Lambs." Among the decorations are two actual props from filming: two scraps of wallpaper used on set, which the owners at the time of filming saved. 
"It feels really good to know that something I'm doing means so much to so many people. And that's so important, because I get to share this experience and my artistic vision with the same community I've been a part of my entire life."
Buffalo Bill's Workshop of Horrors

After you get a good video of you nervously and sneakily walking down the stairs like Jodie Foster did, you'll enter the basement aka the Workshop of Horrors. This is your opportunity to fully embody Buffalo Bill. Sit at an original Singer sewing machine in the nude, chat with the mannequins, put on some makeup, grab the silk robe (provided for guests' use) and dance to "Goodbye Horses."
While there isn't a well in the basement (that scene was actually filmed in a warehouse in Monroeville), Chris has plans to fabricate one in the basement of Buffalo Bill's House. The resin fiberglass structure will create a forced perspective that will simulate something similar to the well from the movie. Of course there will be props including a bucket on a pulley with, you guessed it, lotion.
Buffalo Bill's Playhouse

On the third floor, Buffalo Bill's Playhouse is a vintage recreation and game room featuring six arcade games, a billiard/air hockey table, a TV and an expansive movie collection. Along with an original "The Silence of the Lambs" theatre poster from 1991, you'll find nods to other horror films peppered throughout the playhouse. Hanging on the walls are keepsakes from filming, including personal notes from both Jodie Foster and Jonathan Demme, a call sheet from Valentine's Day 1990 and the production team's blueprint of the Buffalo Bill's House plan.
Living Quarters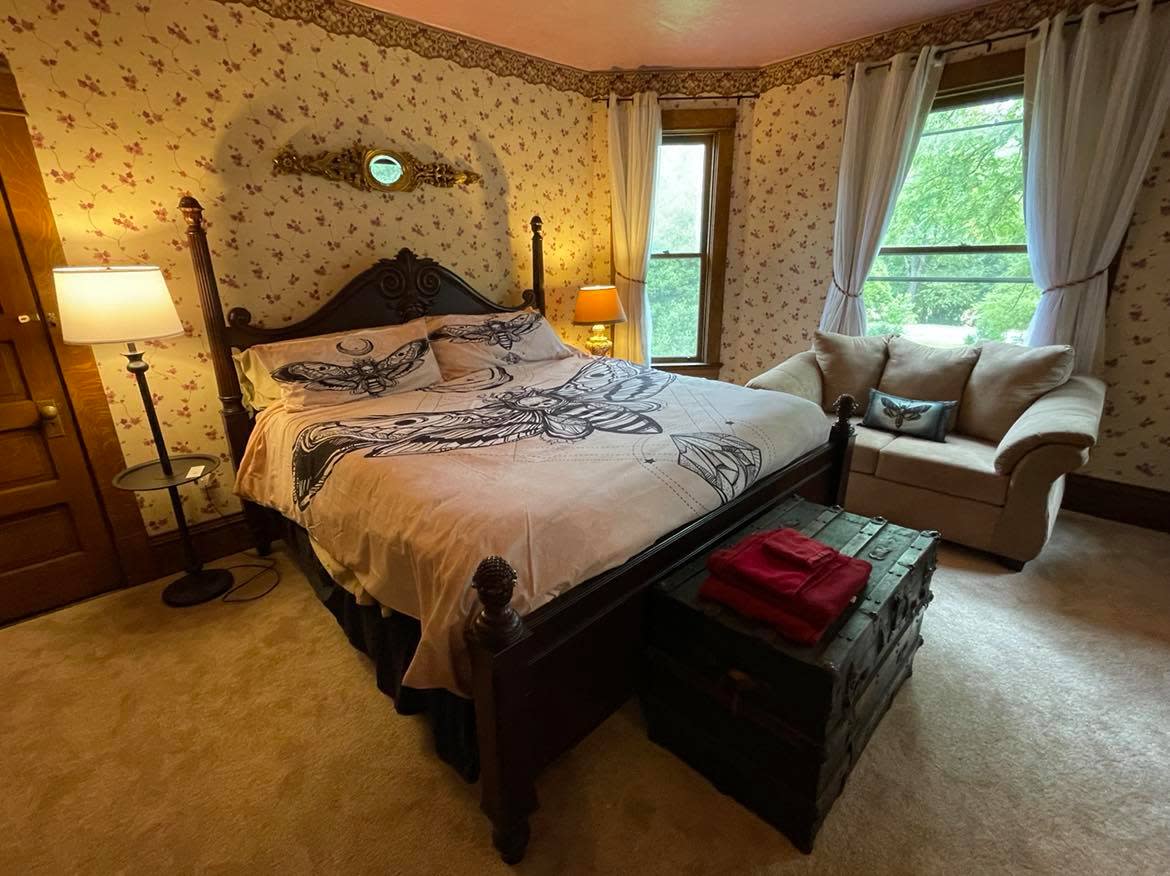 Upstairs you'll find four bedrooms, and each is named after a character in the movie: Buffalo Bill (king), Clarice (queen), Hannibal Lecter (queen) and Precious (two single). Just like the downstairs, the second floor is decorated with period-correct furniture and tasteful Silence accents. When you stay at Buffalo Bill's House, you'll receive a few complimentary items, including a travel size bottle of Buffalo Bill's House's signature Skin Suit Soft lotion. Full-sized bottles of the lotion, along with branded shirts and face masks are available for purchase at checkout when reserving your stay!
The property offers so much more outside, including a gazebo, koi pond, pergola with a barbecue grill, a firepit, an in-ground pool and more! Chris has longterm plans for the garage and train conductor car on property, but we won't give that secret away just yet. In the future, Buffalo Bill's House also hopes to offer limited guided tours, Hannibal-inspired dinner parties, celebrity engagements and more. With many other horror film locations in the region, Buffalo Bill's House is the perfect place for horror film buffs to spend the night after a day of touring. Check something off of your horror fan bucket list and book your getaway today!
Learn more about Buffalo Bill's House on their website, Facebook and Instagram.