This Easter, a lot of us will probably be meeting with their family via Zoom and Skype. But, that doesn't mean the Easter meal has to be a bust! Spend more of your day connecting with family and less time in the kitchen with these curbside pickup and delivery options in the Laurel Highlands while you support local businesses.
DiSalvo's Station - Latrobe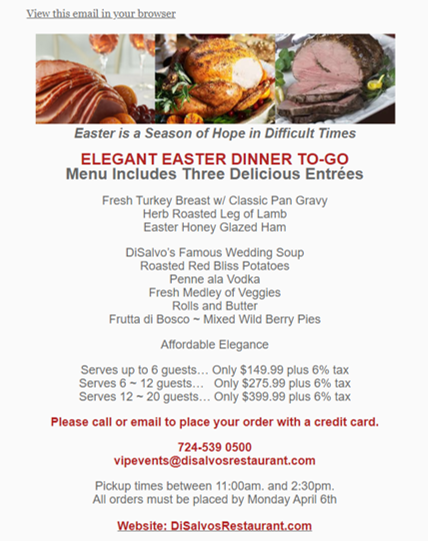 Enjoy an elegant Easter dinner to-go from DiSalvo's Station in Latrobe. Your order includes three savory entrées (fresh turkey breast w/ gravy, herb roasted leg of lamb and Easter honey glazed ham) along with roasted red potatoes, penne ala vodka and DiSalvo's famous wedding soup for sides! Don't worry, dessert is included with a delicious frutta di bosco loaded with fresh berries. Call 724-539-0500 or email vipevents@disalvosrestaurant.com to place your order.

Another Italian cuisine gem in the Laurel Highlands, Rizzo's will make your Easter dinner special with several unique offerings that can be picked up Saturday! Their Katie the Lamb and Easter Bunny cakes serve 10 and are cute as they yummy, and are the perfect way to cap off a memorable meal. Plus, pick up traditional sciadunes (Easter pies stuffed with ricotta, pepperoni, ham, provolone and romano) on Holy Thursday or Good Friday to have a special treat to look forward to each day.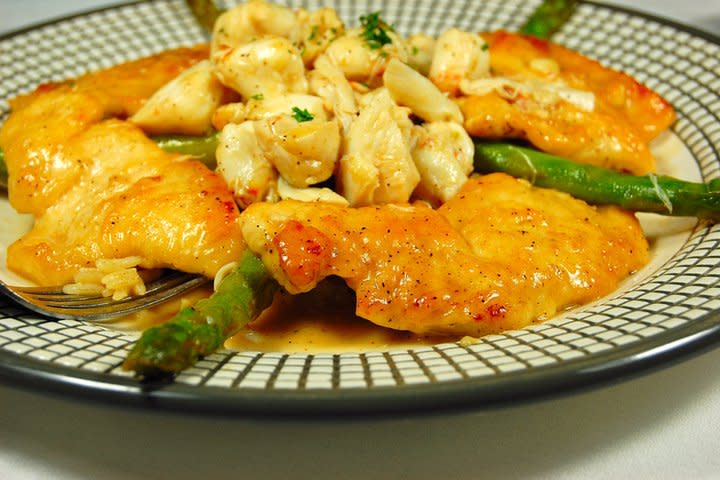 Nino's has two opportunities to make Holy Week great! First, take out their family style fish dinner on Good Friday for fried goodness including fish and fries plus coleslaw and homemade pierogi. On Easter Sunday, their takeout dinner special runs from noon-6 p.m. and includes homemade stuffed chicken breasts, mashed potatoes, baked ham, green beans, cavatappi alfredo, tossed salad, bread and carrot cake for dessert.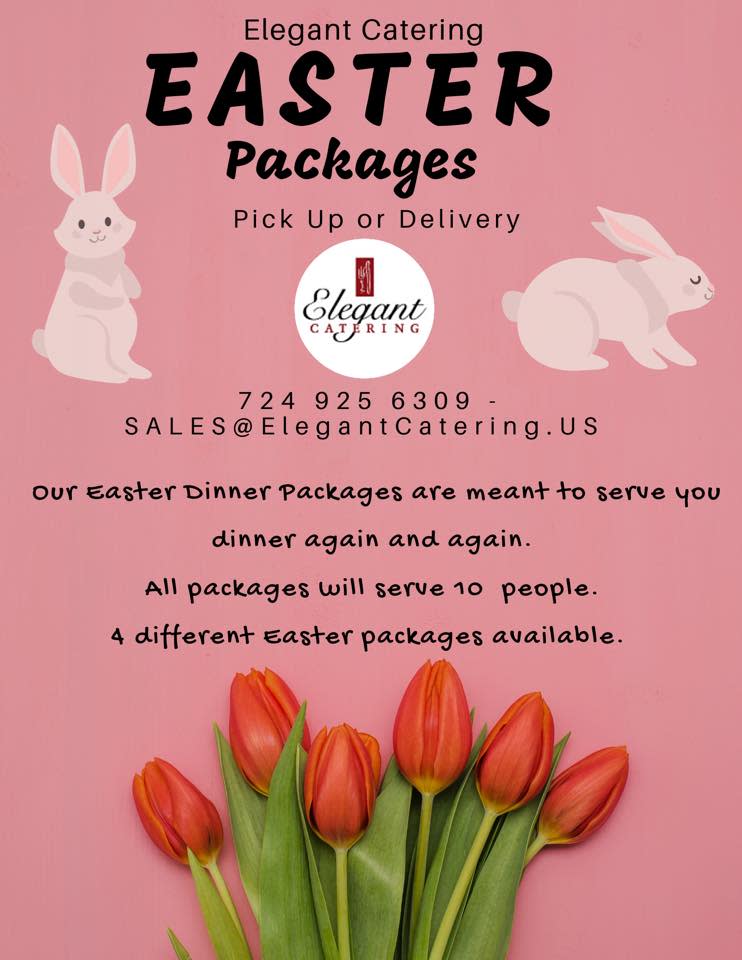 No matter your budget, Elegant Catering has four options that feed 10 people that can be delivered right to your door! Go for a traditional ham with pickled eggs and beets and green bean casserole, or spring for something sumptuous like their sliced rib eye au jus with honey dijon carrots.
Cenacolo - North Huntingdon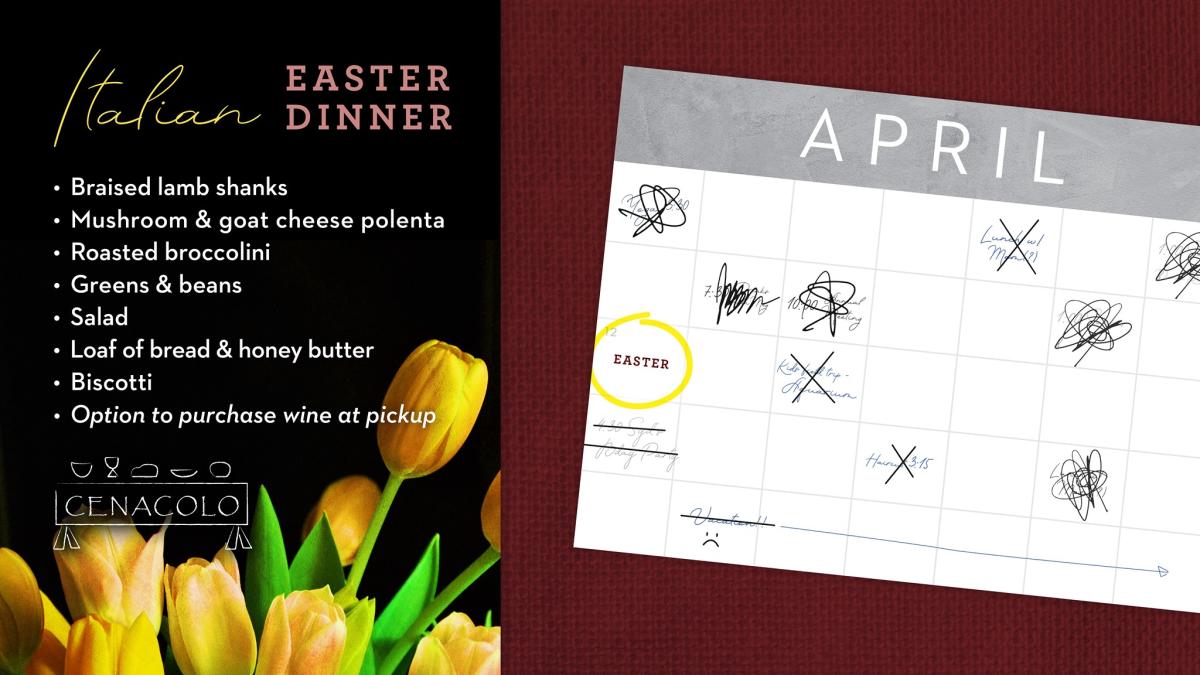 For a high-class version of what Grandma used to make, turn to Cenacolo. Their mouthwatering Easter menu includes braised lamb shanks, mushroom and goat cheese polenta,bread with honey butter, roasted broccolini and biscotti. Don't forget to tack on a bottle of wine to your order which can be purchased when you pickup.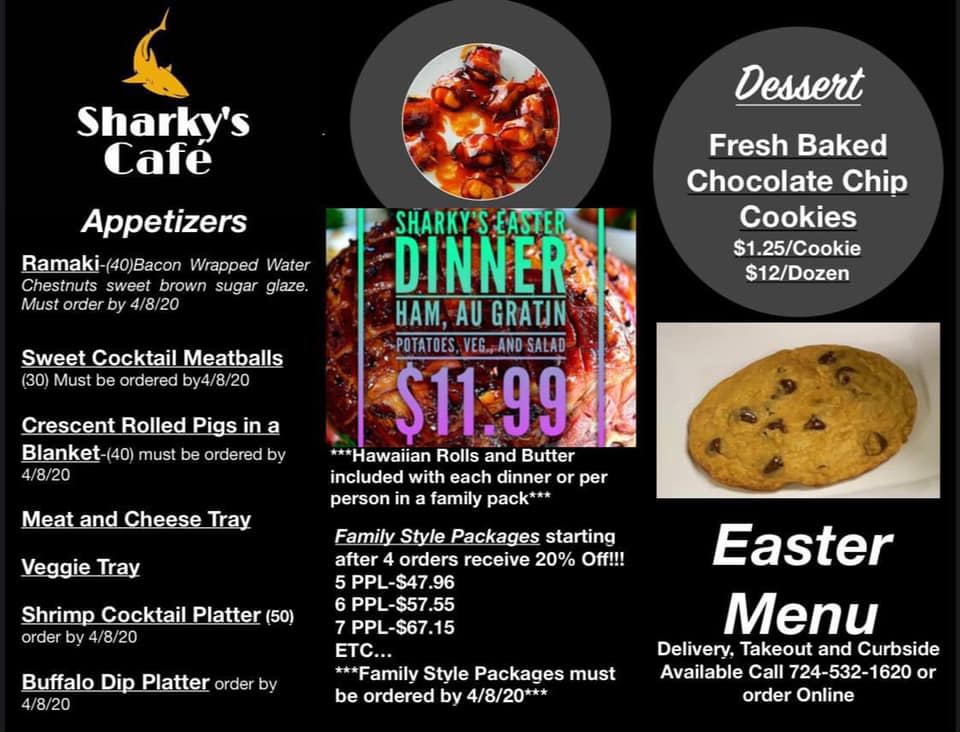 Sharky's in Latrobe has a diverse menu and is one of the most affordable to-go meals in the area. You can feed a family of five for under $50 with their ham, au gratin, potatoes, veggie and salad Easter dinners. Add-ons include fresh baked chocolate chip cookies and appetizers like their unbelievably good buffalo dip platters and sweet cocktail meatballs.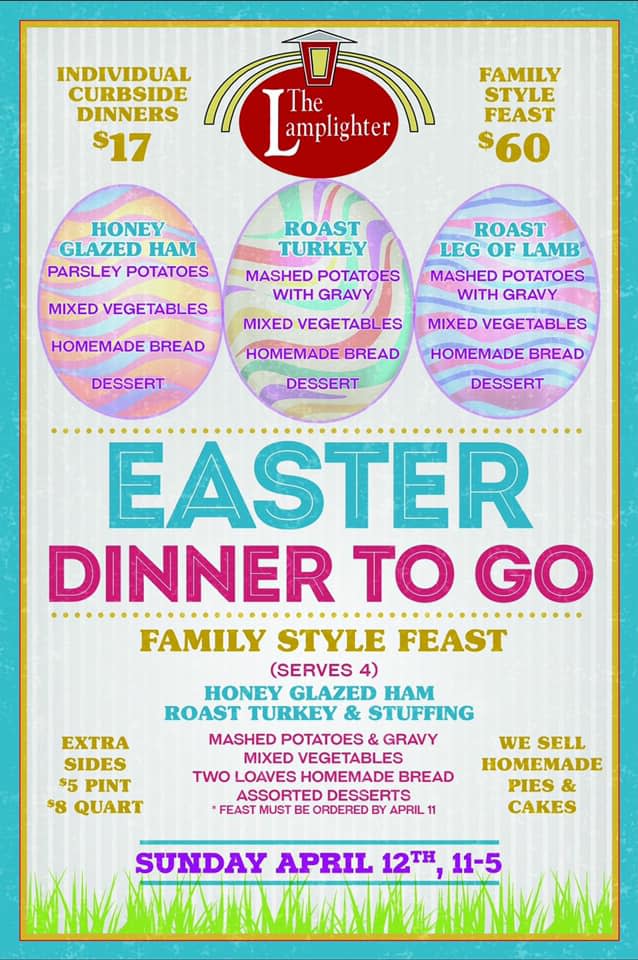 A fixture along Route 22 for generations, The Lamplighter has Easter To Go menus ready for individuals an families. Options include roast turkey & stuffing, roast leg of lamb and honey glazed ham, plus sides and homemade pies and cakes for dessert!
The Pickled Chef - Latrobe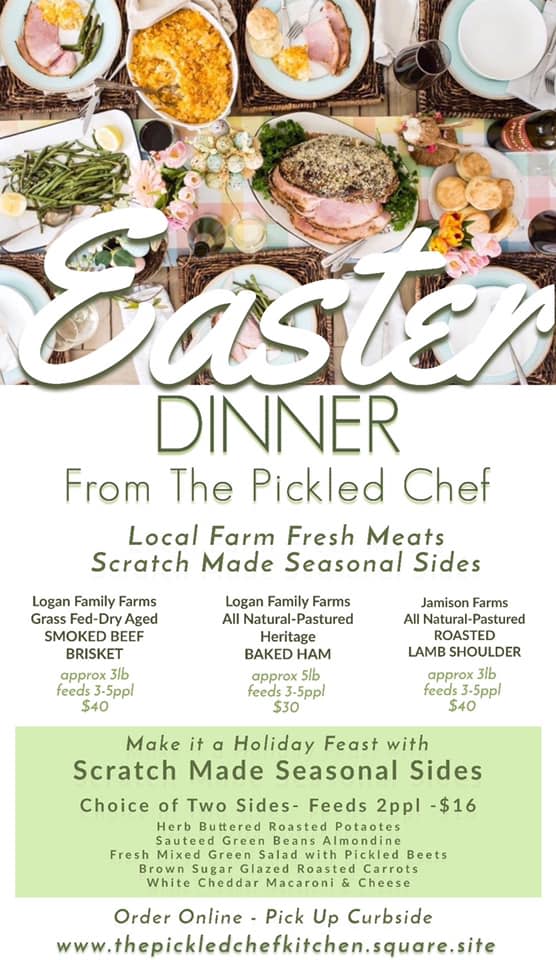 Support local farms in additional to local restaurants with these Easter meals from The Pickled Chef in Latrobe. Your mouth-watering meat options include Logan Family Farms smoked beef brisket and baked hams or Jamison Farms' famous roasted lamb shoulder, each of which feeds 3-5 people. Scratch-made seasonal sides finish out the metal with white cheddar mac & cheese, sauteed green beans almondine and more, all available for curbside pickup.

Still need chocolates for that Easter basket? Mcfeely's Gourmet Chocolate is your one-stop shop with a large variety of eggs and bunnies sure to give your kids a sugar rush, and we won't tell if you order some for yourself as well. Plus, be sure to check out their chocolate making kits (pictured above) that will give the whole family something to do as you melt down chocolate to create your own decadent desserts.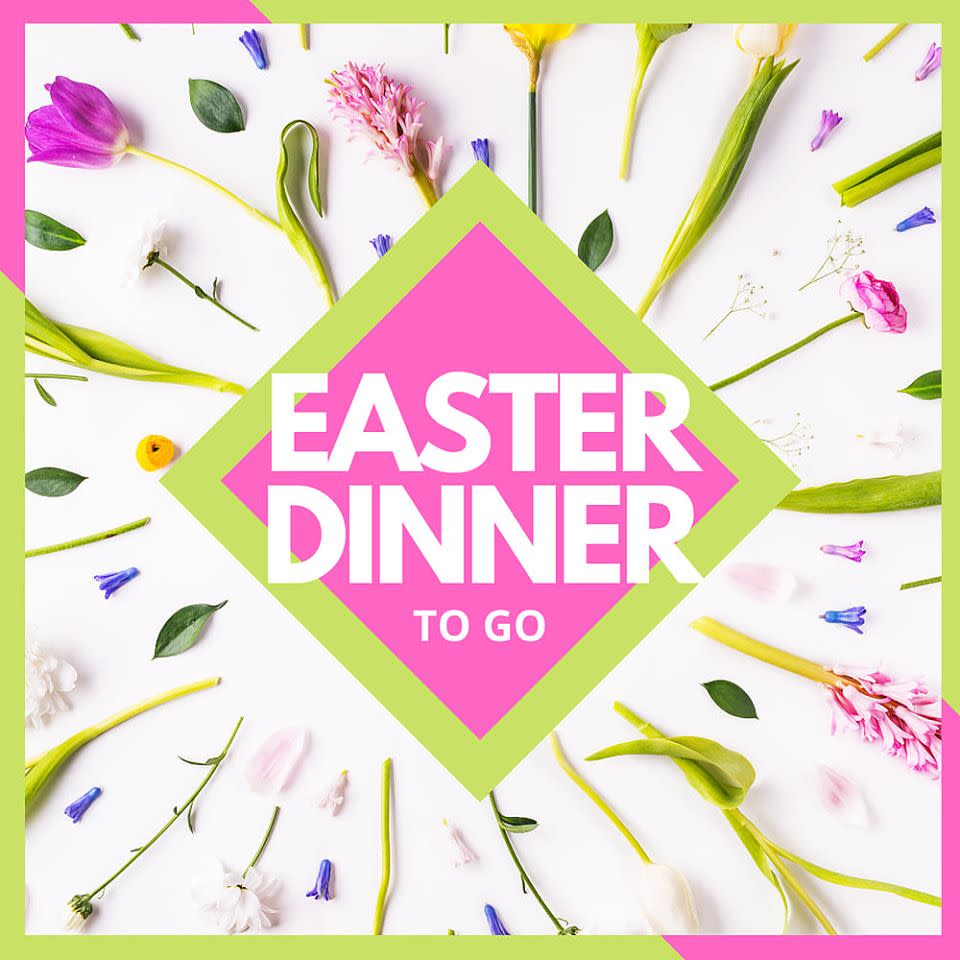 From salad to dessert, Oakhurst Grille & Event Center has you covered with their Easter Dinner To Go deals that feed 10 people! Dinner includes a 12 lb. ham, mashed potatoes, stuffing, gravy, corn, rolls w/butter, coleslaw, & cherry or apple pie. You can also order the half version of this meal to easily feed 5!

Let the historic Stone House do the cooking this Easter and get the meal of a lifetime delivered from their grill masters. Their Easter Feast serves 4-6 adults and includes Stone House favorites such as their butternut squash soup, garlic & herb smoked lamb leg, pecan crusted rainbow trout and Easter ham with smoked mustard sauce. Italian cream and chocolate fudge cakes offer a sweet ending to this incredible menu.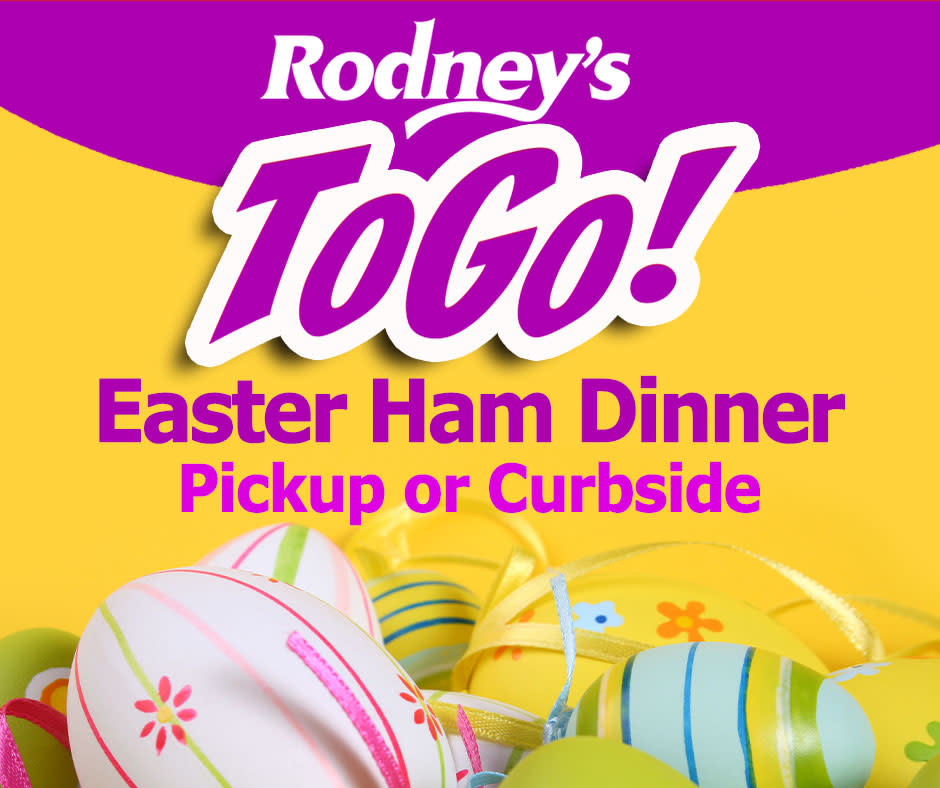 One of the best spots in the Laurel Highlands for upscale dining and great service, Rodney's is now available to go. Plus, it's the only menu I've seen with kielbasa available, one of my favorites! Their curbside dinner includes baked ham, kielbasa, corn and sweet potatoes served with your choice of coleslaw or house salad for $14.95.
Let a loved one know you're thinking about them with a personalized Lollipop-gram delivered to their front porch. Buckets Boutique's cute bunny pops will make your little one have fun pretending to be a bunny, and the personalized message will let them know they're loved in this difficult time!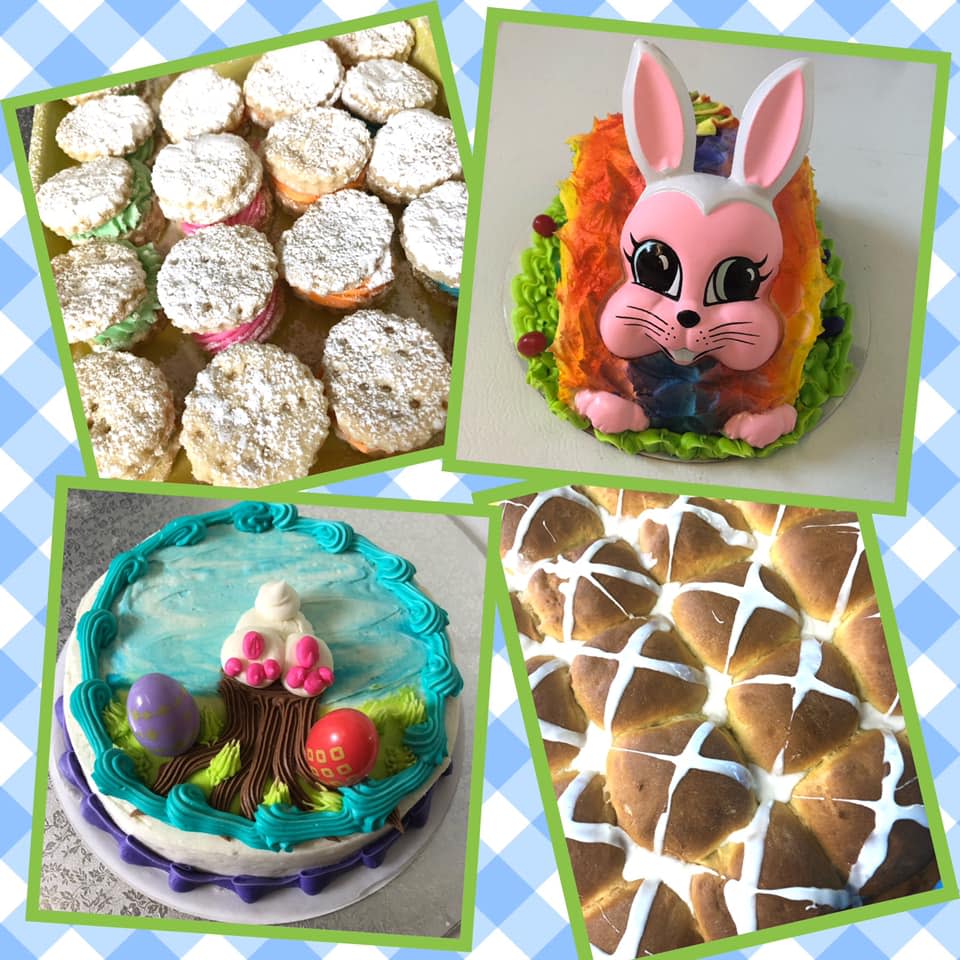 Elevate your Easter meal with fresh baked goods from the Country Pie Shoppe. My Italian family loves their traditional pasca bread (available plain, raisin or fruit) and poppyseed and prune rolls! Treat your family to something sweet, too, with fresh Easter cookies and cakes, pecan pies and pumpkin rolls.