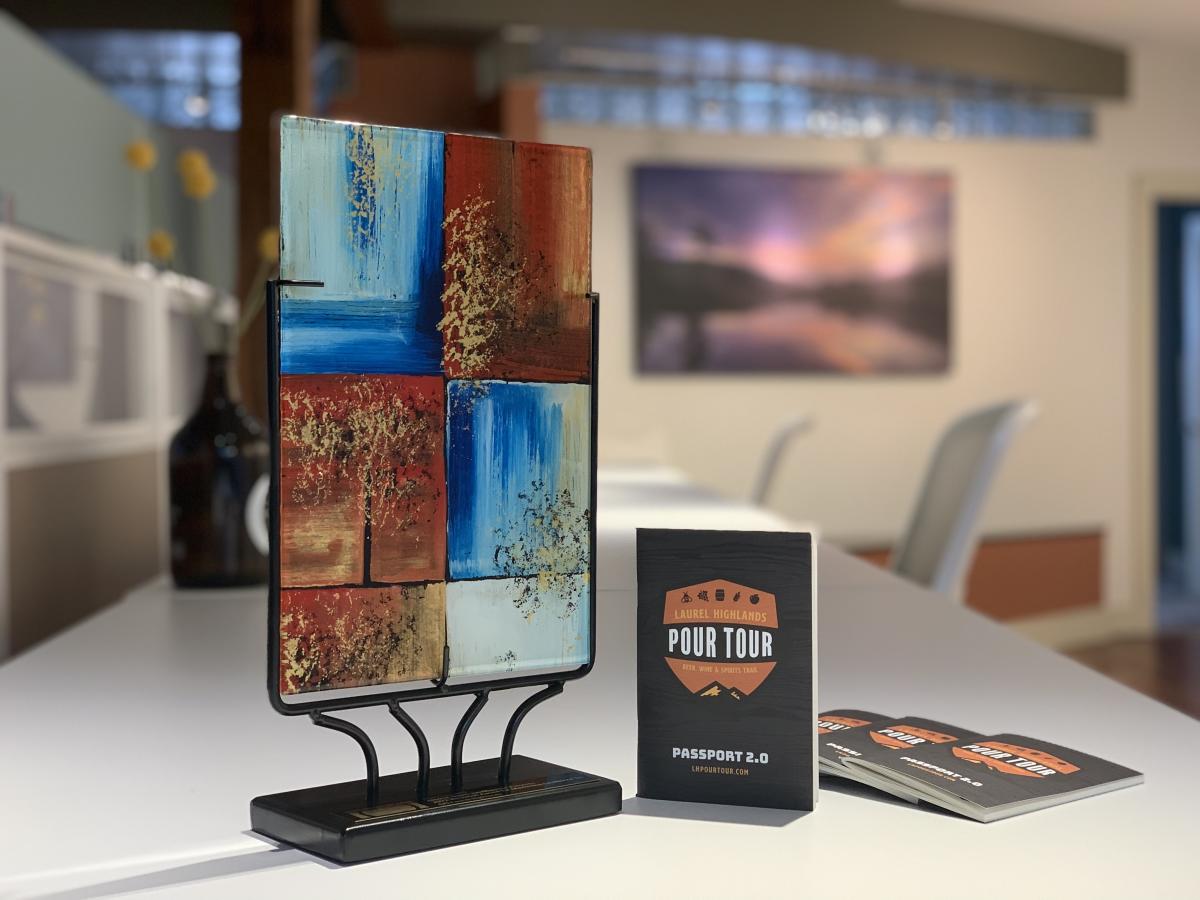 Ligonier, PA (March 8, 2022) – GO Laurel Highlands (GO LH), the official destination marketing organization for Fayette, Somerset and Westmoreland counties, was honored with the Yesawich Award for Marketing Excellence at Travel and Tourism Research Association's (TTRA) annual Marketing Outlook Forum in February.
TTRA's Yesawich Award recognizes outstanding marketing strategy based on relevant data and research, resulting in a superior marketing effort with significant, measurable results. GO LH was selected for the continued overwhelming success of the Laurel Highlands Pour Tour.
First launched in 2019, the Laurel Highlands Pour Tour has become a highly sought-after, incentivized craft beverage trail drawing in visitors from across the Mid-Atlantic and serves as a catalyst for significant economic impact in the region. Participants can request to receive a passport or download an app to start their journey along the tour. After visiting a participating site and making a purchase, they will receive a sticker to be placed in the passport or can check-in via the app to log their purchase. Three prizes are awarded for collecting stickers or check-ins from eight, 18 or 38 participating locations. Currently, there are 47 participating locations in the Laurel Highlands region.
Since its launch, 60,000 printed passports have been ordered, more than 135,000 passport stickers have been distributed and more than 20,000 app check-ins have been made. Participating craft beverage partners report the average cost of a beverage at $7. With more than 150,000 purchases made, GO LH estimates economic impacts in or around the seven-figure range. 
"All applications submitted for the Yesawich Award were unique and successful for their specific destinations, but the Awards Committee felt that the Laurel Highlands Pour Tour project was particularly creative, driven by research and provided at no cost to the craft beverage establishments," said Marlise Taylor, Marketing Outlook Forum Awards Chair, TTRA Past President and Tourism Research Director, Visit NC – Economic Development Partnership of North Carolina. "The project also provided a positive impact on the area during the most difficult period of the pandemic, continuing to generate interest and participation, and helping to keep businesses open."
"The popularity of the Laurel Highlands Pour Tour has been absolutely astounding for all of us here at GO Laurel Highlands," said Kristin Ecker, Senior Director of Marketing. "We often hear stories about the positive impacts that the tour has had on both the participating businesses and those using the trail for leisure. It has made a big difference in our communities by increasing visitation and creating economic value, and that's what the effort is all about. We are honored to be recognized on a national platform for the hard work we have put into making the Laurel Highlands Pour Tour a success."
The current version of the Laurel Highlands Pour Tour features 47 craft beverage locations. Owners and operators alike offer enthusiastic support for GO LH and appreciation for the Pour Tour.
"The Laurel Highlands Pour Tour is simply awesome!" said Susan Walker, owner of Whitehorse Brewing in Berlin, Somerset County. "The Pour Tour has enriched our business in more ways than one. With this increased customer outreach, we have the opportunity to meet new people and forge new friendships, all while enjoying craft beer." 
"Most people know what wineries, breweries and distilleries are, but not a lot of people know what a meadery is," said Matt Falenski, mead maker at Laurel Highlands Meadery, located in Irwin and Greensburg, Westmoreland County.
"We get people that come in 'just to get the sticker,' but after trying our mead they say have a new favorite beverage and can't believe they have never tried it before," continued Falenski. "Even during the pandemic, we were still getting a good number of people coming in for the Pour Tour. When the restrictions were lifted, we welcomed even more. We try to talk to everyone when they come in and we do get a lot of out-of-state visitors because mead is something that is not widely produced so when they see a meadery on the tour, they get excited.
To showcase the region's landscape, seasonal craft beverages, and local events, GO LH created special micro tours including Boos & Brews, Shamrock Shuffle and limited edition ugly holiday sweatshirts that featured a special $500 charity donation for Animal Friends of Westmoreland.
GO LH plans to launch an updated Pour Tour program later this year.
About Pennsylvania's Laurel Highlands
A magnificent mountainous region, the Laurel Highlands spans 3,000 square miles in southwestern Pennsylvania. Located an hour's drive east of Pittsburgh, the beautiful four-season destination offers spectacular natural scenery, outstanding outdoor recreation, historic sites and attractions, family activities and world-class resorts. Notable destinations within the region include four architectural masterpieces by Frank Lloyd Wright – Fallingwater®, Kentuck Knob, Mäntylä and Duncan House – Nemacolin, Seven Springs Mountain Resort, Flight 93 National Memorial, Idlewild and Soak Zone, whitewater rafting in Ohiopyle State Park and more.
Located within 200 miles of the major metropolitan areas of Pittsburgh, Baltimore, Cleveland and Washington D.C., Pennsylvania's Laurel Highlands can be easily accessed from exits 67, 75, 91 and 110 of the Pennsylvania Turnpike.
Visitors to the Laurel Highlands can find information online at www.GoLaurelHighlands.com, calling 724.238.5661, www.facebook.com/laurelhighlandsPA and www.twitter.com/laurelhighlands. Established in 1958, GO Laurel Highlands, formerly known as Laurel Highlands Visitors Bureau, is the official destination marketing organization for Fayette, Somerset and Westmoreland counties in southwestern Pennsylvania.
###